The Big Tech is rushing for earnings report: How to invest?
Views 635K
Contents 90
Should you continue to buy Nvidia shares?
The overwhelming debut of OpenAI's human-like large language tool, ChatGPT, sparked the hype in AI. Investor excitement around AI caused tech stocks to rally.
Nvidia's graphics chips are widely used for AI workloads and it's a prime beneficiary of AI. Nvidia's GPUs can also be used to mine cryptocurrencies. Nvidia rallied 110% this year over the AI hype. This happened despite tumbling revenue and profit in the latest quarter, driven by crashing demand for PCs and the end of the cryptocurrency bubble. Nvidia's high-margin gaming segment has seen sales fall off a cliff in its previous 3 reported quarters. Gaming revenue declines of as much as 51% completely stalled Nvidia's growth engine in fiscal 2023.
AI will almost certainly prove to be a transformative technology, but AI may be overhyped now. The internet was transformative, and it still produced the mother of all bubbles in 2000.
Nvidia trades for just under 30 times sales. There have only been 2 other times when the valuation has come close to this level. The first time was the dot-com bubble of 2000. The most recent time was during the pandemic when strong demand from gamers collided with a massive cryptocurrency bubble. The potential downside is huge. So investors must be cautious.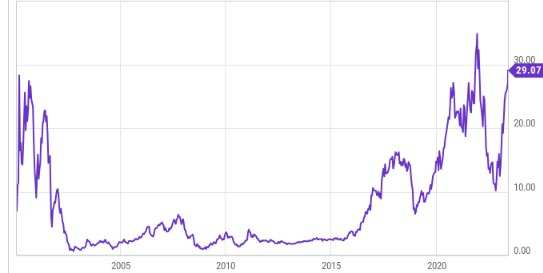 Fig. 1. Nvidia PS ratio.
In terms of PE, the stock trades for around 180 times earnings at the moment, a level that has not been seen since the early 2000s. It's true that earnings are depressed and should recover to a degree as gaming demand picks back up, but Nvidia still trades for nearly 70 times the average analyst estimate for fiscal 2024 earnings.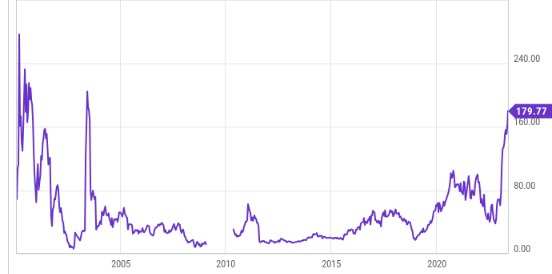 Fig. 2. PE ratio.
So the valuations are now around dot-com bubble levels.
Many tech stocks have jumped on the AI bandwagon and Nvidia does have competition. Its earnings will not be as great as if there is little competition.
Having more than doubled this year driven higher by extremely optimistic expectations, a potential boom in AI-related sales may have already been priced in. Nvidia is about as expensive as it's ever been. If those expectations aren't met, the AI bubble could burst and the stock could be in for a correction.
Tech stocks outperformance
Tech stocks have grossly outperformed the S&P 500 this year because of the AI boom and the banking crisis. Analysts expect the banking crisis to cause the Fed to cut rates in the second half of the year. Tech stocks benefit the most from falling interest rates.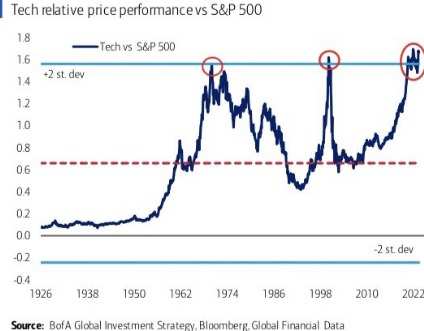 Fig. 3. Tech stocks outperformed S&P 500.
The Nasdaq Composite is up 21% this year. S&P 500 is up 9% year-to-date. All the gains come from just 5 stocks: Microsoft, Alphabet, Meta, Apple and Nvidia. These stocks contribute 10% to the index. If you remove these stocks, S&P 500 actually fell by 1%.
Based on data from BofA Global Investment Strategy, U.S. tech stocks are enjoying their greatest outperformance, relative to the S&P 500, in 97 years.
There have only been 2 times since 1926 where tech stocks even came close to outperforming the S&P 500 to the magnitude we're seeing now: Jan 1970 and Feb 2000. Following Jan 1970, the S&P 500 went virtually nowhere for 9 years. Meanwhile, it took the S&P 500 nearly 14 years to break out to new highs following Feb 2000.
Every next-big-thing investment for the past 30 years has been overhyped by Wall Street, with adoption of said innovation, product, or service taking longer than expected. Internet was overhyped and the dot-com bubble burst in 2000. Although AI has the potential to be a long-term game changer for Nvidia, history suggests the current AI hype will eventually fade. The AI bubble could also burst.
Hence, it pays to be careful when investing in Nvidia now.
Disclaimer: Community is offered by Moomoo Technologies Inc. and is for educational purposes only.
Read more
1
20