Monthly Journal: Traders' Insights Wanted!
Views 141K
Contents 2508
TA for Amazon, Alphabet and Tesla
Fig. 1. Amazon monthly chart.
Amazon plunged 56% from its ATH to the 2022 low. It was its worst fall since the Nasdaq bubble burst.
Yet the stock found support around the 2020 low and formed a bullish outside month to show demand above USD80.
It is still not known whether this is part of a multi-year correction against its multi-year bull trend, but it can be seen that prices have reached a likely pivot area around, near the Feb high and 50% retracement level.
The market revered lower around a 50% retracement level back in Aug 2022. Will history repeat this time around?
Monthly trading volumes have diminished each month since the Dec low to suggest the current rally is losing steam, heading into these highs.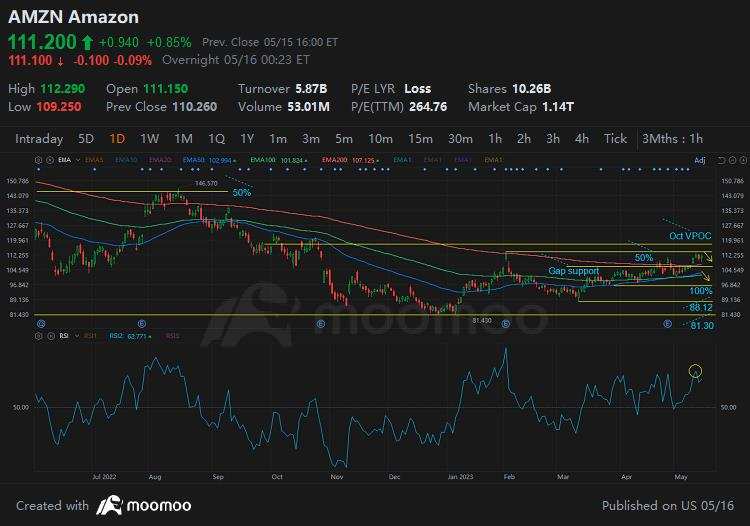 Fig. 2. Amazon daily chaet.
It is also noted that Oct's VPOC (volume point of control) is also overhead at USD116, and that is a level which may be defended by bears.
The VPOC is the level where most of the volume has been traded and, thus, illustrates the fair market value.
Over the short term, prices may close the gap at USD106.79, so would consider fading into rallies below USD116, a break below which brings the lows around USD100 into focus. And if that level breaks, it may be part of a much larger risk-off move which brings USD90 into view.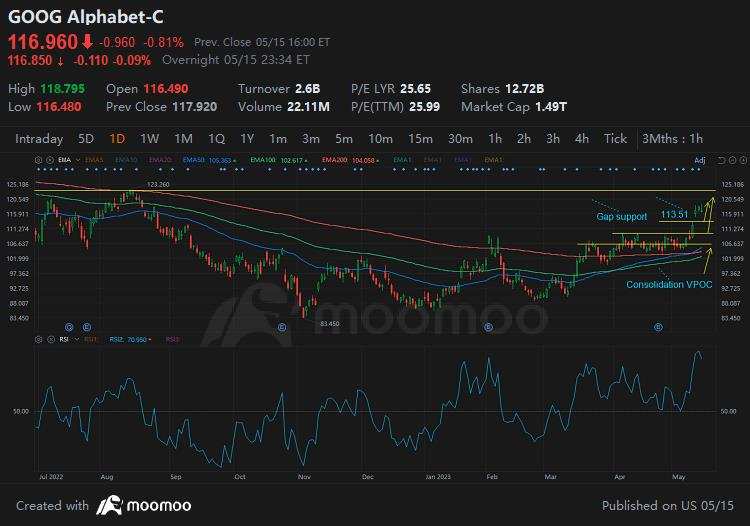 Fig. 3. Alphabet daily chart.
Alphabet posted a strong 11% rally last week, its 2nd time this year to hit double digits.
The market liked their announcement last week that AI will be incorporated into Google and helped the stock break convincingly out of a consolidation.
Most of the trading activity within the consolidation took place at USD105.84 to suggest this is where institutions were buying ahead of the breakout, and it is a level which could be defended upon any retracement. The rally was also accompanied with strong trading volumes to show initiative buying as prices rose.
But RSI has reached overbought level, so it's better to wait for prices to consolidate or retrace against last week's rally before seeking long opportunities.
Those bullish could seek long opportunities around gap support at USD113.51 or the highs around USD110. Or bulls could wait for prices to consolidate further around these highs and seek a bullish breakout on a lower timeframe. Initial upside targets for bulls to consider include 120 and the Aug 2022 high of 123.23.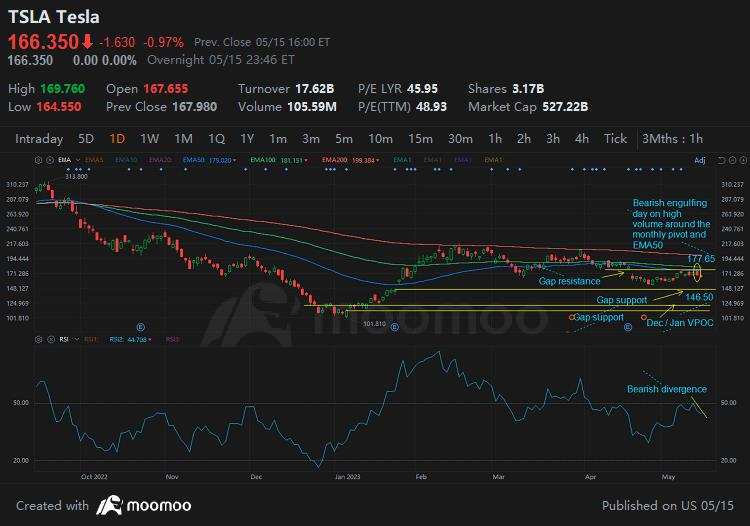 Fig. 4. Tesla daily chart.
It is trading below the EMA200 which is bearish over the long term. Tesla's price action has been relatively choppy. However, several technical factors have come together to provide a potential short swing-trade over the short-term.
The recent rally effectively closed the gap at USD177.65 and was Fri's high. A bearish engulfing / outside day formed on high volume which suggest a reversal, and a bearish divergence formed on the RSI.
The reversal may form around the monthly pivot point, EMA50 and just below the EMA100.
The bias is bearish while prices stay below Fri's high. Bears could seek to enter a break of last week's low, or fade into minor rallies within Fri's range. Round numbers like USD160 and USD150 are possible downside targets, but in a risk-off market it could potentially close the gap at USD146.50 around the monthly pivot.
Disclaimer: Community is offered by Moomoo Technologies Inc. and is for educational purposes only.
Read more
10