FUTU 9th - My moomoo moment
Dear mooers,
FUTU turns 9 and you are invited to celebrate the 9th anniversary together with all mooers!
Do you have a moment
when
you felt really happy to have moomoo with you?
That's what we called the
"moomoo moment".
Share with all mooers about your "moomoo moment" and be rewarded!
Your moomoo moment
can be
stories
with moomoo
: What's your first encounter with moomoo like? What's your first impression of moomoo? Did moomoo bring any changes to your investing journey?
Your moomoo moment
can be your
wishes
for the future
: What's your expectation of moomoo's future? What do you think will happen next between you and moomoo?
Your moomoo moment
can be
friendships
born in the community
:
@your best friends
in the moomoo community with warm words, send them your love and gratitude.
Rewards:
Participation: 99 points for qualified sharings with more than 20 words.
Best Sharings: 9999 points for you to redeem cool moomoo merchandise. 9 mooers will be selected based on the post's originality and quality.
Duration:
2021.10.20 - 2021.10.30
(23:59 ET)
Join us to celebrate the FUTU 9th Birthday!
In 2021, Futu turns 9 years old. Having accompanied millions of users for 9 years.
As we celebrate our 9th birthday, we look back into the past and try to uncover memorable moments, and found that every unforgettable moment was spent with you—our dear users:
In 2012, Futu embarked on an exciting journey with you.
In 2019, we were listed on the Nasdaq.
In 2020, we onboarded our 10 millionth user.
In 2021, we advanced into more markets across the globe, welcoming more than 15.5 million users from over 200 countries and regions…
As we celebrate our 9th birthday, we feel ever more motivated by our founding vision: "make investing easier and not alone". It is the millions of users in our community that make investing "not alone". These 9 years with you are the best time that we have ever spent.
As we celebrate our 9th birthday, we would like you to know: We wish to continue accompanying you on your investing journey ahead, for the next 9 years or even 90 years.
As we celebrate our 9th birthday, we sincerely want to invite you - our dear users - to share your moomoo stories in the past years.
[About the Event]
We wish to invite our users to share their moomoo stories and 9 representative users will be selected. If you are interested, please send your moomoo story or your self-introduction to the official email address: futupr@futunn.com.
The email should include: (ideally 300-500 words, the more the better)
-Your name,  moomoo ID,  Nationality, Occupation
-Your moomoo story: When you started using Futu services and products via moomoo; what you want to share with us and fellow users
-A casual photo of yourself or a photo of you with a moomoo figurine (optional, less than 5M)
[What to Do If I Am Selected as a Representative User?]
① You should be willing to take an interview themed "My moomoo Story", which will be disseminated via global and Futu/moomoo official media channels in the form of image and text.
② You should be willing to take a photo against a pure-colored background or a photo that presents your daily life. The photo will be used for the poster of "Futu 9th Anniversary—Representative Users", which will be disseminated globally.
③ You should be willing to participate in a video filming. The video will be used for the video of "Futu 9th Anniversary—Representative Users", which will be disseminated globally.
*Detailed information on the specifications of the photos and videos will be further discussed with you by our staff.
[Application Period]
September 16 – September 22
[Gift Package for Selected Users]
If you are selected as a representative user, share your Futu story, and participate in the photo taking and video filming, you will receive a US$999 stock card*, and a lucky bag containing exquisite moomoo merchandise.
[Gift Package for Event Participants]
User that actively participated in the Event but are not selected will receive 999 points* as a thank you gift.
*T&Cs apply:
Singapore Users: tap to read full T&Cs
U.S. Users: tap to read full T&Cs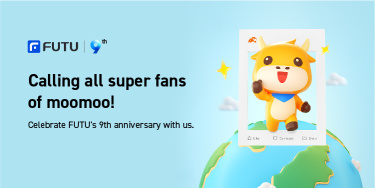 The 9th anniversary story of Futubull users we would like to share today is about a new mom named Tina. She made her first foray into the stock market only a year ago, but successfully transformed herself from a green hand who followed the herd to a discreet and rational investor with her own investment logic.
As a mom, Tina has also set up a finance management plan for her baby born this year, hoping to save up a fortune as the baby grows up.
Used to be an "average but confident" newcomer trapped in herd mentality
At the beginning of 2020, Tina just closed her own business for good and, faced with the raging Covid-19 pandemic, she had no choice but to stay at home. Like many others who had plenty of time to kill during lockdown, Tina got intrigued by investing and making money. But by then, she was just an overconfident newbie who made quite a few silly mistakes.
"For a start, I did what other immature investors had done: bought at the top and sold at the bottom, held only those hot stocks and dreamed about turning rich overnight. I didn't think much or do any review, because all I wanted was to make quick money," said Tina. Yet the market trend changed dramatically in February, 2021, when the performances of growth stocks and value stocks switched, causing her portfolio to lose 30% of its value in a week. In retrospect, she confessed that "it felt like falling from heaven to hell with my face down. The excruciating loss made me deeply reflect on my operations."
Learning from that hard lesson, Tina made up her mind to study investment from the basics. "I think what's good about me is that I'm a constant learner." She spotted numerous insightful articles by seasoned investors on Futubull community, who shared their investment philosophy and lent a helping hand to newcomers who struggled to build their knowledge base. Futubull also offers free courses for green hands, helping them learn investment in a systematic way, including basics such as how to value a company and diversify portfolios.
Furthermore, Tina joined several training camps offered by Money Plus, which taught her knowledge about wealth distribution, money-making tactics on the capital market and asset allocation plans for female investors.
"Futubull has taught me a lot. It gives me an opportunity to learn from investment masters and helps me grow. It's more than a stock-trading app. I can feel Futubull takes an effort to guide investors, telling them about proper investment attitude and providing comprehensive investment knowledge and science-based approaches for them. It's dedicated to thriving with its clients," said Tina.
Tina's growth stage: building her own investment pyramid
As she got deeper knowledge in investing, Tina fought her way as a mature investor, holding stocks and funds in the meantime and gaining reasonable returns within her capability step by step. Gradually, she understood what Warren Buffet meant when he said, "Time is the friend of the wonderful company, the enemy of the mediocre."
"Now I'd put a greater emphasis on two types of companies that have a wider moat. The first ones are highly-recognized companies that cannot be changed, such as Hermès, LV, and Moutai, a household Chinese liquor brands. The other category is made up of leading companies that can change the world, like apple and Tesla."
In terms of operations, Tina has become more prudent than she used to be. For instance, she closed her positions of Tesla at 100% yield. "I'm quite decisive in making exits. I'll leave without hesitation if I feel it's the right moment."
Tina designed a "Happiness Plan" for herself in the investment pyramid, perking herself up by buying things she likes. "Apart from managing our finances, girls all enjoy shopping. If I stashed away all the money I earned, I wouldn't be happy. But with this 'happiness plan' I'll work harder on investing to make more money and reward myself with things I want."
Her family members are also part of her investment pyramid. "I have a 'fire plan' included in the pyramid, too. I hope my husband won't be so busy when I achieve my financial freedom. Instead, he can take me and the baby to travel around the world, experiencing exotic lifestyles and seeing something totally different. Since we cannot earn money beyond our perception, we need to see the bigger world before we play big."
Setting a financial management plan for her newborn baby
2021 matters a lot to Tina for another reason—her baby was born!
"My baby's zodiac is ox, making it a good pair with Futubull. I have redeemed many Futubull mascots and placed them around the TV. My baby will have a lot fun with them," joked Tina.
After giving birth, Tina turns into a stay-at-home mom. "I now do financial planning while taking care of my love because good financial management matters a lot to a thriving family. As I have a penchant for managing finances, I also set up a financial management plan for my baby."
Tina contributes a fixed amount to 3 funds on Futubull for her baby every month, hoping to save him a fortune when he grows up.
On occasion of the 9th anniversary of Futu, Tina said, "I hope Futu can continue to thrive and lead the industry, growing into a company that works for every investor and enables different means of payment so that everyone can manage their finances at ease here. Plus, I wish all investors on Futubull can earn big money. Finally, Futu, happy 9th anniversary!"
Disclaimer: The above content represents the personal sharing and opinions of the guest, and does not constitute any recommendation, purchase, sale or holding of the above-mentioned stocks or investment strategies by Futu.   All investment involves risk. Prices of investment products may go up as well as down. Please understand the product risks and seek for professional advice before making any investment decisions.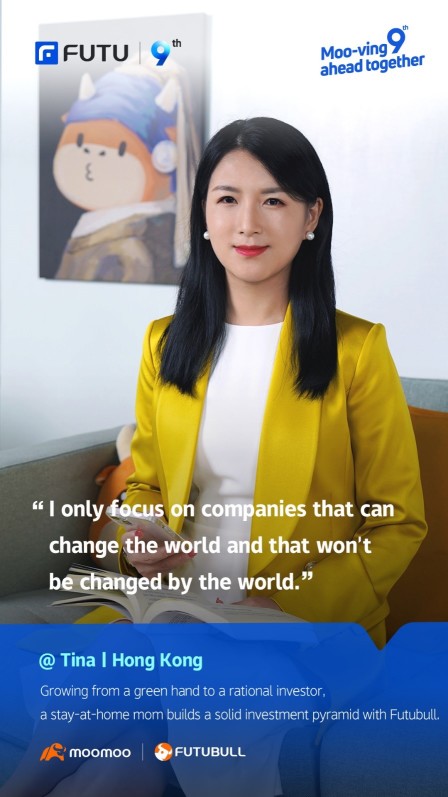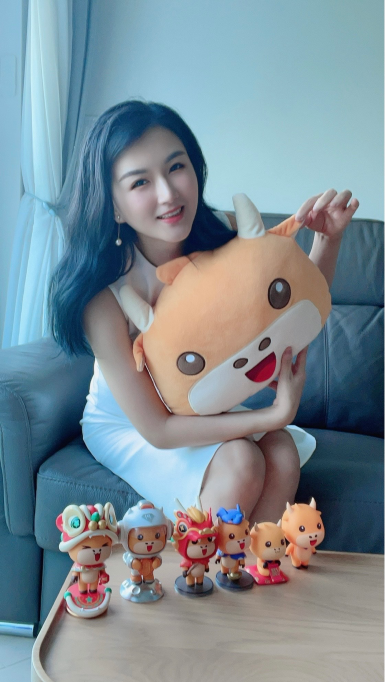 The advancements MooMoo has made in 18 months is about like going from an Atari to a PS5 in that same amount of time. Night to day changes made and all for the better.
There was a time when people would post only stocks ticker, short and sweet, just to give everyone a heads up or a "Hey look at this one!" "You might like it!"
Banter was to the point,with some maybe just asking a question or clarification. You were lucky if there was 20 posts the entire day. Now there's that many in a few seconds in Memes alone. It seemed as if everyone had never invested or were less than 6 months into it. The ones that had any experience were latched onto or they made sure they took in what experience they let out. I, being a Sat-Guru, answered questions or pointed out other factors that could affect their predicted outcomes, which has become a great honor for me to continue doing, reaching thousands around the world. Touching the lives of so many people or putting out ideas to change their views on the world and teaching with kindness and respect, sometimes even with fun.
The stock market will not accept the weak so the more knowledge that gets posted, the more prepared we are for the manipulation.MooMoo became a big part of this movement. Its a main force in grasping how the market works and it forces one to accept brutal truths about life. One of these brutal truths is that whenever money is involved, there will be those who try to get an advantage by either legal or illegal means. As investors, we cannot control or change how the big boys play the game. Understanding that manipulation can work for or against you, depending on your position, helps remove worry about these sometimes unethical or illegal practices. And the more people in the game, on your side is the best way possible to beat the market. But there will be the ones around who want to invest in stocks that have the highest risk of losing and can have the highest profit in the market, aka day traders and short-term investors, so i figure its best they have the best teacher for that also.(If that is teachable);). I will protect as many as i can but you will always have the gunslingers or high risk takers believing the way they invest is different and they will beat the system, until they dont then that gives them someone to blame besides themselves.
So that brings us to the present time. Just look at all the changes and how far MooMoo has come. Almost unbelievable. Theres not an investing app or social media app in my opinion thats better than this one. People will learn more here than at any school or college or seminar. And the best part is that its all free(minus the expected kickbacks.)
The best community you can ask for is one thats open to all so no one is left out. Private messages ruin trust. We should live our lives that way, if you cant say it to everyone in the community then you probably shouldnt be saying it. MooMoo community has no secrets. Just ask
@Captain Flint
@chgocal123
@DEADSEED1111
@I M POSSIBLE
@MS159
@Mr Trecherous
@Popular on moomoo
@petermanysaliva
@STD0313
@Team moomoo
@treydongui
@yesuuu
@Bunnx
and thousands of others.
And remember to take time alone so you can enhance your perceptions and intelligence. To be the best we must remind ourselves everyday that we are mortal and we will leave this world with one thing and only one-enlightenment. Then we can face the world every day with the right perspective.
Before i go....
$Cricut
(
CRCT.US
)
$
today buy in 27.68 sell 30.70. Hold until Tuesday sell at 33.76. 20% profit.
Reversed downtrend
$US Well Services
(
USWS.US
)
$
$ChemoCentryx Inc
(
CCXI.US
)
$
$Inovio Pharmaceuticals
(
INO.US
)
$
Still holding
$Sesen Bio
(
SESN.US
)
$
$Kintara Therapeutics
(
KTRA.US
)
$
Watch
$HEXO Corp
(
HEXO.US
)
$
ER
$Lucid Group
(
LCID.US
)
$
Should make 40.00 before pullback today
$United States Steel
(
X.US
)
$
Good ER will set new high in the next couple of weeks.
$Proto Labs
(
PRLB.US
)
$
Hit by inflation. Will rebound quick.
Thanks for making all this possible MooMoo and MooMooers.
Join topic