Weekly Buzz
Views 135K
Contents 183
Weekly Buzz: The inflationary CPI stage is all set, are you braced for it?
Spoiler
:
At the end of this post, there is a chance for you to win points!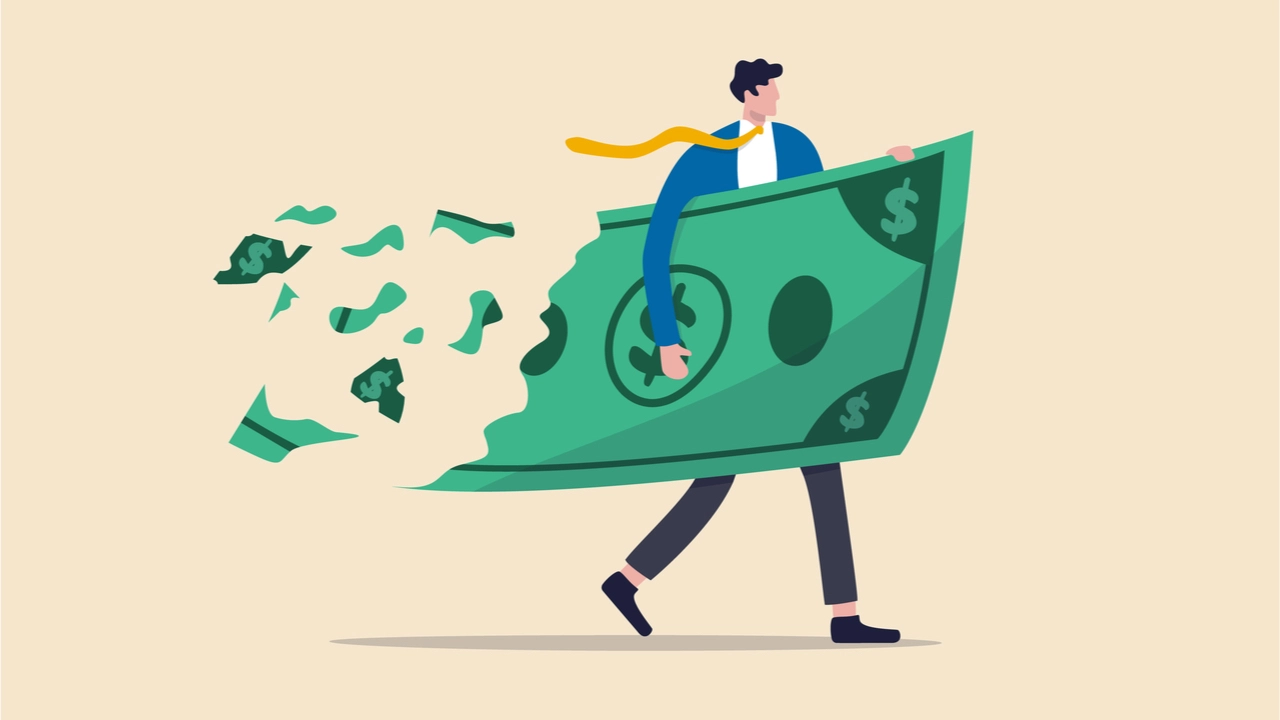 Source: Bitcoin.com News
Happy Monday,
mooers
! Welcome back to
Weekly Buzz
, where we review the news, performance, and community sentiment of the selected buzzing stocks on moomoo platform based on search and message volumes of last week! (Nano caps are excluded.)
Part Ⅰ: Make Your Choices
Part Ⅱ: Buzzing Stocks List & Mooers Comments
Three major indices moved
downward
, Russell 2000 Index decreased
1.20%
last week (As of Jul 15, 2022). Here is the weekly buzzing stock list of last week: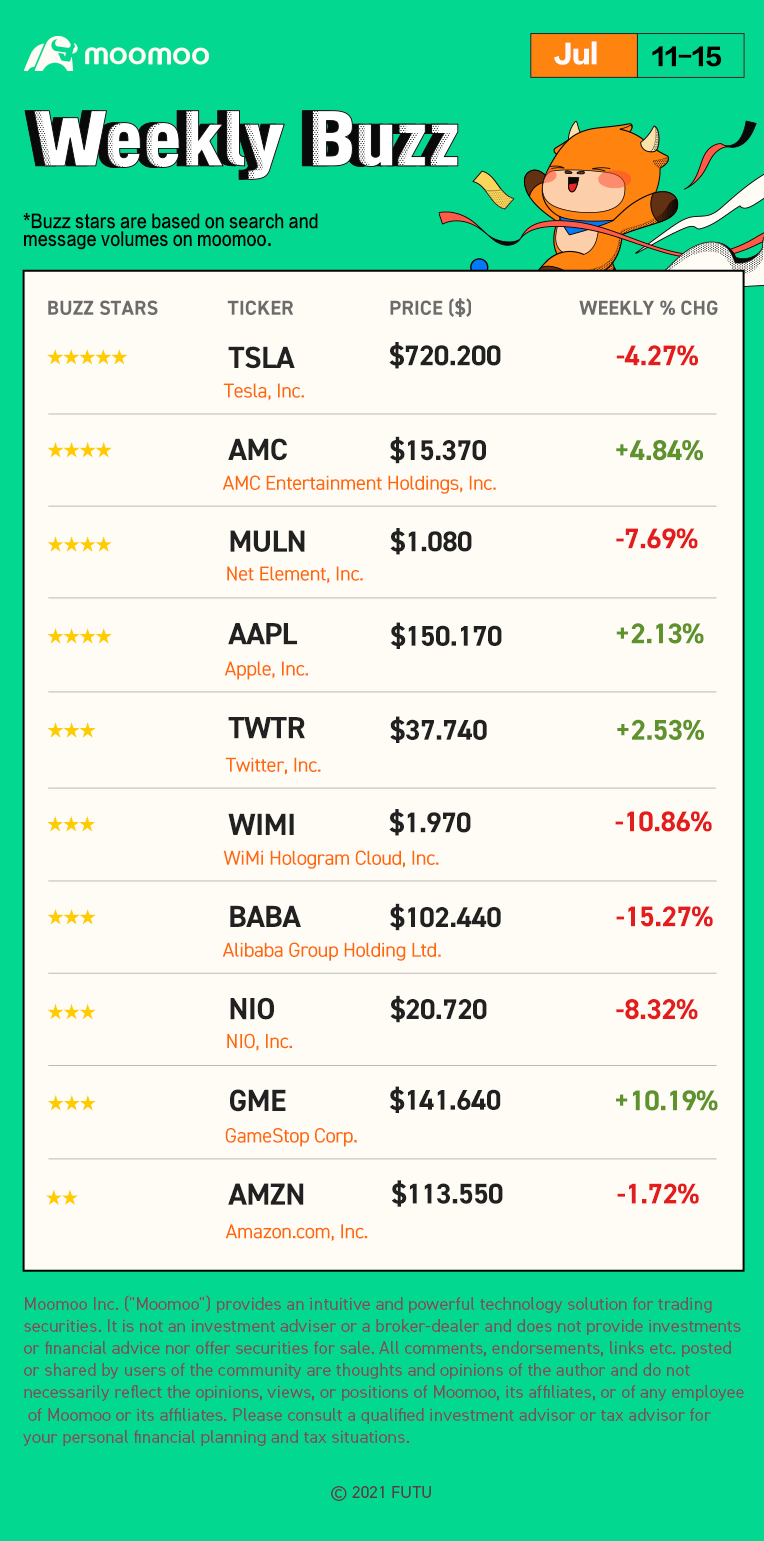 1. TSLA - Buzzing Stars:





Andrej Karpathy, who has held the position of Senior Director of AI at Tesla, has announced his departure. TSLA's stock slipped
4.27%
to $720.200 for the week (As of Jul 15, 2022).
● Mooers comment
@SpyderCall
:
Tesla is range bound. Here are the technical levels to watch
you can see this range more clear with the daily candles in the chart below. currently the price is at mid-range. personally for me to make a play I will need a support or resistance level to play off of. so I might wait till we climb to resistance or drop down to support before deciding on a short-term play.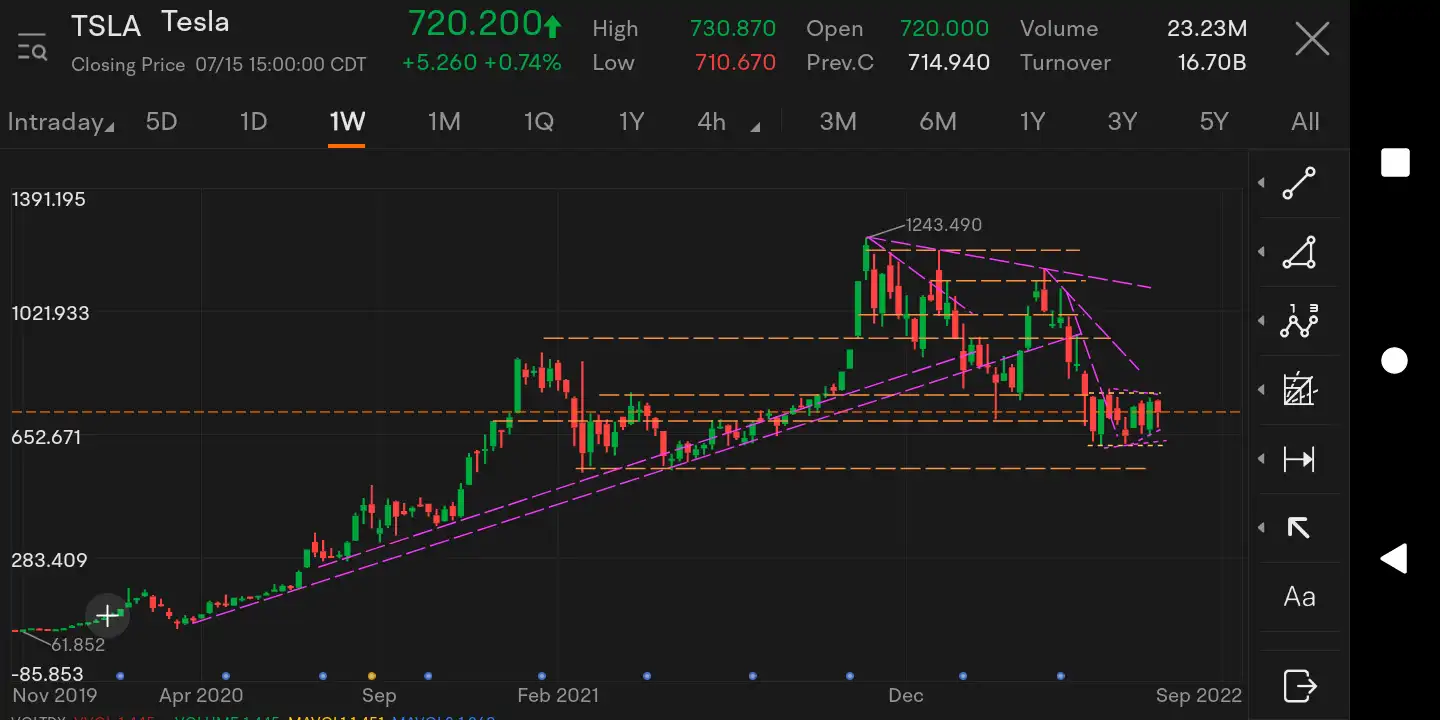 AMC smashed the year's record for foreign attendance. Box office revenue for the weekend was up by 12% globally compared to the same period in 2019. Its share price soared
4.85%
and closed at $15.370 (As of Jul 15, 2022).
● Mooers comment
@SpyderCall
:
In the chart directly below you can see the longer term time frame of amc. a huge descending wedge pattern that has formed on AMC's long-term time frame. I will absolutely be watching for the breakout of this very long-term wedge pattern. some investors say the longer the price is coiling up in a wedge pattern then the bigger the breakout or breakdown will be when it happens.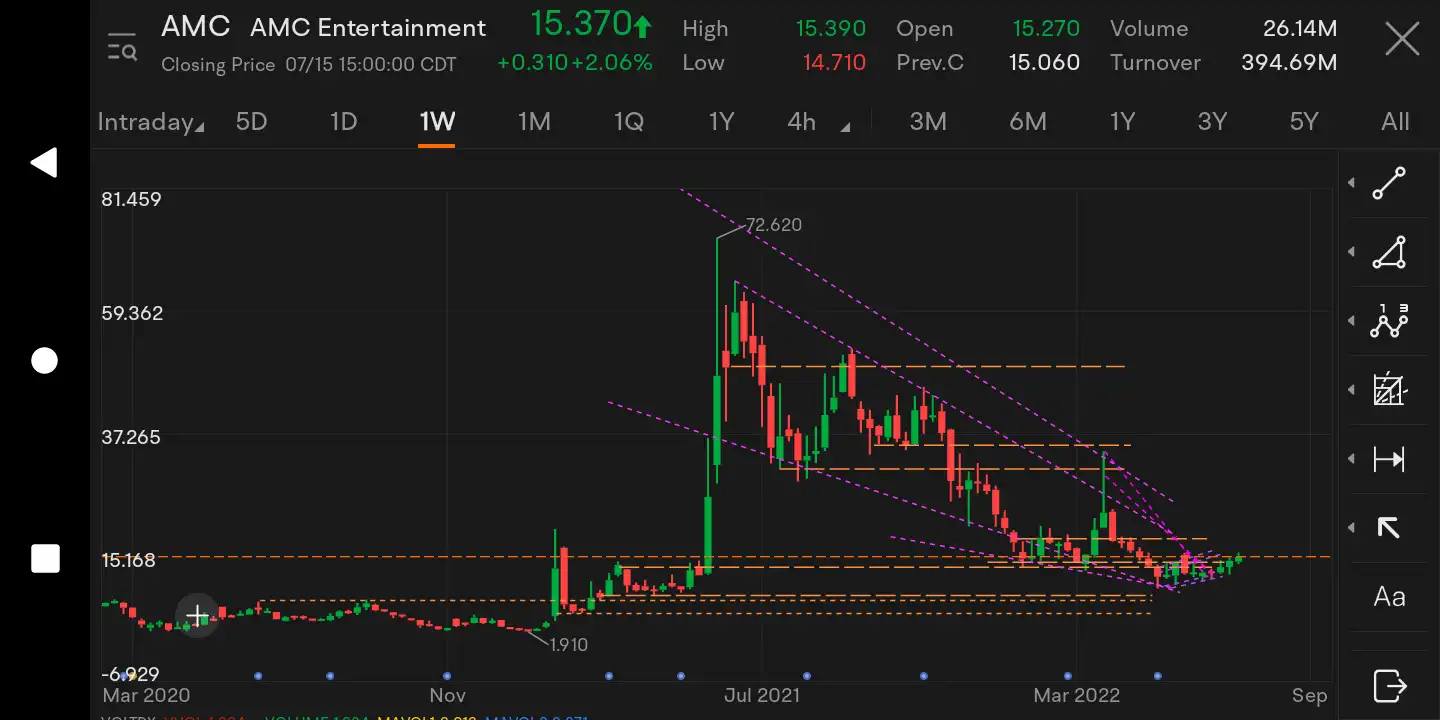 Mullen reported a 600 EV van binding agreement with Amazon delivery partner, DelPack Logistics. While the share price of MULN closed at $1.080, with a weekly decline of
7.69%
(As of Jul 15, 2022).
● Mooers comment
@Piggy Bank Trader
:
$Mullen Automotive
(
MULN.US
)
$
All these EV companies are getting it wrong. They are all fighting for full market exposure and with so many companies coming out, everyone loses.
You cant be a master of all and in all categories. if i were Mullen, id focus on delivery vehicles and be the best!
Read more >>
4. AAPL - Buzzing Stars:




The iPhone maker will face a litmus test when it releases its fiscal 2022 third-quarter earnings report on July 28. Its stock price closed at $150.170, with a weekly growth of
2.13%
. (As of Jul 15, 2022).
● Mooers comment
@Cow Moo-ney
:
Apple's Shooting Star
Once 140 breaks, we could waterfall to sub 130s quite quickly. But if it flies and closes above 150, then it will invalidate the shooting star pattern.
It all depends on the CPI data and how the market makers want to move the market
Read more >>
5. TWTR - Buzzing Stars:



The court date between Elon Musk and Twitter  has been set for July 19. Wall Street believes that Twitter has a "strong iron fist upper hand." Its share price closed at $37.740, with a weekly rise of
2.53%
(As of Jul 15, 2022).
● Mooers comment
@doctorpot1
:
Judge in Twitter v Musk case once ordered a deal to close, will she do the same for Twitter? if
$Tesla
(
TSLA.US
)
$
CEO is forced to buy $Twitter(TWTR.US)$, this may finally put a stop to Elon's antic of abusing his tweets to manipulate the market.
Read more >>
6. WIMI - Buzzing Stars:



As a leader in the holographic AR industry, WiMi Hologram Cloud accelerated the layout of the underlying technology of metaverse. However, its share price closed at $1.970, with a weekly plummet of
10.86%
(As of Jul 15, 2022)
● Mooers comment
@Milejy
:
According to the research report of the organization, the WIMI cloud ecology has gradually taken shape, making major breakthroughs in holographic applications such as advertising, entertainment, education and 5G communication.
7. BABA - Buzzing Stars:



China's GDP increased by just 0.4% in the second quarter. It was far worse than the 1% growth economists forecast and sharply below the 4.8% increase it generated in the first quarter. The share price of BABA went down
15.27%
to $102.440 over the past week (As of Jul 15, 2022).
● Mooers comment
@Sonic The HEDGED
:
ALIBABA. ADR close. Extended Hong Kong close lower (See ADR translated price / Hong Kong price). Prices closed above the day's lows due to strong Nasdaq but red bar, lower and extended HK price drop.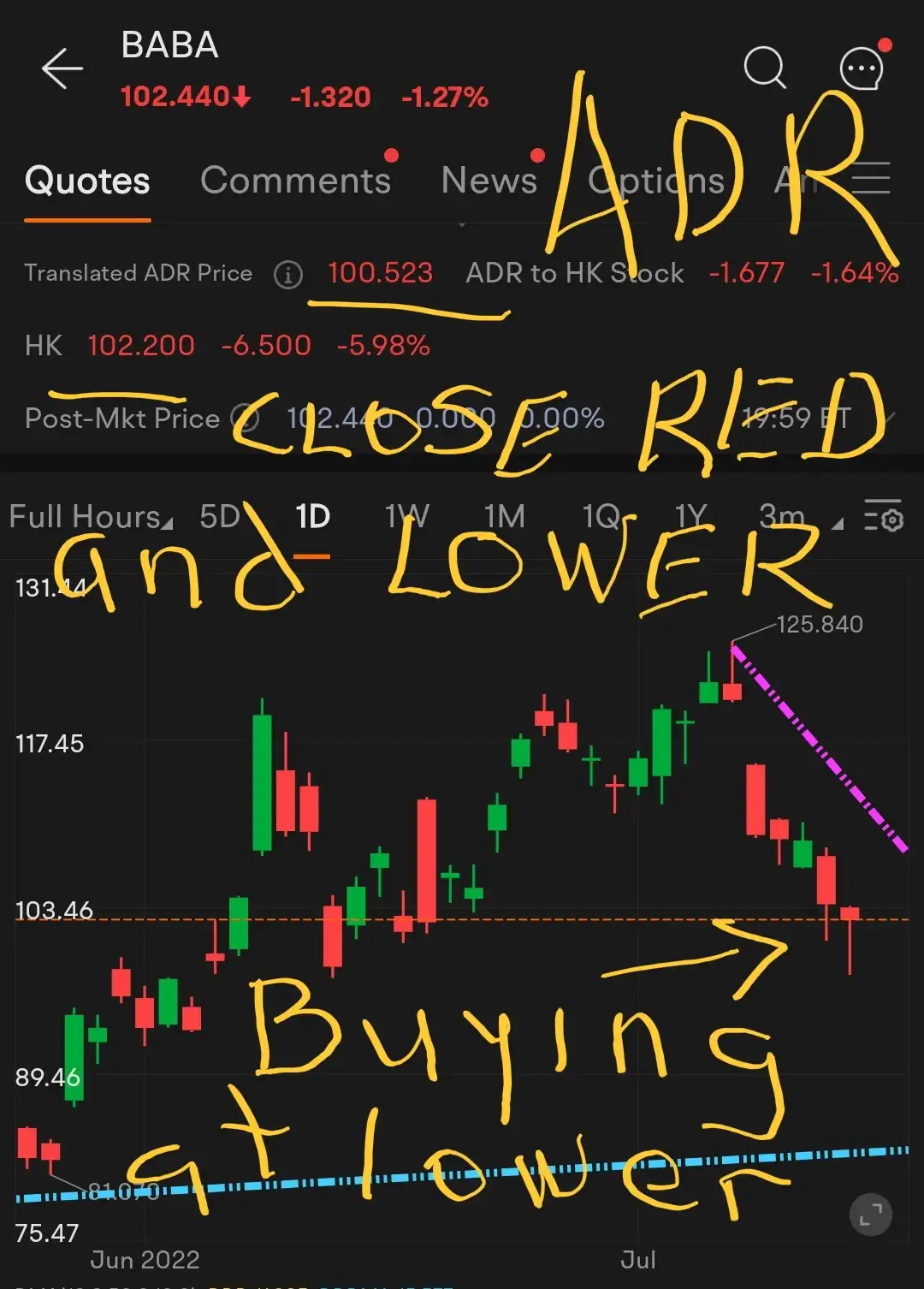 Two things that have been weighing on Nio shares last week have been new COVID-19 restrictions in several places in China and the company's update on its response to a recent short-seller report. The share price of NIO fell
8.32%
to $141.640 for the week (As of Jul 15, 2022).
● Mooer comment
@SANDRO 善子
:
$NIO Inc
(
NIO.US
)
$
Looks like Green Fund is very productive to cause post-market up.If Green Fund move in tonight at Intraday, stock might hit 22. If Red Fund continue to attack, the stock might move around 21.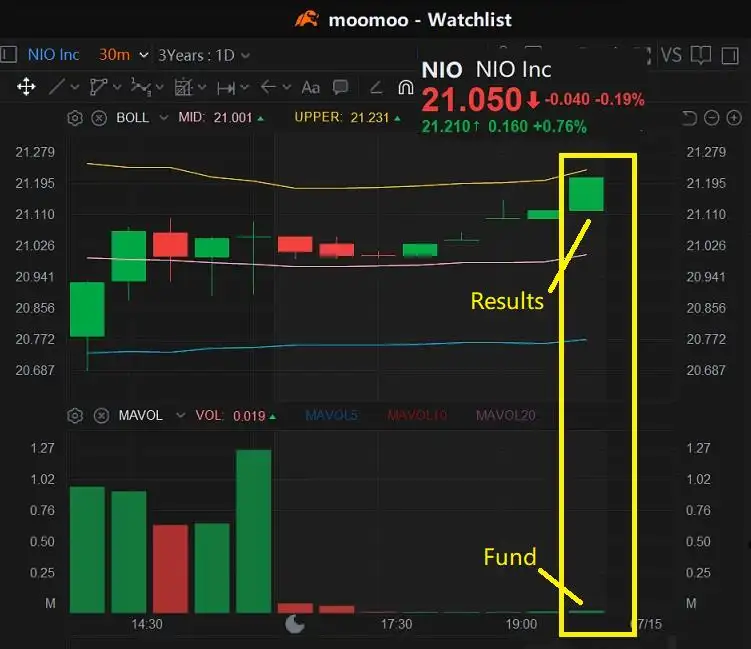 GameStop stock has gained 15% in the first half of this month, mainly due to investor enthusiasm about a planned stock split and the launch of the company's long-awaited NFT marketplace. The shares of GME climbed
10.19%
last week and finally closed at $141.640 (As of Jul 15, 2022).
● Mooer comment
@SpyderCall
:
Possible Bullish Breakout. Or Not?
With a little closer look on the daily candles as you can see below, GameStop's prices been trapped within a very tight horizontal range. the resistance of this range is corresponding with the much longer term down trending resistance that I mentioned in the chart above. this makes it a little bit of a stronger resistance zone. so it is especially important to watch this area next week.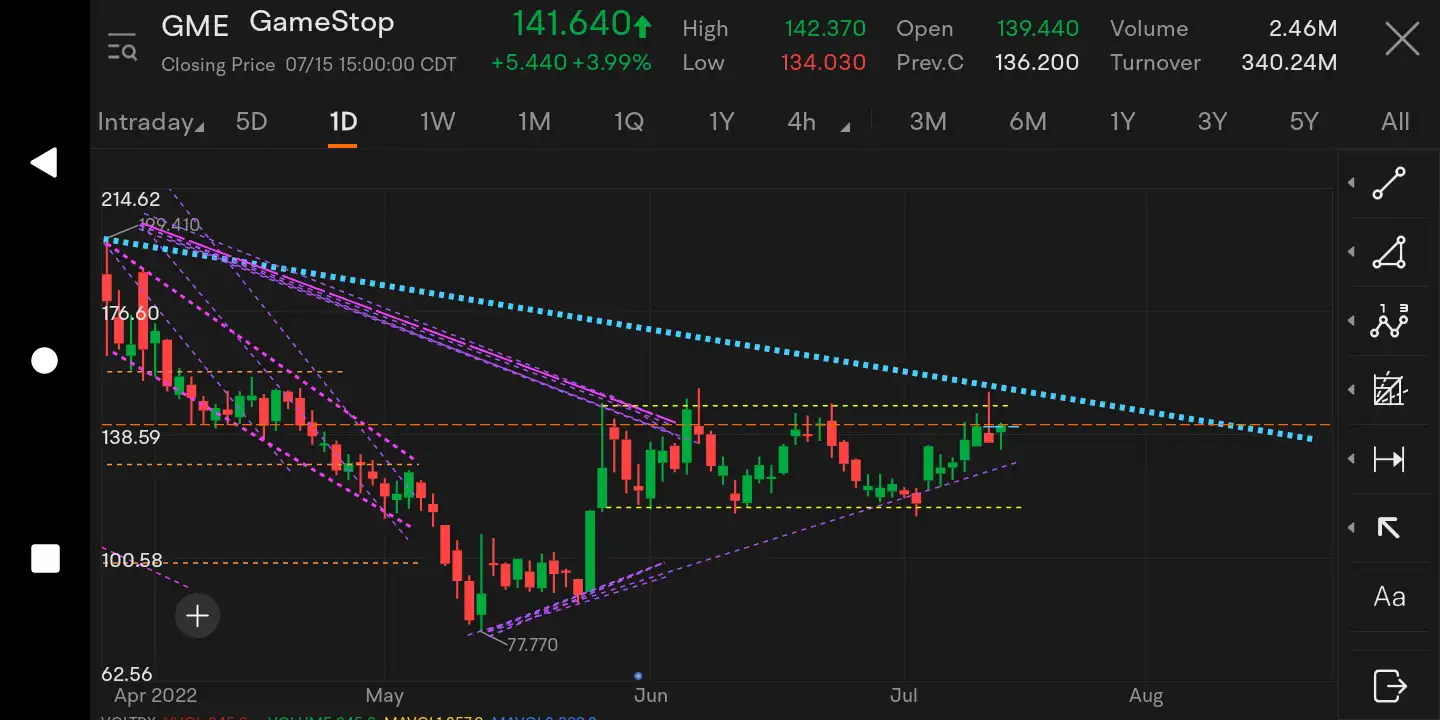 10. AMZN - Buzzing Stars:


Prime members purchased more than 300 million items worldwide during Prime Day 2022, making this year's event the biggest Prime Day event in Amazon's history. As the prime day over, the share of AMZN closed at $113.550, with a weekly decline of
1.72%
(As of Jul 15, 2022).
● Mooer comment
@Roooooot
:
$Amazon
(
AMZN.US
)
$
announced a 20-for-1 stock split and $10 billion stock buyback plan on March 9. Investors who owned shares at the close of trading May 27 had their stock split on June 6. In theory, investors shouldn't gain or lose any share value due to a stock split. But in reality, this doesn't always happen.
Read more >>

Thanks for your reading!


Awarding Moment

Before moving on to part three, congrats to the following mooers whose comments were selected as the top comments last week!
@HopeAlways
@Syuee
@Revelations 6
@doctorpot1
@allen kidd
@steady Pom pipi
@Milk The Cow
@CasualInvestor
@71182894
@FearGreed
@KT88
@BullRunner
@cola1010
@Double Rainbow
@Southern Eagle
@HuatEver
@HuatLady
@VCSuccess
Notice
: Reward will be sent to you this week. Please feel free to contact us if there is any problem.
Part Ⅲ: Weekly Topic
Time to be rewarded for your great insights and knowledge!
This week, we'd like to invite you to comment below and share your idea on:
What knowledge do I need to start investing in the stock market?
We will select
15 TOP COMMENTS
by next Monday.
Winners will get
200 points
by next week, with which you can exchange gifts at Reward Club.
*Comments within this week will be counted.
Top Comment Technique:
● Fundamental / Technical / Capital Analyses
● Personal Trading Experience
● Any bright insights or knowledge
Disclaimer
: Comments above are made available for informational purposes only. Before investing, please consult a licensed professional.
This presentation is for informational and educational use only and is not a recommendation or endorsement of any particular investment or investment strategy. Investment information provided in this content is general in nature, strictly for illustrative purposes, and may not be appropriate for all investors. It is provided without respect to individual investors' financial sophistication, financial situation, investment objectives, investing time horizon, or risk tolerance. You should consider the appropriateness of this information having regard to your relevant personal circumstances before making any investment decisions. Past investment performance does not indicate or guarantee future success. Returns will vary, and all investments carry risks, including loss of principal.
Tap for more details>>
Moomoo is an app offered by Moomoo Technologies Inc. that provides information about investments. Moomoo Technologies is not an investment adviser or a broker-dealer and it provides neither investment or financial advice nor securities trading services. All contents such as comments and links posted or shared by users of the community are opinions of the respective authors only and do not reflect the opinions, views, or positions of Moomoo Technologies, its affiliates, or any employees of Moomoo Technologies or its affiliates. You are advised to consult a qualified financial or tax advisor for your personal financial planning and tax situations. Moomoo makes no representation or warranty as to its adequacy, completeness, accuracy or timeliness for any particular purpose of the above content.
63