Weekly Buzz
Views 137K
Contents 195
Weekly Buzz: Major tech companies' earnings came out, AMZN slumped 12%, FB soared. Check out now!
Spoiler:
At the end of this post, there is a chance for you to win points!
Happy Monday,

mooers!

Welcome back to

Weekly Buzz, where we review the news, performance, and community sentiment of the selected buzzing stocks on moomoo platform based on search and message volumes of last week! (Nano caps are excluded.)
Part Ⅰ: Make Your Choices
Part Ⅱ Buzzing Stocks List & Mooers Comments
Three major indices moved

downward, Russell 2000 Index decreased

3.58%

last week. Here is the weekly buzzing stock list of last week: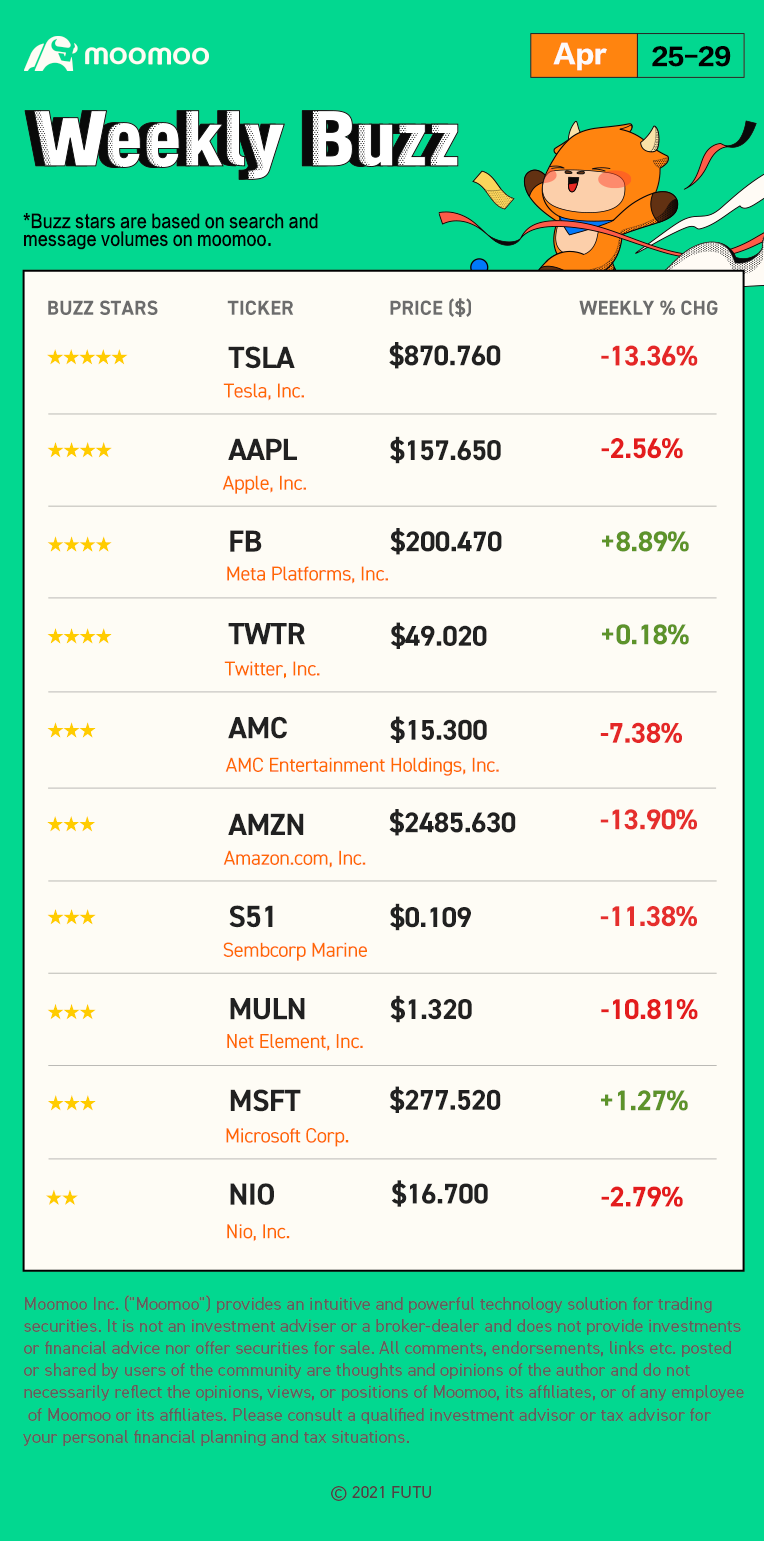 1. TSLA - Buzzing Stars:





Three days after agreeing to buy Twitter Inc. for $44 billion, Musk sold $2.8 billion of Tesla stock, and the company's market value evaporated by $120 billion in three days. TSLA's stock decreased

13.36%

 

to $870.760 for the week.
●
Mooers comment
@HengOngHuatlah

:
$Tesla

(

TSLA.US

)

$

He must be buying up the shares in twitter to reduce cost of purchase soon or already doing so. and with opportunity costs idle cash will not happen. twitter should rise next week and announcement after. hopefully that will prop up Tesla back to 1000 mark again.
2. AAPL - Buzzing Stars:




Apple predicted that the supply crunch would lead to a $4 billion to $8 billion reduction in revenue for the quarter, a warning that caused Apple shares to plummet. Its share price fell by

 

2.56%

 

and closed at $157.650.
● Mooers comment
@102678535
$Apple

(

AAPL.US

)

$

is a good example of Value Investing.  Buy company stocks that has good reputation with strong customer market power and command great followers who will buy its product and services even if it marked up its price.
Recap: AAPL Q2 2022 Earnings Conference Call
3. FB - Buzzing Stars:




Meta Platforms reported Q1 2022 earnings last Friday, with earnings per share ahead of market expectations and active user growth resumed. Last Friday, its stock price closed at $200.470, with a weekly growth of

 

8.89%.
● Mooers comment
@PassiveIncome0723
$Meta Platforms

(

FB.US

)

$

sales slow is normal with this economy but why should we evaluate a super potential company just base on quarterly sales, this is too short sighted.
>>Recap: FB Q1 2022 Earnings Conference Call
4. TWTR - Buzzing Stars:




Last Monday, Twitter was announced to be acquired by Elon Musk for $54.20 per share in cash in a transaction valued at approximately $44 billion. Upon completion of the transaction, Twitter will become a privately held company. The share price of TWTR closed at $49.020, with a weekly rise of

 

0.18%.
●
Mooers comment
@ElonMustLoveYou
I certainly wouldn't call myself a defender of Musk since I'm really sure what there is to defend but SpaceX just safely returned 4 astronauts from the ISS and the next day launched 4 more to the station, which as far as I know is a first.

$Twitter (Delisted)

(

TWTR.US

)

$
5. AMC - Buzzing Stars:



According to the pandemic-impacted cinema giant's proxy statement filed with the Securities and Exchange,

$AMC Entertainment

(

AMC.US

)

$

Theatres CEO Adam Aron received compensation of $18.9 million in 2021, down from $20.92 million in 2020. The shares of AMC declined

 

7.38%

 

last week and finally closed at $15.300.
● Mooers comment
@Tonyten88

:
Keep your heads up apes. We might see more red days ahead of us. It's not AMC it's the market. Hodl, buy when you can,average down and hopefully we see some forced liquidations in the near future. I'm not leaving till the shorts cover! You've got my word on that.
6. AMZN - Buzzing Stars:



$Amazon

(

AMZN.US

)

$

fell 8.82% in pre-market after reporting earnings last Friday, reporting a loss of $7.56 per share for the first quarter, below market expectations. Its share price closed at $2485.630, with a weekly drop of

 

13.90%.

 
● Mooers comment
@Alvin Chow 邹咏翰
"US big tech results are confusing investors"
US Big tech results are out and the results generally aren't inspiring.
While the common reason is to blame Russia, I think there are more important factors such as lapping the exceptional results achieved during Covid and the risk of stagflation (high inflation, low growth) that cause the results to be a mixed bag.
>>Recap: AMZN Q1 2022 Earnings Conference Call
7. S51- Buzzing Stars:



Keppel Corp. and Sembcorp Marine are both controlled by Singapore state-linked investment firm Temasek. They have agreed to merge to create the world's largest builder of oil rigs. Its share price closed at $0.109, with a weekly fall of

 

11.38%.

 
●
Mooers comment
@affable Squirrel_z7r
$Sembcorp Marine

(

S51.SG

)

$

relax people. when you find direction doesn't make sense. thats because it doesn't. so let the dust settle and the solid climb will come.
8. MULN - Buzzing Stars:



An emerging electric vehicle manufacturer, Mullen, announced a recently published article by The Buzz EV News that highlighted Mullen's progress and its plans for the upcoming FIVE EV Crossover. However, its stock went down

 

10.81%

 

to $1.320 over the past week.

 
● Mooers comment
@McBrew

:

I'm falling in love…
$Mullen Automotive

(

MULN.US

)

$

always starts red and turns green in the end…endless suprizes and spontaneous movement! However am still finding myself buying more!
9. MSFT - Buzzing Stars:



Microsoft earnings rose last quarter with demand for cloud services, it continued to benefit from the shift to remote work during the pandemic. The price of MSFT rose

1.27%

 

to $277.520 for the week.
● Mooers comment
@DavidBeeby
$Microsoft

(

MSFT.US

)

$

 

CEO: "I don't hear of businesses looking to their IT budgets or digital transformation projects is the place for cuts...I have not seen this level of demand...in an inflationary environment, the only deflationary force is software."
>>Recap: Microsoft FY22 Q3 Earnings Conference Call
10. NIO - Buzzing Stars:


NIO Inc. provided April 2022 delivery update. It delivered 30,842 vehicles year-to-date in 2022, increasing by 13.5% year-over-year. Nevertheless, the share price of NIO closed at $16.700 with a weekly decline of

 

2.79%.
● Mooers comment
@strangecloud

:
$NIO Inc

(

NIO.US

)

$

Quite bloody today…only a few survive…
EVs are all quite badly hit.
Collective dive~
Next week will be worse….I think when Fed Hike is confirm…
Just saying…

Thanks for your reading!


Awarding Moment

Before moving on to part three, congrats to the following mooers whose comments were selected as the top comments last week!
@HopeAlways
@Syuee
@Revelations 6
@阿姚朋友
@Expendabiggles
@VCSuccess
@Milk The Cow
@HuatEver
@71602577
@103047546
@KT88
@Double Rainbow
@Southern Eagle
@HuatLady
@ZenTime
Notice: Reward will be sent to you this week. Please feel free to contact us if there is any problem.
Part Ⅲ: Weekly Topic
Time to be rewarded for your great insights and knowledge!
This week, we'd like to invite you to comment below and share your idea on:
"How do you read and understand earnings report? "
We will select

15 TOP COMMENTS

by next Monday.
Winners will get

200 points

by next week, with which you can exchange gifts at Reward Club.
*Comments within this week will be counted.
Top Comment Technique:
● Fundamental / Technical / Capital Analyses
● Personal Trading Experience
● Any bright insights or knowledge
Previous of Weekly Buzz
Weekly Buzz: Why are investors falling out of love with Netflix?
Weekly Buzz: Why is Elon Musk so obsessed with Twitter?
Weekly Buzz: Who is the best bet for your money?
Disclaimer: Comments above are made available for informational purposes only. Before investing, please consult a licensed professional.
Disclaimer: Moomoo Technologies Inc. is providing this content for information and educational use only.
Read more
40