Two hours: Google says AI 143 times, shares rise two days in a row
$Alphabet-C
(
GOOG.US
)
$
$Alphabet-A
(
GOOGL.US
)
$
Google parent company Alphabet has closed up more than 4% for the past two consecutive trading days, and the stock price has quietly rallied to its highest price since last August, with market capitalization once again standing at $1.43 trillion. It seems that the AI report card delivered by Google at the I/O conference has been recognized by the capital market. And this is exactly the message Google executives want to send.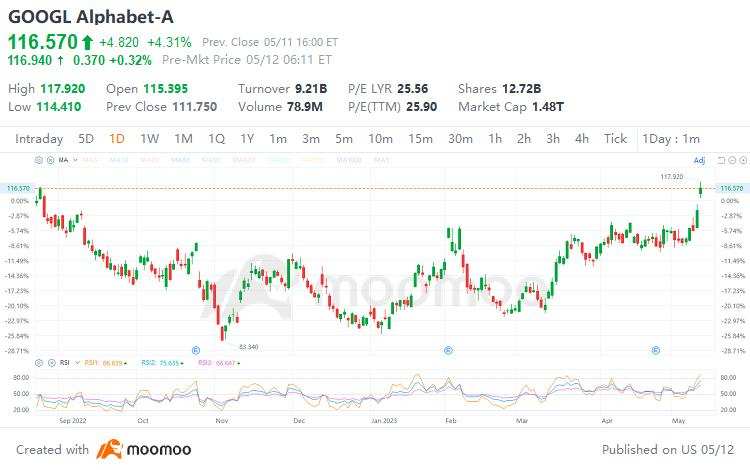 AI becomes the absolute protagonist
This year's Google I/O conference, the schedule from the previous three days streamlined to a day, the main character from start to finish only one: artificial intelligence.
During the two-hour keynote, Google released 15 AI products with features in various fields: med-PaLM 2, Vertex AI, sec-PaLM, Gemini, Project Tailwind, Codey, Chirp, Duet AI for Google Workspace, and Duet AI, and more.
The competition is just beginning
Perhaps that's the message Google is hoping to send at this I/O conference: despite a slow start to initial commercialization, Google remains the strongest competitor on the AI track and has the inherent advantage of billions of users and massive amounts of data. Google has more than 90% market share in search, a huge gap that Microsoft Bing and OpenAI won't be able to approach anytime soon.
As Evercore analyst Mark Mahaney writes, "We don't think there's only one winner in AI. We just think the notion that Google is losing the generative AI race is wrong and cannot ignore Google's years of investment in AI, especially machine learning."
Disclaimer: Community is offered by Moomoo Technologies Inc. and is for educational purposes only.
Read more
1
2
1
8