Today's Profit / Loss
Views 1.8M
Contents 28K
Is now a good time to buy? Goldman Sachs predicts US stocks will climb in April.
Under multiple negative factors (banking crisis, hawkish Fed, etc.), Goldman Sachs analysts, however, are not surprised by the recent rally in U.S. stocks,
and expect the current round of gains may continue into April.
In February this year, the Fed slowed its rate hike to 25 basis points for the first time. Combined with the banking crisis and the U.S. economy, employment data, CPI and other indicators, the market expects the U.S. rate hike cycle to be nearing its end, and it is widely expected that the Fed will either keep interest rates at current levels or start cutting them next.
Analysts at UBS said the market expects the Fed to cut interest rates by about 75 basis points by the end of this year.
Is it a good time to buy U.S. stocks?

Some institutions and experts believe that U.S. stocks have now digested the risk factors and are now a good opportunity to buy and bottom out.
Bank of America pointed out that the wave of bank failures in March directly triggered investors and funds to face the most pessimistic outlook for the U.S. stock market in several years. In this situation, the sell-side indicators of U.S. banks have
approached the "buy" indicator range after a continuous decline.
In an overly pessimistic market, shares tend to be undervalued, and this is a bullish signal worth buying on the downside.
Large technology stocks drive strong first quarter gains in U.S. stocks
Large U.S. technology companies have benefited from a number of positive developments so far this year, driving strong gains in U.S. stocks.
The
$NASDAQ 100 Index
(
.NDX.US
)
$
, which collects U.S. technology stocks, rose 20.5% in the first quarter, the largest quarterly gain since mid-2020. And
$Invesco QQQ Trust
(
QQQ.US
)
$
, the technology ETF that tracks the Nasdaq 100, also rose 20.7% in the first quarter of this year.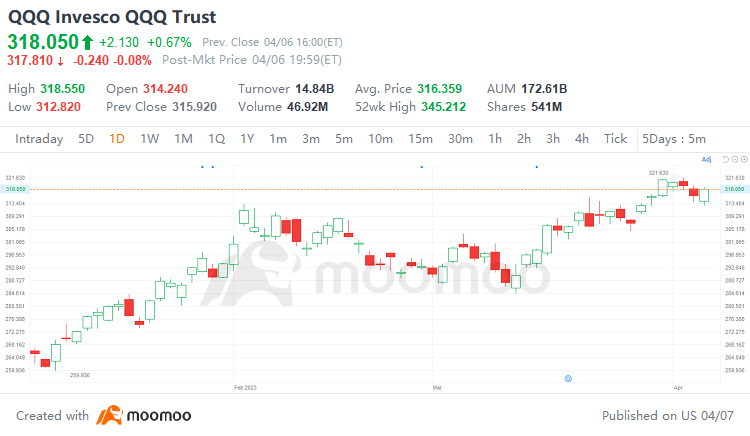 The market capitalization of the 10 largest U.S. companies grew by $2.3 trillion in the quarter.
$Apple
(
AAPL.US
)
$
led the way with $542 billion in market capitalization growth,
up 27.1%
year-to-date.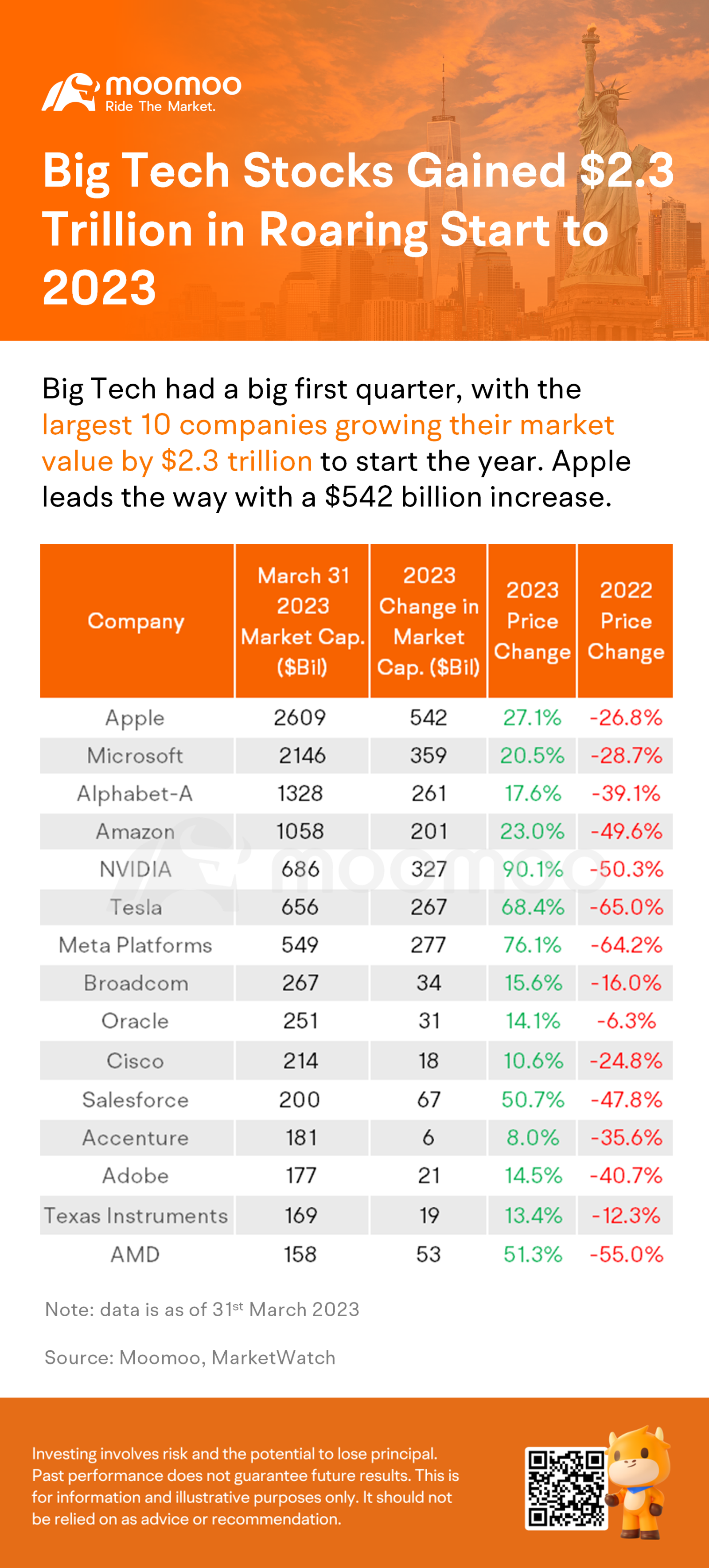 Bank of America Securities: Upgrades Apple Price
Target to $168
, Rated "Neutral" .

Barclays maintains
"Hold" rating
and
$275 price target
for Tesla.

Evercore ISI: Amazon has significant long-term upside, maintains
"Buy" rating.

Tigress Financial: Raised Nvidia price target to $320 from $250 and assigned a
Buy rating
.

Morgan Stanley: Upgraded Meta to "outperform" from "market perform" with a
$250 price target
.
Disclaimer: Moomoo Technologies Inc. is providing this content for information and educational use only.
Read more
5
44