Weekly Buzz
Views 137K
Contents 195
Weekly Buzz: Stock market continued to heat up as inflation cooled off
At the end of this post, there is a chance for you to win points!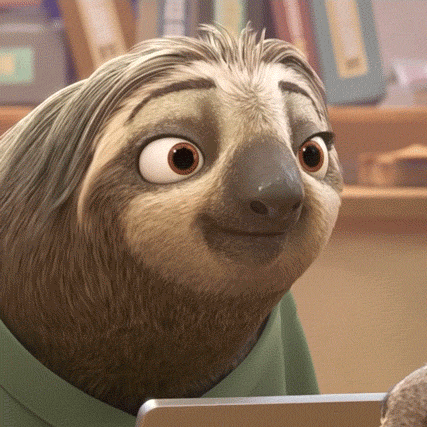 Source: Giphy
Happy Tuesday,
mooers
! Welcome back to
Weekly Buzz
, where we review the news, performance, and community sentiment of the selected buzzing stocks on the moomoo platform based on search and message volumes of last week (Nano caps are excluded).
Buzzing Stocks List & Mooers Comments
All the major indices closed
higher
last week. The tech-heavy Nasdaq was the best-performing index for the week after rising
4.82%
. The S&P jumped
2.67%
, while the Dow added
2%
(as of Jan 13, 2023).
Without further ado, let's dive into the weekly buzzing stock list of last week: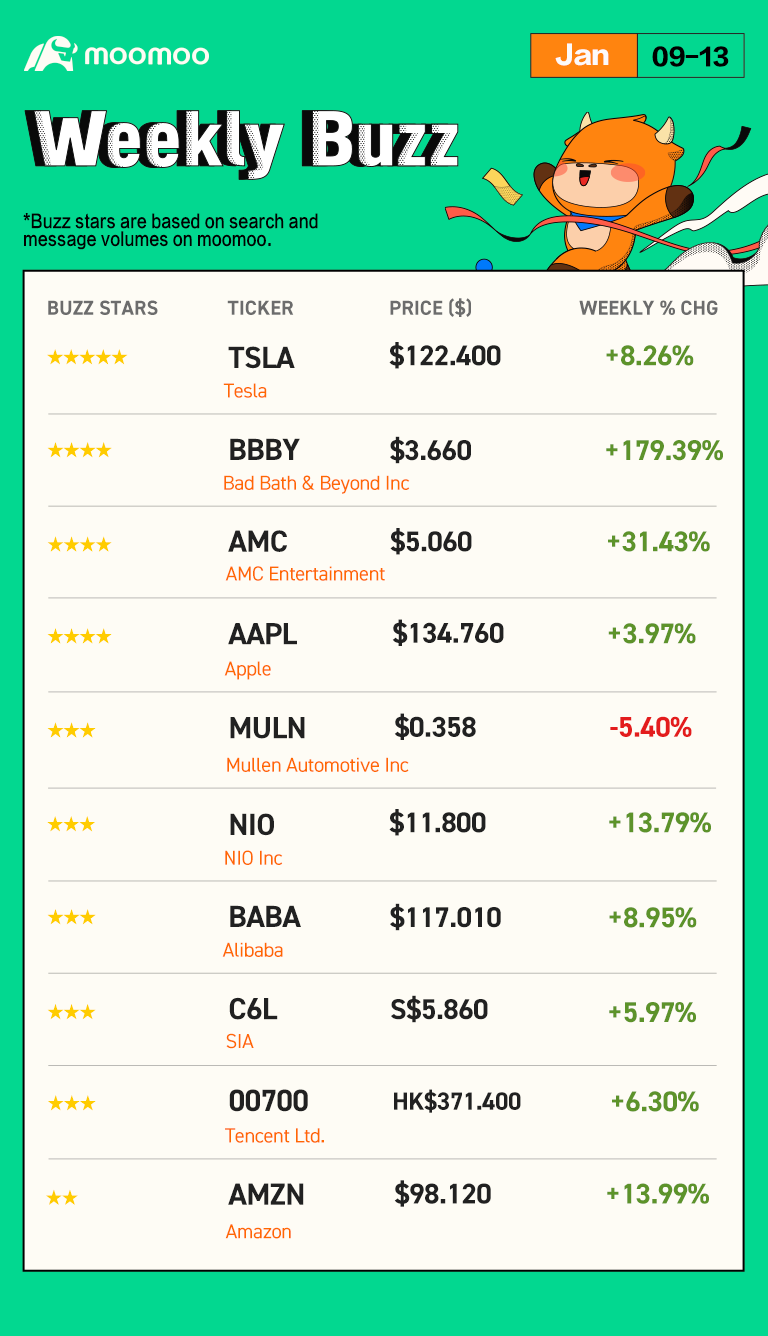 1. TSLA - Buzzing Stars:





Tesla filed plans for $775 million in the expansion of its Texas factory. The share price of TSLA climbed
8.25%
over the previous week (as of Jan 13, 2023).
@Asphen
- Area of balance/price acceptance has been established between 107 and 124.
- 124 is currently a stubborn resistance as seen in price piercing but not closed above yet.
- MA5 is fast coming very close to crossing above MA20
Read more >>
2. BBBY - Buzzing Stars:




Bed Bath & Beyond shares rocketed
179.39%
last week as the company attracted retail investor interest amid bankruptcy volatility (as of Jan 13, 2023).
3. AMC - Buzzing Stars:




AMC shares soared
31.43%
last week amid strength in heavily shorted names (as of Jan 13, 2023).
@Flord
Most of us probably already know, but I keep seeing comments on how AMC should have a streaming App. So for those that don't know,...
Read more >>
4. AAPL - Buzzing Stars:




Apple said CEO Tim Cook's 2023 target total compensation was $49M, a reduction of over 40% from 2022 target total compensation. The share price of APPL gained
3.97%
last week (as of Jan 13, 2023).
@Hucktosoar
Gartner Says Worldwide PC Shipments Declined 28.5% in the Fourth Quarter of 2022 and 16.2% for the Year
$Apple
(
AAPL.US
)
$
is again the most resilient out of the pack.
5. MULN - Buzzing Stars:



Mullen Automotive shares fell
5.40%
last week as worries about equity dilution and economic uncertainty keep it volatile (as of Jan 13, 2023).
@70542874
$Mullen Automotive
(
MULN.US
)
$
after carefully reading this new 10k filing. it is only up to September 30th of 2022. During that time, Mullen's total assets were only 17 million. with the recent acquisitions, they are now worth over 200 million!
6. NIO - Buzzing Stars:



NIO became the second-largest Battery Electirc Vehicle maker after BYD by revenue in China. Its share price jumped
13.79%
over the past week (as of Jan 13, 2023).
@OptionsKing
$NIO Inc
(
NIO.US
)
$
NIO is selling more cars in China than Tesla. Stock is moving upwards. Stock upgraded to buy and 1yr price target was raised to $33.75.
7. BABA - Buzzing Stars:



Alibaba shares were trading higher by
8.95%
last week following earlier reports China is planning to take golden shares in local units of the company (as of Jan 13, 2023).
8. C6L - Buzzing Stars:



Singapore Airlines shares were up
5.97%
last week as its target price was raised to S$5.40 from S$5,35 by UOB Kay Hian (as of Jan 13, 2023).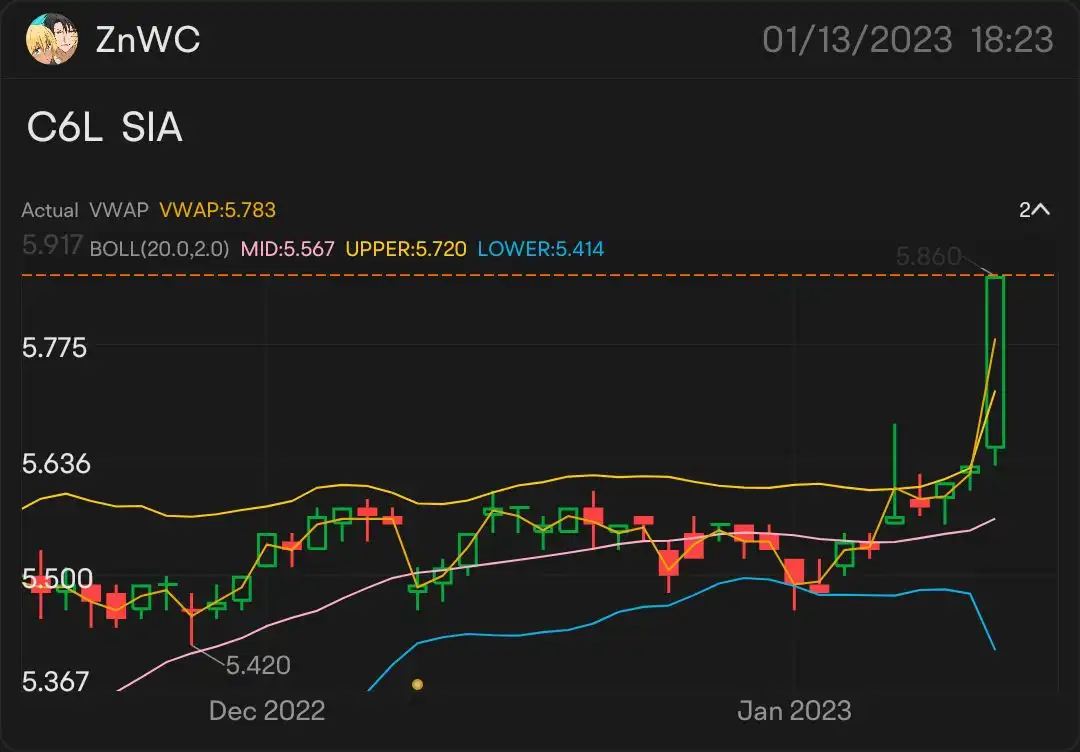 9. 00700 - Buzzing Stars:



Tencent shares rose
6.30%
last week, and its shares nearly doubled from October's low as the crackdown eased (as of Jan 13, 2023).
@Feirre
$TENCENT
(
00700.HK
)
$
's statement disclosed that it repurchased 960,000 shares of the company on the Stock Exchange on 12 January, at $356.6-377 per share, involving about $352 million.
10. AMZN - Buzzing Stars:


Amazon shares were trading higher by
13.99%
amid overall market strength as stock with CPI report (as of Jan 13, 2023)

Thanks for reading!


Awarding Moment

Before moving on to part three, congrats to the following mooers whose comments were selected as the top comments last week!
Note: Reward will be sent to you this week. Please feel free to contact us if there are any problems.
Time to be rewarded for your great insights and knowledge!

This week, we'd like to invite you to comment below and share your ideas on:
What do you expect from Q4 earnings?

Comment below and share your ideas!
We will select
15 TOP COMMENTS
by next Monday.
Winners will get
200 points
by next week, with which you can exchange gifts at Reward Club.
*Comments within this week will be counted.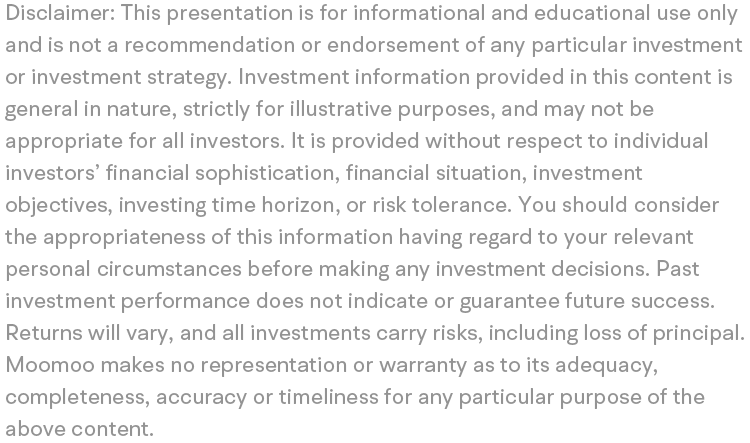 Disclaimer: Moomoo Technologies Inc. is providing this content for information and educational use only.
Read more
37