US Top Rating Updates on 9/21: MU, SQ, CSCO, WDC and More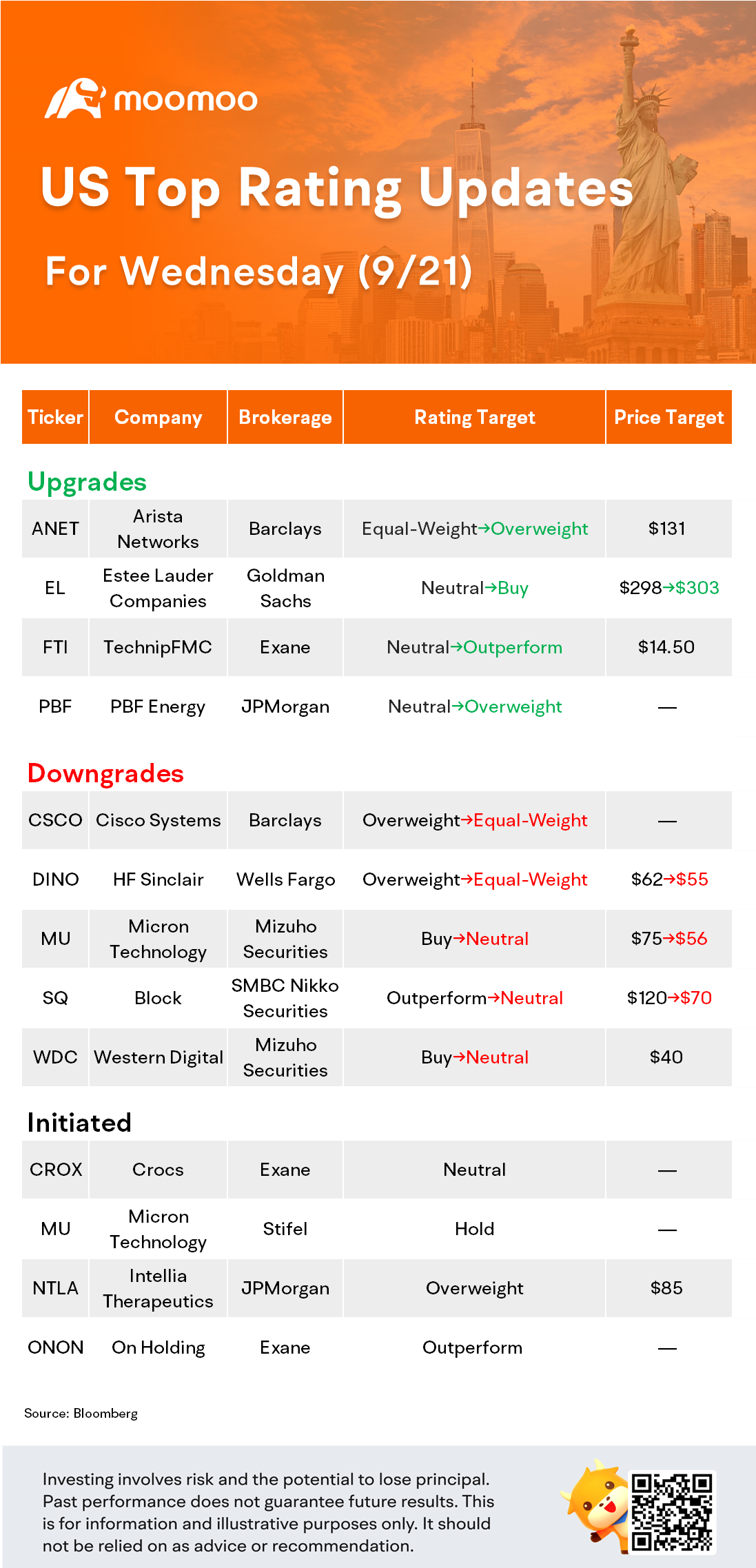 Micron Downgraded to Neutral From Buy at Mizuho
Mizuho analyst Vijay Rakesh downgraded
$Micron Technology
(
MU.US
)
$
to Neutral from Buy with a price target of $56, down from $75. Recent checks show "steepening" DRAM and NAND memory price declines price declines into the December quarter and first half of 2023, Rakesh tells investors in a research note.
Barclays Downgrades Cisco on Stalled Cloud Growth, Enterprise Risks
Barclays analyst Tim Long downgraded
$Cisco
(
CSCO.US
)
$
to Equal Weight from Overweight with a price target of $46, down from $56. The analyst coupled the downgrade with an upgrade of Arista Networks (ANET). While Cisco has doubled its relative share in cloud from 2019 to 2021, the business has since stalled, Long tells investors in a research note.
SMBC Nikko Downgrades Block to Neutral Into 'Prolonged Crypto Winter'
SMBC Nikko analyst Andrew Bauch downgraded
$Block
(
SQ.US
)
$
to Neutral from Outperform with a price target of $70, down from $120. The analyst cites the company's "hard-to-quantify, but material" crypto exposure, lack of medium-term visibility, and uncertainty around the potential impact of its "more conservative" investment strategy on medium-term growth for the downgrade.
Source: Seeking Alpha, The Fly
Disclaimer: The content should not be relied on as advice or recommendation.
Moomoo is an app offered by Moomoo Technologies Inc. that provides information about investments. Moomoo Technologies is not an investment adviser or a broker-dealer and it provides neither investment or financial advice nor securities trading services. All contents such as comments and links posted or shared by users of the community are opinions of the respective authors only and do not reflect the opinions, views, or positions of Moomoo Technologies, its affiliates, or any employees of Moomoo Technologies or its affiliates. You are advised to consult a qualified financial or tax advisor for your personal financial planning and tax situations. Moomoo makes no representation or warranty as to its adequacy, completeness, accuracy or timeliness for any particular purpose of the above content.
4