Weekly Buzz
Views 145K
Contents 280
Weekly Buzz: Who took the ride of the turbulent U.S. stock market?
Spoiler:
At the end of this post, there is a chance for you to win points!
Happy Monday,

mooers! Welcome back to

Weekly Buzz, where we review the news, performance, and community sentiment of the selected buzzing stocks on moomoo platform based on search and message volumes of last week! (Nano caps are excluded.)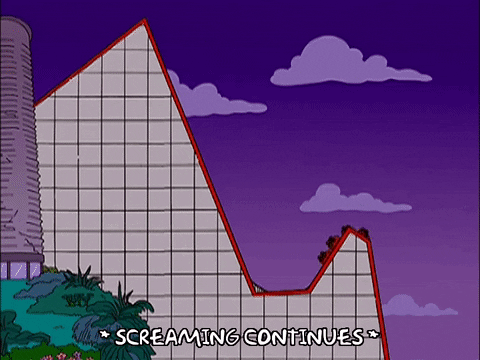 Part Ⅰ: Make Your Choices
Part Ⅱ: Buzzing Stocks List & Mooers Comments
Three major indexs moved

upward

, Russell 2000 Index

declined 0.90%

last week. Here is the weekly buzzing stock list of last week: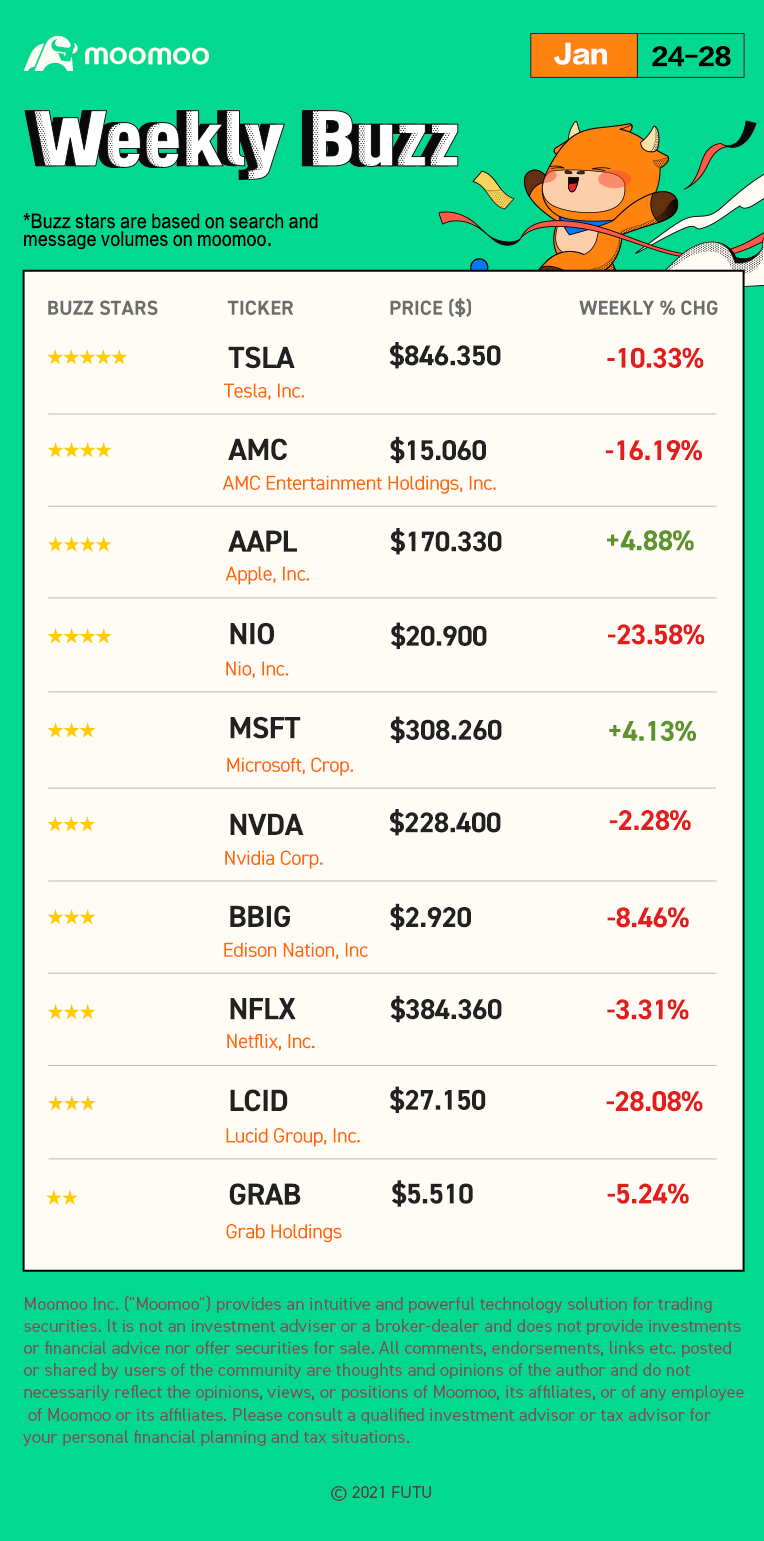 1. TSLA - Buzzing Stars: cymbals
Tesla's stock lost after fourth-quarter earnings were released. Musk expects that the supply chain situation may improve later this year, but next year battery supply may again become the biggest bottleneck for Tesla to increase production. TSLA's stock

fell

10.33%

to $846.350 for the week.
Mooers comment
@Deezy_McCheezy

:
Investing in =

$Tesla

(

TSLA.US

)

$

is like investing in all these leading companies at the cutting edge of technology.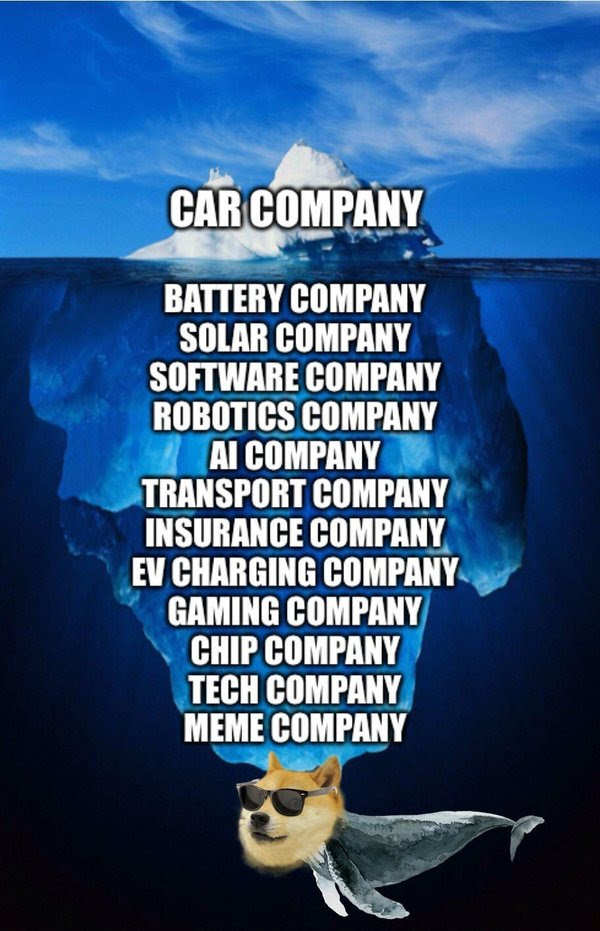 AMC tumbled last Thursday as the once leader of the meme stock revolution fell for the eleventh consecutive session in January. Shares of AMC plummeted by

16.19%

and closed at $15.060.
● Mooers comment
@Slimcliffy

: My fellow crayon eating Apes


$AMC Entertainment

(

AMC.US

)

$

I'm checking out moomoo I may move from Fidelity or just start buying new shares moomoo for a few weeks before moving. My big questions is What kinda

️ are you?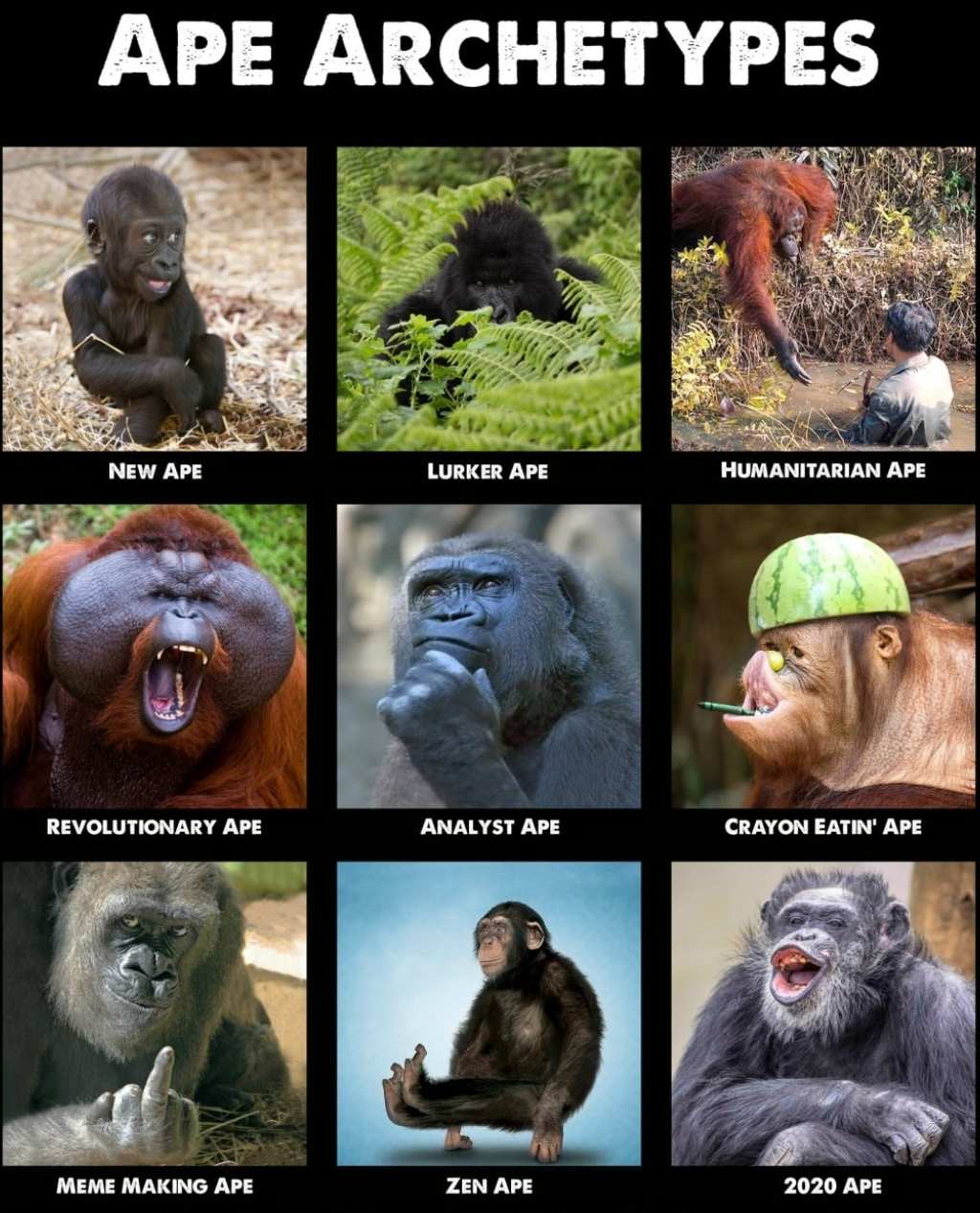 3. AAPL - Buzzing Stars: thank you very much.
Apple's Q1 revenue of 123.9 billion U.S. dollars to reach a new high, several products revenue exceeded market expectations. Last Friday, its stock price closed at $170.330, with a weekly growth of

4.88%

.
● Mooers comment
@MHfin

: Apple stops at 3 trillion?
$Apple

(

AAPL.US

)

$

In recent years, new energy vehicles have been a very hot sector. The valuation of a number of new energy car companies such as Tesla has risen sharply. The Apple Car is also a very imaginative product with growth potential. It's been a while since Apple announced it was building a car, but progress has been slow.

Read more...
4. NIO - Buzzing Stars: thank you very much.
NIO is considering moving its planned secondary listing from Hong Kong to Singapore as early as this year. Besides, NIO announced that it established a nearly $8 million insurance brokerage. Its stock closed at $20.900, with a weekly fall of

23.58%

.
● Mooers comment
@Moo Top

: Expanding EV space in Singapore
$NIO Inc

(

NIO.US

)

$

Besides seeking Singapore IPO, NIO should look towards growing sales in Singapore. HDB is progressively equipping public residential car parks with EV charging capabilities. Singapore has the apitude and tight space to make the greener move.
5. MSFT - Buzzing Stars: thank you for your help.
Microsoft announces second quarter fiscal year 2022 financial results. MSFT's Q2 revenue rose 20% YoY to $51.728 billion, above the $50.3 billion widely expected by the market. The shares of MSFT raised

4.13%

last week and finally closed at $308.260.
● Mooers comment
@Candida

: ETFs to Tap on Microsoft Solid Fiscal Q2 Earnings
The world's largest software maker —

$Microsoft

(

MSFT.US

)

$

— delighted investors with better-than-expected second-quarter fiscal 2022 results. It continued a long track of beating earnings estimates and topped the revenue estimate.

Read more...
Recap: Microsoft FY22 Q2 Earnings Conference Call
6. NVDA - Buzzing Stars: thank you for your help.
Nvidia has officially launched its Cloud Gaming Service, installed on most LG TVs. Moreover, it is preparing an acquisition of British chip design company Arm. Its stock price closed at $228.400 with a weekly decline of

2.28%
● Mooers comments
@71572322

The foam is too big to squeeze the water
$NVIDIA
(
NVDA.US
)
$
Today, I saw a lot of people talking about NVIDIA Corp rubbish in the comment area. in fact, most of those who said this were people who let Yuan Universe, cryptocurrency and artificial intelligence into entering the market in a high position a few days ago. in fact, they should reflect on themselves. Is it too greedy for short to leave? there is no need to care too much about doing longt. In fact, it is very easy to understand nvda.Read more...
@Stitch-fu

:
$NVIDIA

(

NVDA.US

)

$

Be rewarded for choosing me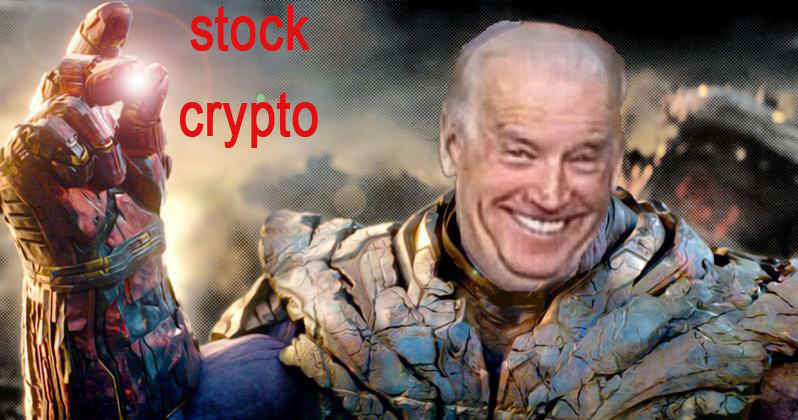 7. BBIG - Buzzing Stars: thank you for your help.
BBIG has been planning for Cryptyde to trade independently on the Nasdaq. Last Friday, it announced that it had reached "a definitive agreement for a $42 million debt and common stock financing". Its stock price closed at $2.920, with a weekly fall of

8.46%.
● Mooers comment
@龍眾舞

:

$Vinco Ventures

(

BBIG.US

)

$

For the benefits of the newcomers looking at this counter, once again the company announces nothing. Yes Cryptyde is filed but company announces nothing about the supposed 10 to 1 dividends nor any record dates. Therefore, as of now, it's still buying on rumours n beliefs. Just a usual word of advice, thread with care. Let's hope for a good day.
8. NFLX - Buzzing Stars: thank you for your help.
The share of Netflix was dragged down by disappointing subscription numbers in its latest earnings report. With the retreat, the share price declined more than 40% from a new 52-week high set late last year. Its stock went down

3.31%

to $27.150 over the past week.
● Mooers comment
@Stitch-fu

: General discussion on Netflix
$Netflix

(

NFLX.US

)

$

I will try to keep this short and will not explain the merits of Netflix's business model. Current and prospective investors are very likely to know about them. Current price levels seem very attractive. The main issue seems to be that Netflix's subscriber count has not been up to the mark.

Read more...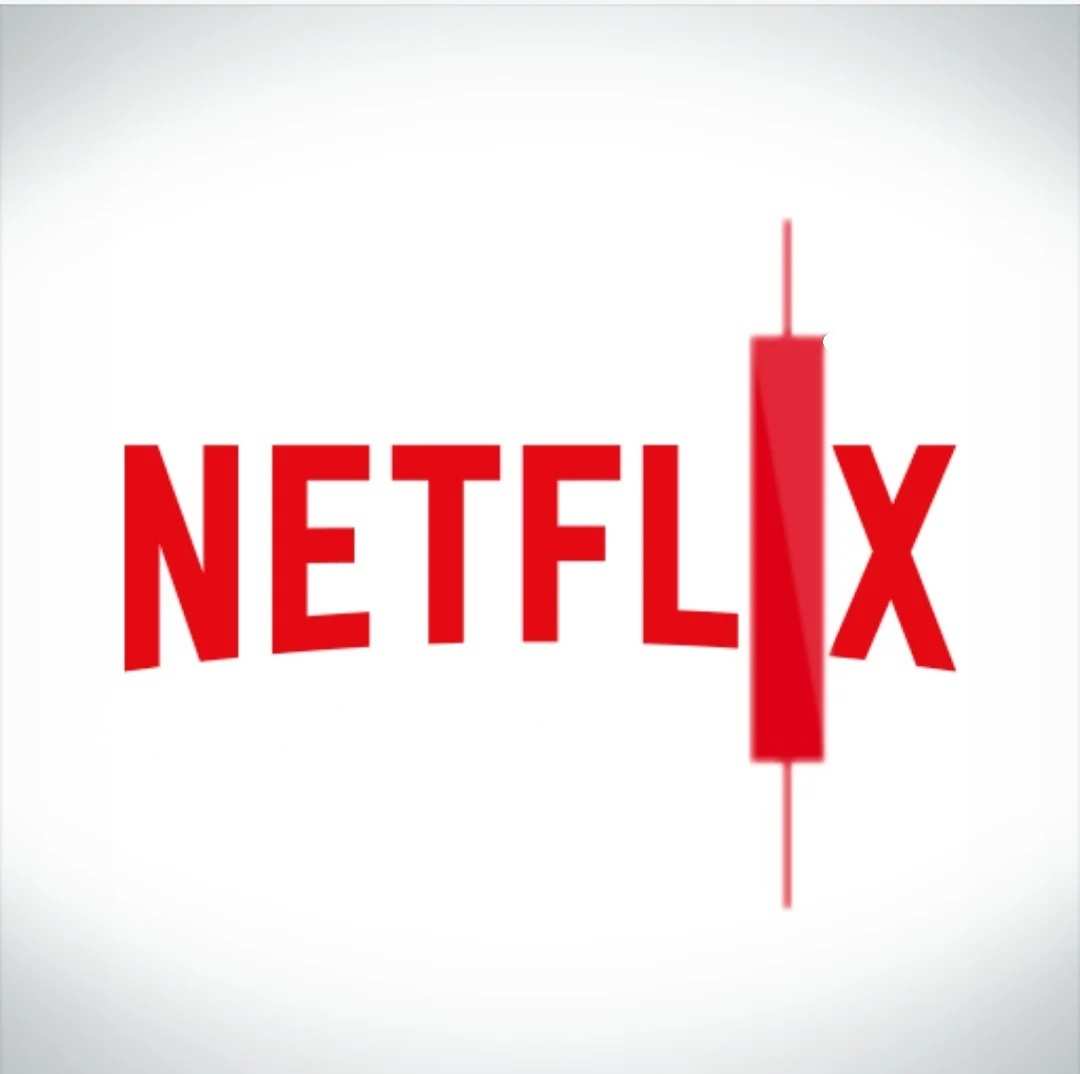 9. LCID - Buzzing Stars: thank you for your help.
LCID shares have been down more than 25% since Monday. Other electric car stocks are also falling, partly connected with Tesla's recent earnings report. It was a mixed bag that didn't help out already slipping EV stocks. Its stock decreased

28.08%

to $27.150 for the week.
● Mooers comment
@Rizzu

:
$Lucid Group

(

LCID.US

)

$

Stocks always go down much faster than they go up. But over time they go up more than they go down. Don't panic this too shall

10. GRAB - Buzzing Stars: please
Leading delivery company Kerry Express has partnered with Grab Thailand to introduce instant pick-up and express pick-up services this Valentine's season. Its stock price closed at $5.510, with a weekly drop of

5.24%

.
● Mooers comment
@dezelous

:
$Grab Holdings

(

GRAB.US

)

$

interesting im seeing more insitutes buying in and seems like going for long term hold but retail investors trying to short more...
will b interesting to see where this goes in a few months time.
time to load up more shares!!

Thanks for your reading!

Awarding Moment
Before moving on to part three, congrats to the following mooers whose comments were selected as the top comments last week!
@HopeAlways
@Syuee
@Dadacai
@Jia Yung
@MoneyComesMoneyStays
@Business Investor
@Imranm20
@RDK79
@Expendabiggles
@Mars Mooo
@Milk The Cow
Notice: Reward will be sent to you this week. Please feel free to contact us if there is any problem.
Part Ⅲ: Weekly Topic
Time to be rewarded for your great insights and knowledge!
This week, we'd like to invite you to comment below and share your idea on:
"The Fed is going to raise interest rates, how the ordinary investors respond?"
We will select

10 TOP COMMENTS

by next Monday.
Winners will get

200 points

by next week, with which you can exchange gifts at Reward Club.
*Comments within this week will be counted.
Top Comment Technique:
● Fundamental / Technical / Capital Analyses
● Personal Trading Experience
● Any bright insights or knowledge
Previous of Weekly Buzz
Weekly Buzz: Don't you worry about the interest rise. It happens
Weekly Buzz: I Have a Dream: the tech stocks sell-off will be over!
Weekly Buzz: Why are tech stocks tumbled? It's not just Fed.
Disclaimer: Comments above are made available for informational purposes only. Before investing, please consult a licensed professional.
Disclaimer: Moomoo Technologies Inc. is providing this content for information and educational use only.
Read more
1
3
5
5
74