Free lunch strategy: How can we make the most of Institution Tracking?
Views 509K
Contents 157
What?! Key to a Fortune Is within My Reach Now?
Recently the Institution
Tracking Feature has just been fully upgraded in iOS as well as Android version of moomoo.
At present, it is open to mooers to query the position data of nearly 6000 AMCs (Asset Management Company)! I guess some mooers might want to ask, 'what is it? what can it be used for?' Don't worry, scroll down to get more details with us!

What is 13F?

Form 13F is a quarterly report filed, per United States Securities and Exchange Commission (SEC) regulations, by "institutional investment managers" with at least $100 million in assets under management including the well-known Berkshire Hathaway Inc., Soros Capital Management LLC, BlackRock Inc., etc., listing all equity assets under management.

Starting from Android v11.19 and iOS v11.29, the latest position data of all institutions that disclose 13F reports are now viewable on moomoo App, which can be found through
'Quotes' - 'Explore' - 'Institution Tracking'
.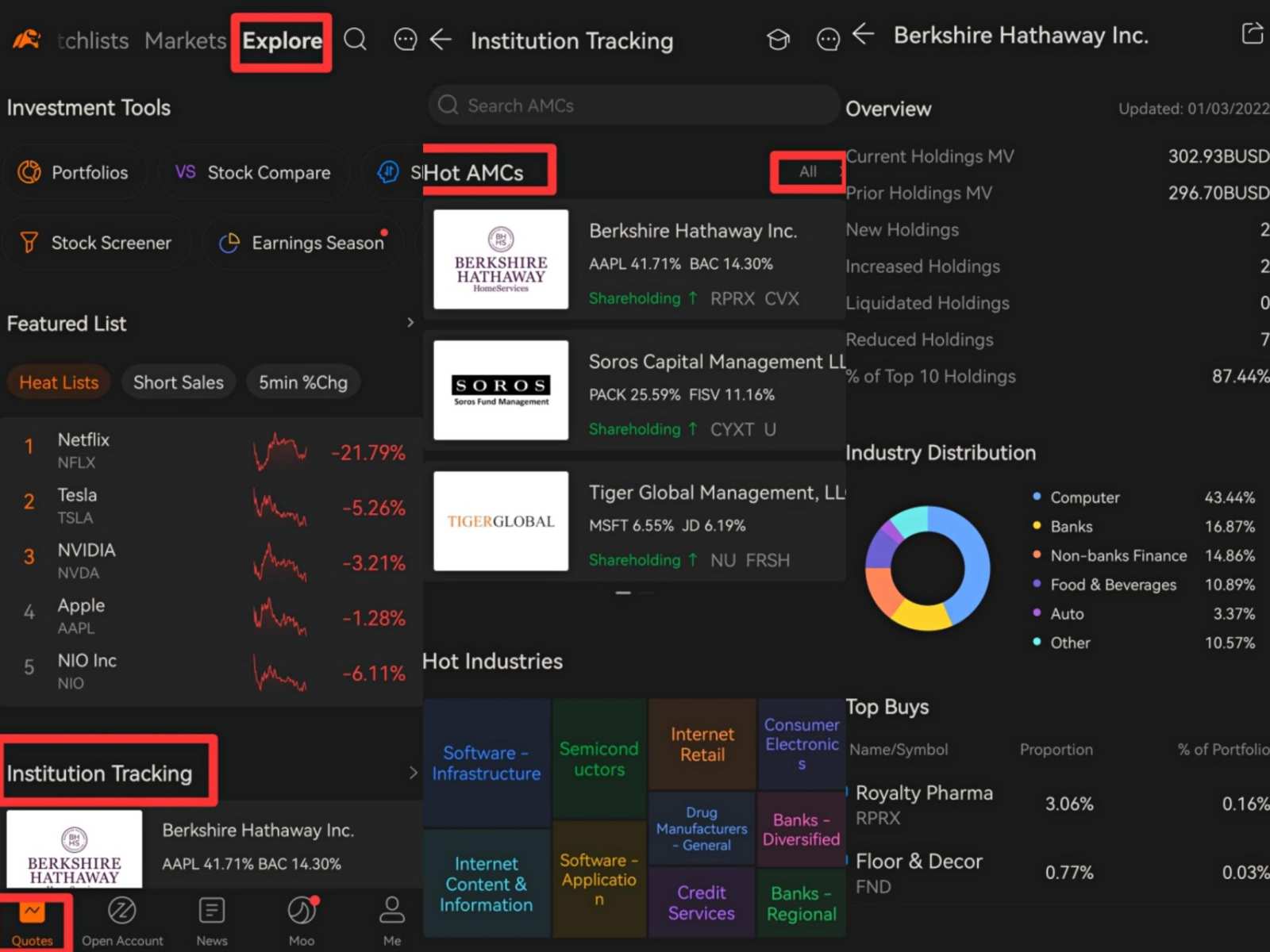 In addition to the position data of a single institution, we can also view the concerns of all institutions on the industry and the stocks that institutions focus on.
For example, tech sectors such as the Software-Infrastructure, Internet Content & Information, and Semiconductors occupied most of the institutions' attention in Q3. And
$Microsoft
(
MSFT.US
)
$
,
$Apple
(
AAPL.US
)
$
,
$Amazon
(
AMZN.US
)
$
became the top three stocks with the most number of AMCs held.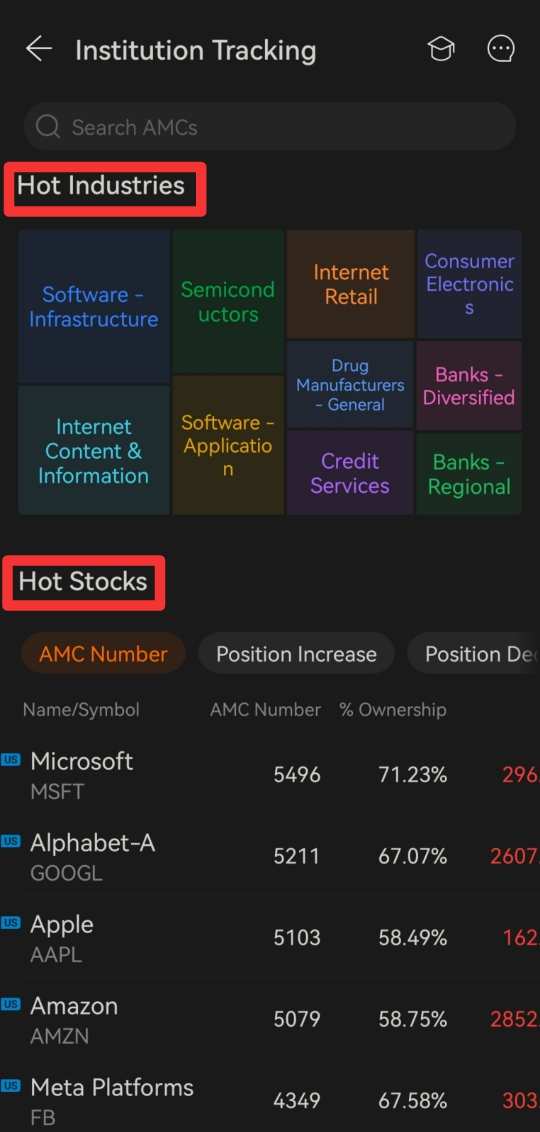 The meaning of 13F?

Then, what is it used for? The purpose of Form 13F is to increase the public's understanding of the securities held by institutional investors and increase investors' confidence in the integrity of the US securities market.
Meanwhile, it can also be used as an important tool for us to keep a close eye on the flow of smart money. Without paying, we can easily understand the asset allocation strategies of Wall Street bigwigs, for the logic behind the operation of mainstream AMCs is not fleeting
, such as some modules that have long been favored.
(Note: it is the position data of the previous quarter, not the current quarter.)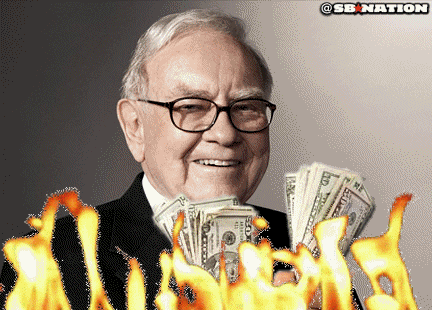 In terms of investment, most of our retail investors are just a group of rookies compared with bigwigs. So, learn more from the rich and be friends of time.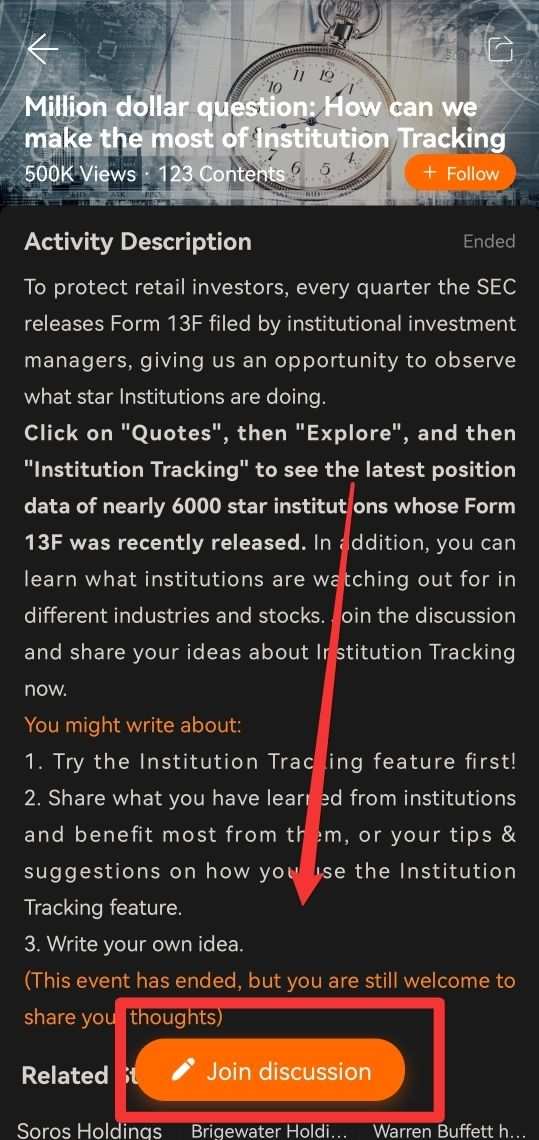 More Awards Await!


5
best posts will get
one free stock of
$Nokia Oyj
(
NOK.US
)
$

10
featured posts will get
1000 points

All participants
will get
88 points
(only relevant posts with a minimum of 20 words and those add topic #Million dollar question: How can we make the most of Institution Tracking count)
*a user can only win once along with any other rule to win.

Duration

Now - 23:59 Dec.17th, 2021 (ET)

Some winning tips for you

1. Try the "Institution Tracking" feature! Stand out by including screenshots in your post.
2. Share what you have learned from star institutions and benefit most from them.
3. Share your tips or suggestions on how you use the "Institution Tracking" feature.
4. Write your own idea. Plagiarism can result in a loss of qualification to enter the event.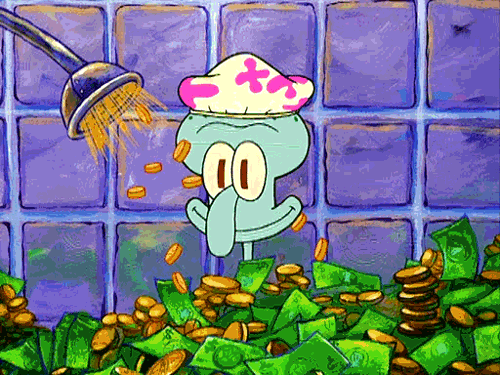 Disclaimer: Moomoo Technologies Inc. is providing this content for information and educational use only.
Read more
8
80
1