Chinese stocks: Best opening in years with 80% rally
Views 1M
Contents 333
Spin-off won't save Alibaba
$BABA-SW
(
09988.HK
)
$
The results for the fourth quarter of fiscal year 2023 (corresponding to the first quarter of this year) were released. The data was mixed, and the stock price fell 6%.
In terms of growth, Alibaba-SW's fourth-quarter revenue was 208.2 billion yuan, lower than analysts' expectations of 209.2 billion yuan. However, under the condition of reducing costs and improving efficiency, net profit greatly exceeded expectations:


In the fourth quarter results, Alibaba-SW described the spin-off plan in great detail and gave the company's specific listing time points. Perhaps management wanted to rely on the spin-off theory to improve Alibaba's stock price, but market popularity was not high.


How bleak is the main business when it needs to be spun off to boost shareholder value?


In terms of business, Alibaba-SW's core business revenue in the fourth quarter was 136.07 billion yuan, down 3% from the previous year. Customer management revenue fell 5% year over year, mainly due to Taobao and Tmall's online physical goods GMV falling by mid-single digits, excluding unpaid orders.


Direct sales revenue and other revenue fell 1% year over year, mainly due to a decline in offline store sales, which was negatively affected by the COVID-19 interruption in January and seasonal fluctuations in early Lunar New Year, as well as the normalization of grocery demand due to reduced consumer hoarding behavior after COVID-19.


The China Commerce Division mainly includes Chinese commercial retail businesses such as Taobao, Tmall, Taobao, Taocai, New Chaobao, Tmall Supermarkets, Gaoxin, Tmall Global, Alibaba-SW Health, etc., and wholesale businesses such as 1688.com.
In addition to business in China, Alibaba-SW's most promising business is cloud computing, which mainly includes Alibaba-SW Cloud and DingTalk. In the fourth quarter, Alibaba-SW Cloud's revenue was 18.58 billion yuan, a year-on-year decrease of 2%. The year-on-year decline in Alibaba-SW Cloud's revenue reflects the impact of COVID-19, as well as the impact of a top customer phasing out of using overseas cloud services for international business due to non-product related reasons.


While the reasons are reasonable, the growth slowdown in Alibaba-SW Cloud did not begin in the fourth quarter. Considering Alibaba-SW Cloud recently announced a drastic reduction in product prices, up to 50%, then $trillion (00700) $
$Tencent
(
TCEHY.US
)
$
Cloud and Mobile Cloud announced subsequent price cuts. It can be seen that competition in the cloud business has also begun to become more intense. Investors are not confident that the cloud business will resume high growth in the future: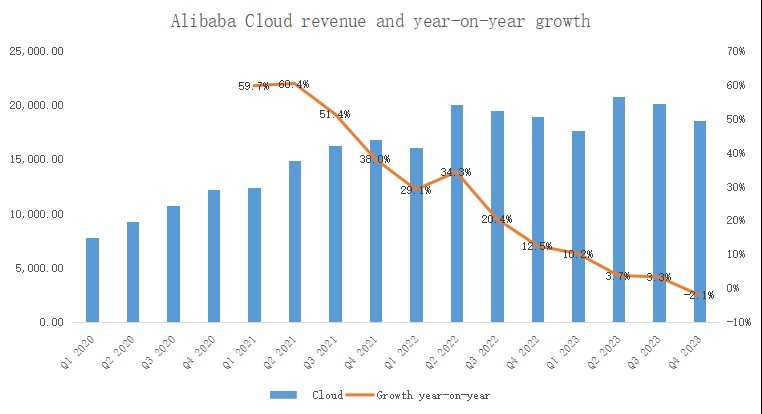 Taobao has crashed, Alibaba-SW Cloud has crashed, and what is most interesting now is international commerce, namely Lazada, AliExpress, Trendyol, and Daraz. In the fourth quarter, international business revenue was 18.54 billion yuan, an increase of 29% over the previous year, mainly due to increased revenue from Trendyol, Lazada and AliExpress.


Trendyol's revenue growth was driven by improved subsidy efficiency and strong year-over-year order growth. Lazada's revenue growth was mainly due to continued increases in cash flow and strong year-on-year growth in orders through the provision of more value-added services. AliExpress's revenue growth was mainly due to double-digit growth in its orders, which was accelerated by Choice, a new service that provides direct sales and logistics compliance services to consumers around the world.


The reported revenue was 13.6 billion yuan in the fourth quarter, an increase of 18% over the previous year, mainly driven by the increase in the average revenue of international logistics fulfillment solution service units and the increase in consumer demand for logistics services.


Local consumer services, which mainly include "home to home" and "to destination" businesses, such as Are You Hungry, Amap, and Fliggy, earned 12.5 billion yuan in the fourth quarter, an increase of 17% over the same period last year, mainly due to the increase in Hungry orders and average orders, which contributed to GMV's growth. At the same time, the cancellation of epidemic prevention and control has led to a sharp increase in tourism.


Revenue from digital media and entertainment increased 3% in the fourth quarter. In the face of Tencent Holdings and iQiyi, the business has lost its future
$iQIYI
(
IQ.US
)
$
In the fourth quarter, Youku's total subscription revenue increased 13% year over year, thanks to an increase in average user revenue and "who is he?" Promotion of high-quality original content, etc. There is also "Blood of Youth." Coupled with the normalization of offline ticketing demand, it has led to strong growth in businesses such as Barley and Taotao.
Across the enterprise, despite the turmoil in business in China, the outbreak in the fourth quarter was really serious. In March, Taobao and Tmall's online physical goods GMV growth (excluding unpaid orders) turned positive, mainly driven by strong growth in the clothing and health product categories. It can be seen from this that Alibaba-SW's e-commerce business will also rebound as the economy recovers.


However, the economic data released so far is not optimistic. For example, the CPI fell to 0.1% in April, and there is a risk of deflation. Furthermore, PPI data is not optimistic, and overall consumption is weak. This is also a key factor in suppressing Alibaba-SW's stock price.


In addition to macroeconomics, JD
$JD-SW
(
09618.HK
)
$
It joined the 10 billion yuan subsidy war, which also cast a shadow over Alibaba-SW's e-commerce business. In times of economic downturn, lower prices are more competitive. This is also what the market is concerned about.
There are various negative factors, but Alibaba-SW's current valuation is seriously underestimated, plus the business spin-off can increase shareholder value. Alibaba-SW has the potential to reverse, but everything needs to wait for consumer data to actually pick up. At the same time, it is essential that Alibaba-SW can withstand the price war of e-commerce.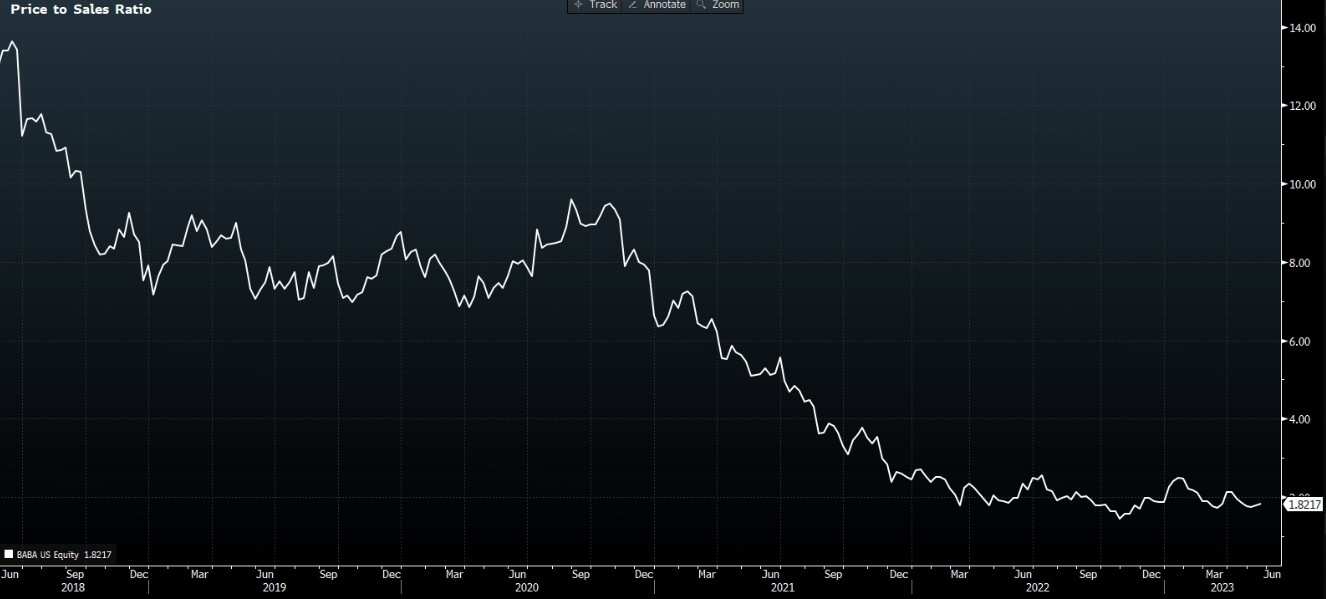 Disclaimer: Community is offered by Moomoo Technologies Inc. and is for educational purposes only.
Read more
3