Hey! I found an awesome feature!
Views 11K
Contents 46
Mooer Stories Behind 10 Star Product Features: Stock Screener
Here is the third story in the Mooer Stories Behind 10 Star Product Features series. If you have any similar stories to share, feel free to leave them under topic
Hey! I found an awesome feature!
to win points!

Case Study 1—Joseph Hogue, CFA, a personal financial educator
Key Words: value investor, long-term investor
Investors can find over 10,000 symbols such as stocks and ETFs① from Singapore, US, Hong Kong SAR and more on moomoo. However, with limited funds and amount of time, retail investors typically only buy a few stocks for their portfolio.

"Warren Buffett might have dozens of analysts on the payroll so he can look through more than 700 stocks. But for retail investors including me, we need to narrow down the stock list before we start doing research," said Joseph Hogue, CFA, who used to work for some of the largest private investors as an investment analyst, and is now a personal financial educator as well as moomoo user.

Joseph showed us a basic way to quickly cut the stock list down, leveraging the stock screener feature on moomoo. As a value investor, he recommended four matrixes—P/E ratio②, operating margin, dividend yield and debt equity ratio.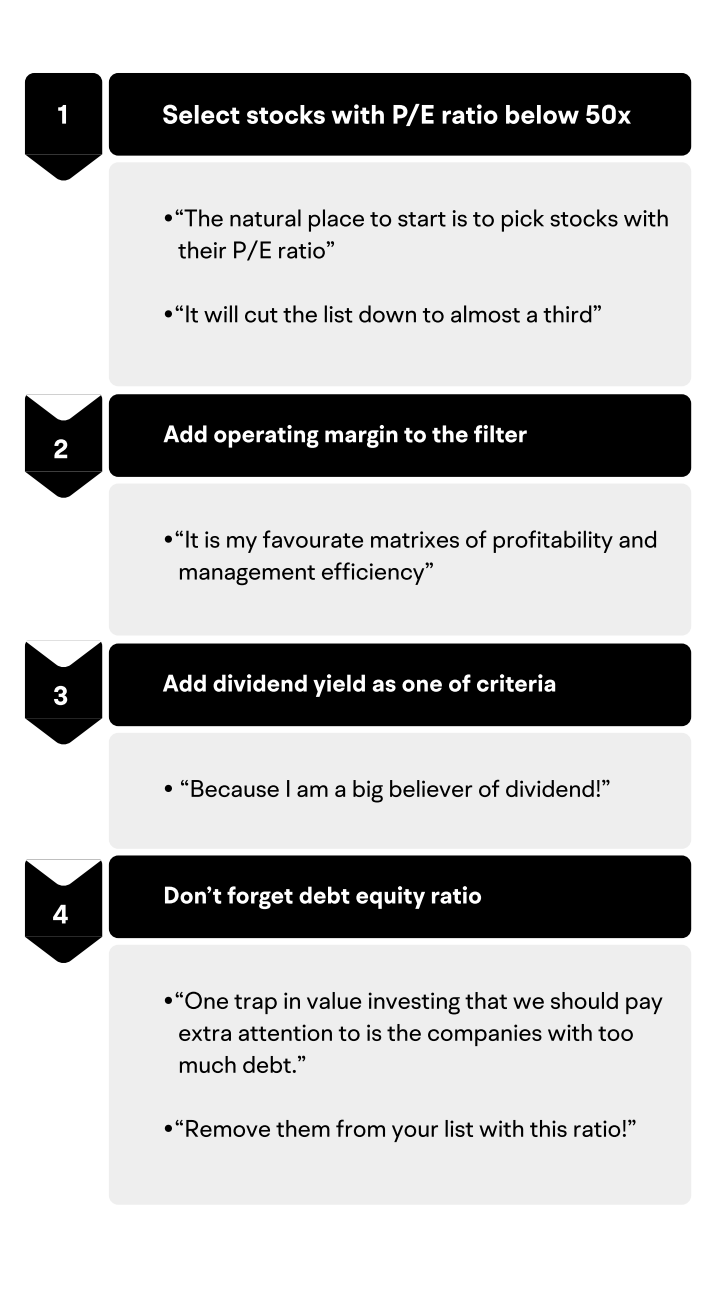 If there is still a large basket of stocks left on the list, Joseph recommends an even simpler solution to value investors—a customized indicator on the moomoo app that navigates them directly to the stocks held by various institutional investors. There investors can explore if some of the biggest names hold any of the stocks in their screener.
Key Words: value investor, long-term investor, intraday trader
"We added various matrixes to the stock screener feature, making it not only useful to beginners, but also veterans." Said Shine, moomoo's product manager of the stock screener feature.

"I opt for day trading amid market volatility, but my strategies are flexible and largely dependent on the market conditions and evolution. The matrixes that interest me the most will be those related to stock amplitude."

Two important indicators he references are turnover③ over the past few days and P/E ratio, but traders can use other indicators as well depending on their objectives and goals.

Once the feature uses your selections to filter out certain stocks, traders can then screen each candidate one by one and select one to trade. At this stage, Shine will carefully examine these stocks' price curve, checking if there are signals that might breed potential bounces.

"I recommend users learn more about different matrixes as they can provide enormous useful information and opportunities," Shine said. "However, one should always bear in mind that day trading is highly risky. Make sure you understand and manage the risks in the whole process."
Key Words: technical investor, momentum investor, short-term investor, intraday trader
Full-time proprietary trader and moomoo user SpyderCall makes most of his investment decisions based on a company's technical aspect and its past price action.

"I pay more attention to ticker symbols when their price is crossing above the technical moving average or experiencing technical bounces in price action," SpyderCall said. "Stock screener is probably the feature that I use the most on moomoo. I use it every day."

The stock screener feature can quickly identify stocks that have abnormally high volume or unusual movements in price, where investing opportunities might exist. He has created a list of over 50 strategies combining various filters with the stock screener function. Most of the matrixes are from the "Technical" drop list, such as KDJ④, MACD, BOLL and RSI.

Trade The Trader, a momentum trader with over six years of investing experience, considers moomoo a different player among so many other investing apps. He found moomoo offers more customized indicators and matrixes on its stock screener and other features that are mainly used by veteran investors.

Trade The Trader highlighted a unique indicator that he finds very useful—the positive divergence.
"A positive divergence means although the stock price is still on a downwards trajectory, it will potentially move into an uptrend. As a momentum trader, I strongly believe the market is sentiment-driven, and the stock price moves up and down on what other traders think is going to happen. Featured indicators like positive divergence allow traders like me to trade the stock based on market sentiments," he said.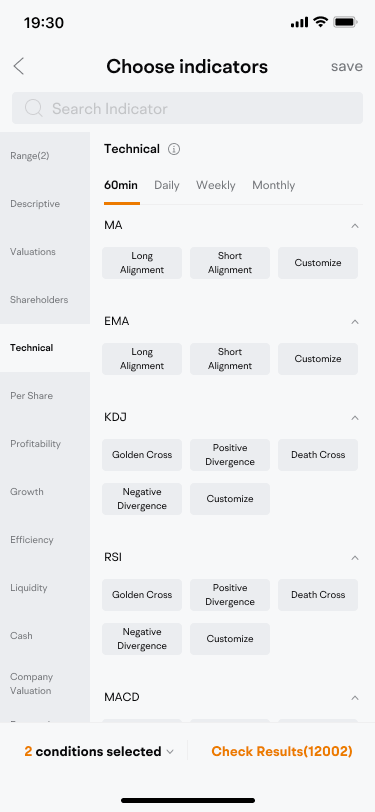 ①An Exchange Traded Fund (ETF) is an open-end fund that can be bought and sold on a stock exchange. It can be actively managed, seeking to outperform a market index; or passively managed, seeking to match the performance of a market index.
②P/E ratio is used to determine the relative value of a company's shares. It is calculated by dividing share price by earnings per share.
③Share turnover measures a stock's liquidity. It is calculated by dividing the total number of shares traded during some period by the average number of shares outstanding for the same period. The higher the share turnover, the more liquid company shares are.
④KDJ, also known as random index, is a technical index widely used in short-term trend analysis of futures and stock markets. KDJ reflects the intensity of price changes, signals of overbought and oversold.
Again, this is the third story from our Mooer Stories Behind 10 Star Product Features series. If these stories resonate with you, you are welcome to join them and make your voice heard under topic
Hey! I found an awesome feature!
. We are very much looking forward to your stories and are ready to reward you with points every week!
Disclaimer: This presentation is for information and educational use only and is not a recommendation or endorsement of any particular investment or investment strategy. See this
link
for more information.
Disclaimer: Moomoo Technologies Inc. is providing this content for information and educational use only.
Read more
1
1
2
26