Is crypto more attractive now as SEC gets aggressive?
$Bitcoin
(
BTC.CC
)
$
will trade between $17,600 and $25,000 until the end of this year, survey of market participants shows.



Bitcoin is now comfortably above the $20,000 level and now it will try to stabilize here until the FOMC meeting. If risk appetite remains healthy Bitcoin could grind higher towards the $22,500 level."
—— said Moya, a senior market analyst with OANDA.
A crackdown by the US Securities and Exchange Commission and other watchdogs who have been investigating crypto's naughtiest companies is proving to be a boon for the industry,
with market participants saying they're more likely to invest in the space following greater enforcement action.




Source: Bloomberg MLIV Pulse survey Oct. 17- 21.
Bitcoin has held a strong correlation to risk-on assets as well as the
$S&P 500 Index
(
.SPX.US
)
$
since March
, barely changing its position in the last three months as investors tarred crypto with the same brush as everything else in an environment of rising interest rates.
Some 42% of respondents said they think crypto's correlation to tech stocks will stay the same over the next 12 months, while only 43% said they would increase their exposure to digital assets over the same period.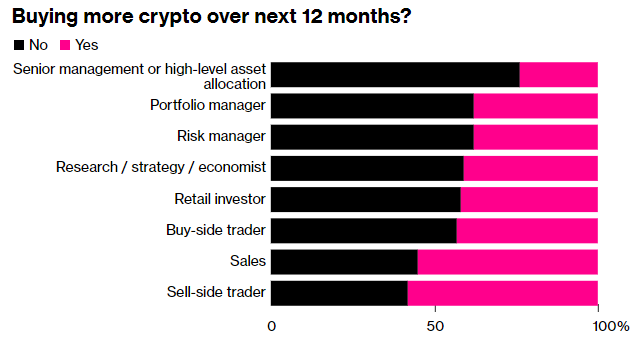 Source: Bloomberg MLIV Pulse survey Oct. 17- 21.
The dichotomy between boom and bust perfectly describes crypto and the vast range of potential outcomes. There are so many unknowns, including regulation and platforms as well as what the hell it actually is and what it will be used for. So, if you are a true believer, you say it's the future. People with more of a traditional view may say it's a Ponzi."
—— said Victoria Greene of G Squared Private Wealth.
mooers, do you think crypto is worth investing in now?



Disclaimer: Community is offered by Moomoo Technologies Inc. and is for educational purposes only.
Read more
1
6