What you need to know when 'Merge' mania cools
The
$Ethereum
(
ETH.CC
)
$
Merge has officially taken place on Sept. 15, marking the full transition of the network to proof-of-stake (PoS).

 



Ethereum co-founder Vitalik Buterin celebrated the Merge with a tweet moments after the historical transition happened: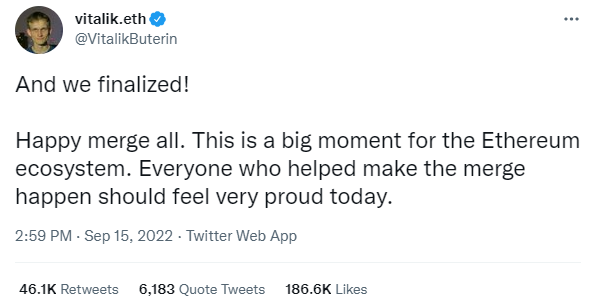 Renowned designer Beeple celebrated the Merge with a sci-fi illustration: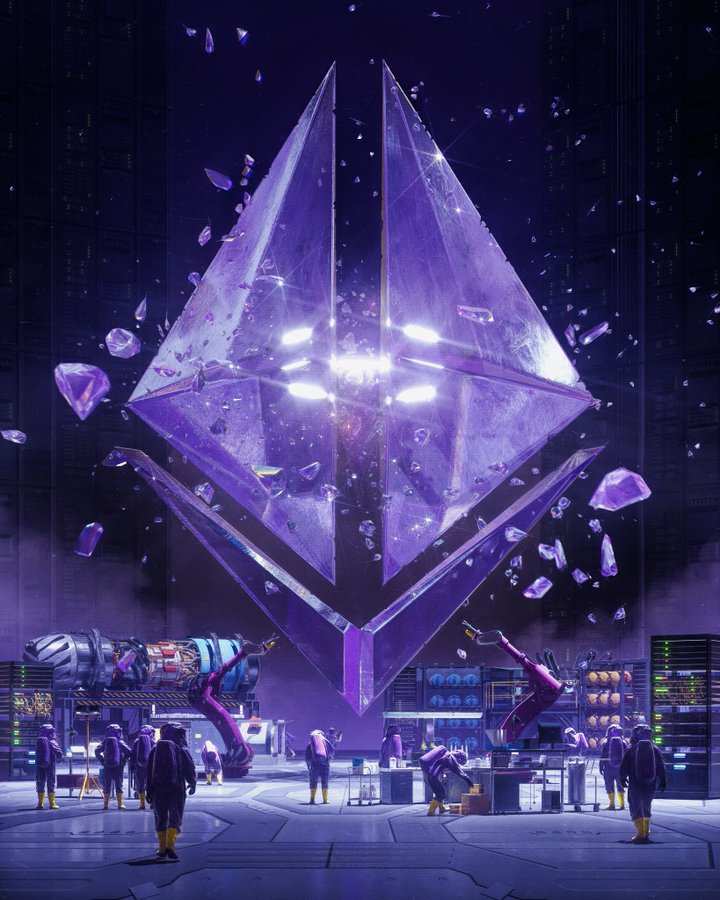 Source: @beeple
Ethereum has completed a key revamp of its network, marking the crypto world's most-ambitious software upgrade to date and paving the way for changes that could fuel more usage of the commercial blockchain.
The change replaced power-hungry computers that were used to order transactions on the network with a more energy-efficient setup using piles of the network's native token, Ether, placed in special, so-called staking wallets.
As a result, Ethereum's energy consumption will decline by an estimated 99%.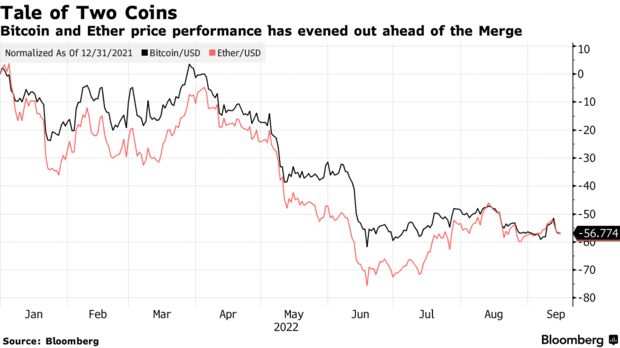 Bitcoin and Ether price performance; Source: Bloomberg
The Ether token is
down more than 50% so far this year,
after surging fivefold in 2021. Its performance has grown
more closely aligned to that of Bitcoin, the world's largest cryptocurrency
$Bitcoin
(
BTC.CC
)
$
,
over the last month.
Worried about bugs and hacks, crypto exchanges like
$Coinbase
(
COIN.US
)
$
paused Ethereum-related withdrawals and deposits around the time of the software upgrade. Crypto lender Aave had suspended Ether borrowing in advance of the Merge.
After much celebration over the successful transition of Ethereum, the question remains what's next for the most commercially-significant crypto project.



The Merge was the first step toward a series of upgrades on Ethereum to solve the scalability trilemma. After some point, the theory suggests that a blockchain has to compromise on one of its three key aspects --
scalability, decentralization and security. And that a blockchain cannot have all three at the same time.
For Ethereum the first step to solve this problem was moving to POS with the merge and next comes
four more phases of development.
The Surge:
Implementation of sharding, a scaling solution which will lower the cost of bundled transactions on Ethereum.
The Verge:
Introduction of 'verkle trees,' an update which will make the network more decentralized by making it easier for users to become validators.
The Purge:
Elimination of historical data and technical debt.
The Splurge:
Miscellaneous updates after the first four stages to ensure smooth functioning of the network.
The ultimate aim for all these upgrades is to make Ethereum more scalable, faster and cheaper to use."
—— said Aditya Khanduri, head of marketing at Biconomy,
It's hard to talk about the timelines of the following four stages because all of them are still under active research and development. But, in my opinion, it will easily take 2-3 years before all phases are complete."
—— said Sameep Singhania, co-creator of QuickSwap, a decentralized exchange built on Ethereum scaling solution Polygon.
Source: Bloomberg, Cointelegraph
Disclaimer: Community is offered by Moomoo Technologies Inc. and is for educational purposes only.
Read more
1
6