US Top Rating Updates on 8/3: UBER, CAT, INCY, CF and more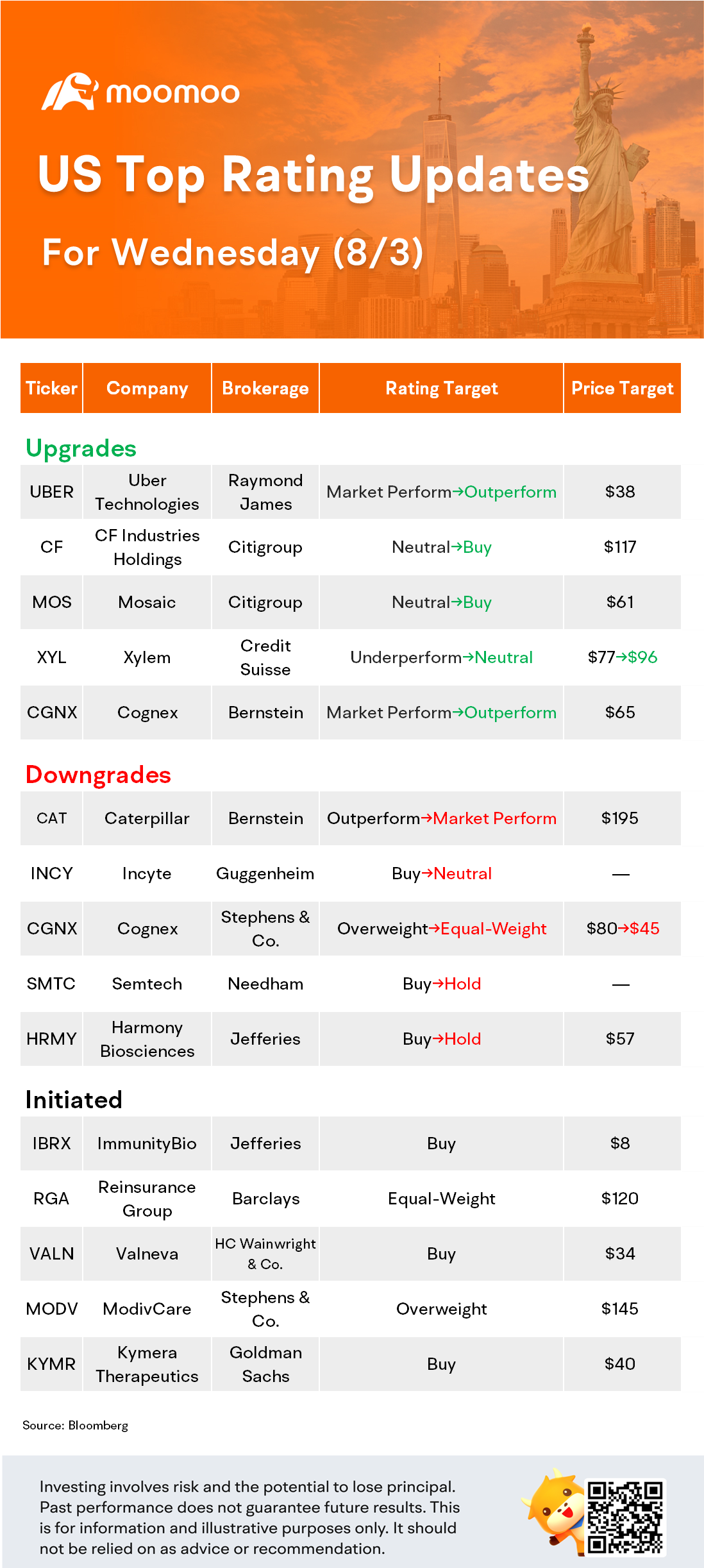 Caterpillar Downgraded to Market Perform From Outperform at Bernstein
Bernstein analyst Chad Dillard downgraded
$Caterpillar
(
CAT.US
)
$
to Market Perform from Outperform with a $195 price target. "Several signs point to order growth markedly slowing" in the second half of 2022 then turning negative in 2023 and Caterpillar has become "too reliant in the current environment on pricing to drive growth," Dillard tells investors in a research note.
Xylem Upgraded at Credit Suisse as Firm Expects 'Beat and Raise' in Second-Half
$Xylem
(
XYL.US
)
$
was upgraded at investment firm
$Credit Suisse
(
CS.US
)
$
after the water technology company reported second-quarter results that topped estimates, with the firm noting it expects a "beat and raise" in the second half of the year.
Semtech Agrees to Buy Sierra Wireless at $1.2 Billion Value
Semiconductor maker
$Semtech
(
SMTC.US
)
$
is acquiring
$Sierra Wireless
(
SWIR.US
)
$
in all-cash transaction valuing the Canadian company at $1.2 billion including debt. Semtech said Tuesday that it's paying $31 a share for Sierra Wireless, a premium of about 25% to Friday's closing price before Bloomberg News reported the merger talks.
Source: Bloomberg, Seeking Alpha
Disclaimer: The content should not be relied on as advice or recommendation.
Moomoo is an app offered by Moomoo Technologies Inc. that provides information about investments. Moomoo Technologies is not an investment adviser or a broker-dealer and it provides neither investment or financial advice nor securities trading services. All contents such as comments and links posted or shared by users of the community are opinions of the respective authors only and do not reflect the opinions, views, or positions of Moomoo Technologies, its affiliates, or any employees of Moomoo Technologies or its affiliates. You are advised to consult a qualified financial or tax advisor for your personal financial planning and tax situations. Moomoo makes no representation or warranty as to its adequacy, completeness, accuracy or timeliness for any particular purpose of the above content.
11