Rebounded 12% in a month: comeback or bear trap?
Views 376K
Contents 143
Economic Update
Stocks are slightly higher to start the month after July posted the best month since 2020.


For economic news today, the S&P Global U.S. Manufacturing PMI met expectations at 52.2 in July, down from 52.7 in June, indicating operating conditions in July weakened further. This is lowest level in 2 years and is due to a drop in output and new orders, reflecting weaker demand conditions.


The July reading of the ISM Manufacturing PMI indicated similar results at 52.8%, in line with expectations but a 0.2% decline from the prior month. The gauge is still in expansion territory but continues to decline and is the lowest posting since June 2020. The primary contributors to the slow down are new orders, employment, and production.


Lastly, construction spending declined 1.1% in June, missing the expected 0.2% increase. Private and public construction both declined 1.3% and 0.5% over the month, respectively. However, overall spending is up 8.3% year over year.


U.S. Treasury yields are lower today, with the 2-year T yield down 2.9 basis points to 2.89%, the 5-year T yield down 7.4 basis points to 2.66% and the 10-year T yield down 6.9 basis points to 2.63%. Advance rates are higher on terms less than a year and lower on terms one year and greater.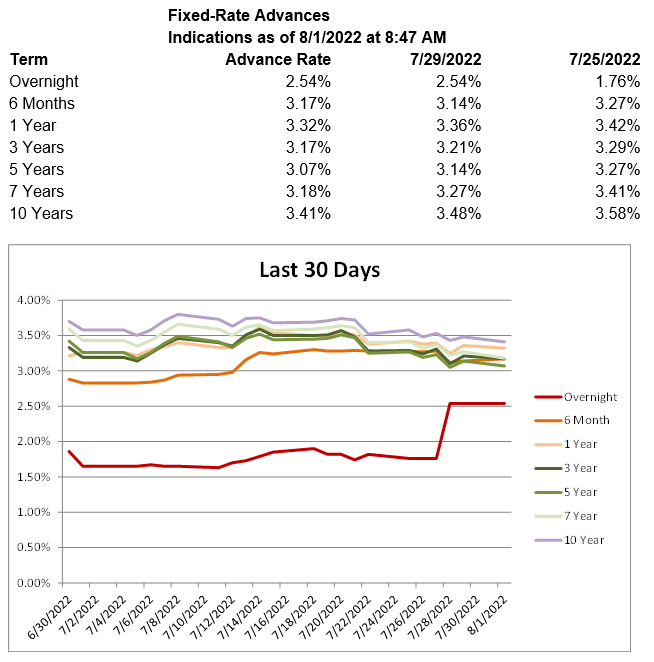 Disclaimer: Community is offered by Moomoo Technologies Inc. and is for educational purposes only.
Read more
1
4