Co-Wise: How do you improve your trading mindset over time?
Views 223K
Contents 520
How to attain a proper psychological mindset for winning trading?



Win
$Ford Motor
(
F.US
)
$
Stocks
Greed and fear are human nature. We suffer acute distress when reaching a psychological breaking point. People with different personalities and habits cope differently with market fluctuation. What separates a winning trader from a losing one is their
psychological mindset
. The beliefs and attitudes you develop during your investing journey are essential to conquering the world of trading.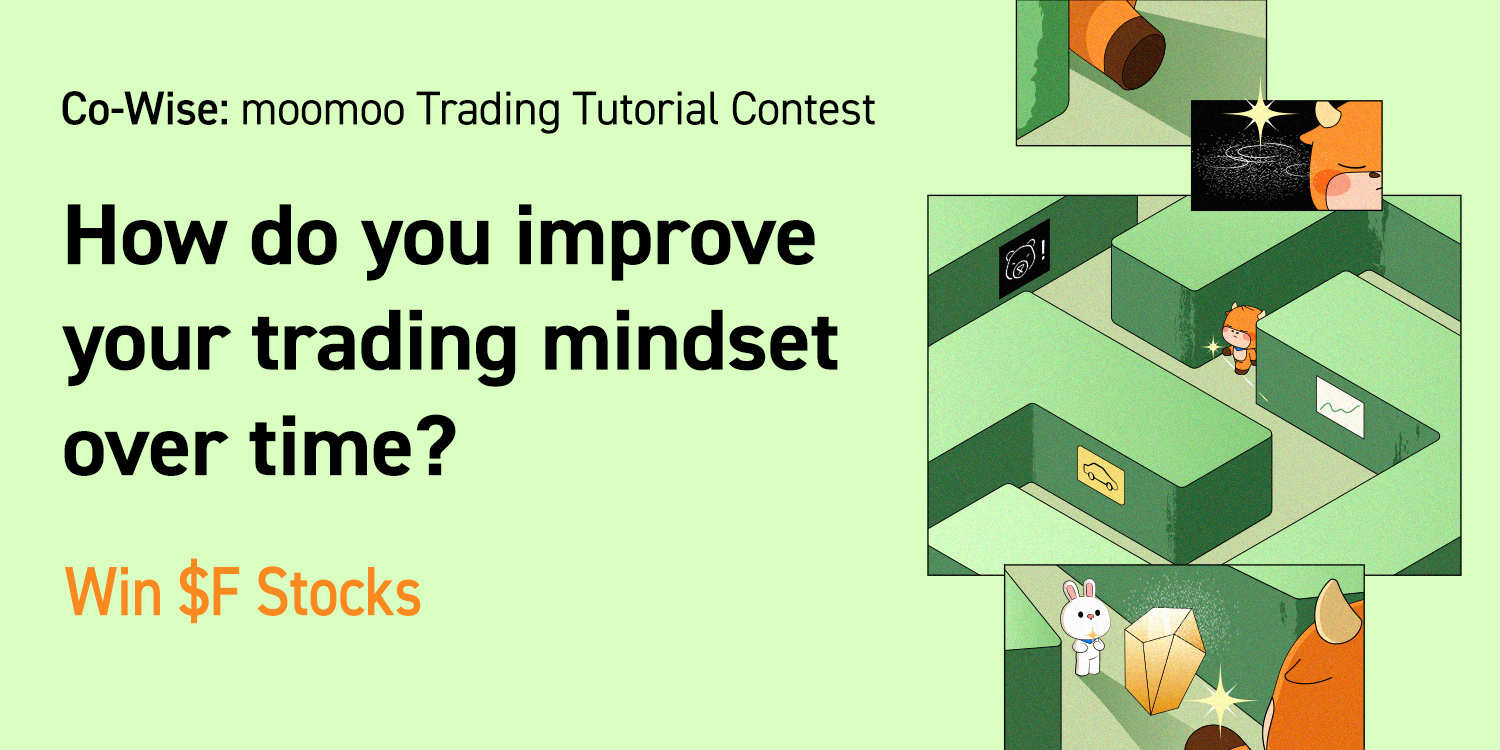 In the early stage of investing
, a combination of
paper trading
and real trading is ideal for newcomers. As the saying goes, practice makes perfect.

Paper trading is an excellent arena for investors who are yet to develop a proper trading mindset. They can adjust their strategies and psychological expectations by simulating investing scenarios to prevent acute psychological distress in real trading. Besides, newbies should also start placing firm orders from the very beginning to have a taste of the stress and rapid mood swings caused by the changes in market conditions.
In the middle stage of investing
, you may be confused by the timing of taking profit and stopping loss.

Before making decisions, you should consider how much risk you can take. What to do at this point is a test of mentality. You might not stop thinking about what would happen next. When the price crashes, you might tell yourself that it's a perfect time to increase position and earn profits with low costs. When the price surges, you might want to wait for higher rewards. Yet, there are flaws in the above reasonings.

Is there a better way to determine when to take action?
With a certain amount of experience
, you may know yourself and understand the market better. Just follow the system you've built along the way to decide what to do next amid confusion. A good trading mindset can't be developed overnight.

It requires tremendous efforts to progress and improve.
The more you know, the calmer you are.
Suppose you've built a complete trading system. In that case, you will always have a solution to difficult situations and be confident that you can tolerate the risks and seek positive returns. You won't be excessively excited about winning or excessively despairing about losing. However, if you are not disciplined in your trade and can't view the market objectively, your emotions might overpower your intelligence, resulting in significant losses.


You can ask yourself the following questions:

How do I train my trading mindset?

How did I overcome emotional trading?

How to train my mind to be stronger?

How to shift my mindset and embrace change?

How to quickly adjust myself after losing money?
Trading is not a contest between you and others. Instead,
you are your biggest enemy
. What you need to do is to know yourself and develop a training mindset that suits you the best.
It is wise to be patient, provide yourself with a margin of safety, and leave room for error.
That's all for today. Please click
How do you improve your trading mindset over time?
to join the discussion. Free $F stocks are awaiting!

Rewards:
1. Free Stock
Regarding the quality, originality, and user engagement of the posts, we will select 4 featured posts to be rewarded with 1 FREE share of Ford (F) stock.
2. Points
Posts with a minimum of 50 words will be rewarded with 66 points.
*The above rewards are mutually exclusive.
Event duration:
Now – Jan 11, 2022 11:59 PM SGT
Disclaimer: All investment involves risk and the potential to lose principal. Neither Futu Inc, nor Futu SG, nor moomoo endorses any particular trading or investment strategy. You should carefully consider your investment goals and objectives when deciding on an investment strategy. Past performance is no guarantee of future results. In the U.S., investment products and services on Moomoo are offered by Futu Inc., Member FINRA/SIPC. In Singapore, investment products and services are offered through Futu Singapore Pte. Ltd. regulated by the Monetary Authority of Singapore.


Terms and Conditions:
1. As you consider allowing Moomoo Inc. and its affiliates (together, 「we」, 「our」, or 「us」) to use your User Content, we want to make sure you know exactly how we intend to use it. 「User Content」 refers to your comments, tweets, posts, photos, pictures, images, videos, materials or other user-generated content or information.
2. All submissions must be original. They should not be plagiarized, copied or reproduced from other participants. Should there be any videos that are plagiarized, the participant will be disqualified and all rewards will be cancelled.
3. By submission, participants automatically authorize Futu to modify and publish the submitted videos via appropriate channels. Video creators will be acknowledged. You are affirming that you alone created or own the User Content and no one else has any rights to it or could claim they own it or that it infringes on rights of others. Likewise, if there are people in the User Content other than yourself, you are also affirming they are over 18 and they know you are giving us permission to use the User Content, and have consented to it being used by us pursuant to this license.
4. You will continue to own the User Content. You are giving us a non-exclusive license to use the User Content which can't be revoked by you except where permitted by law. We will have the right to reproduce the User Content in any form (including, but not limited to, video, internet posting, reproduction, display, email, publication, and distribution), either through our own services or services provided by third parties, throughout the world in perpetuity in any medium now known or later developed and without restriction or limitation. Also, if you posted your User Content with your real name, username, caption, location information or other identifying information, you agree we can use that information with your User Content. The User Content and other information may be used for advertising and promotional purposes and we may use the User Content either alone or in conjunction with sketches, cartoons, captions, films, art work, textural matter, materials written by us or others, or other photographs. You understand that you won't have the right to approve how we use your User Content. While we will make commercially reasonable efforts to give you credit for your User Content if we use it, you agree that such credit is not mandatory and your permission for us to use your User Content is not contingent upon such credit being given or any fees being paid to you.
5. You also understand that by granting us permission to use your User Content, you are at least 18 years of age, and release us, our employees and officers, and any third party services that use your User Content from any and all claims, actions or proceedings of any kind, and from any and all damages, losses, costs and expenses, including reasonable attorney's fees and expenses relating to or arising out of the use of your User Content as contemplated by this license.
6. Thanks again and please contact us at @moomoo Event if you have any questions.
Disclaimer: Moomoo Technologies Inc. is providing this content for information and educational use only.
Read more
232