Most active stock options for Jan 4: Apple becomes first $3 trillion U.S company
$Apple
(
AAPL.US
)
$
became the first publicly traded U.S. company to hit a $1 trillion market cap during intraday trading on Aug. 2, 2018. It hit a $2 trillion valuation just over two years later on Aug. 19, 2020. It hit a market cap of $3 trillion briefly during trading on Monday.
$Tesla
(
TSLA.US
)
$
smashed fourth-quarter delivery records and posted its biggest volume for both the fourth quarter and the full year on Sunday. The Elon Musk-led company said it delivered 936,172 vehicles, a jump of 87% compared to 2020 when deliveries came at about half a million vehicles.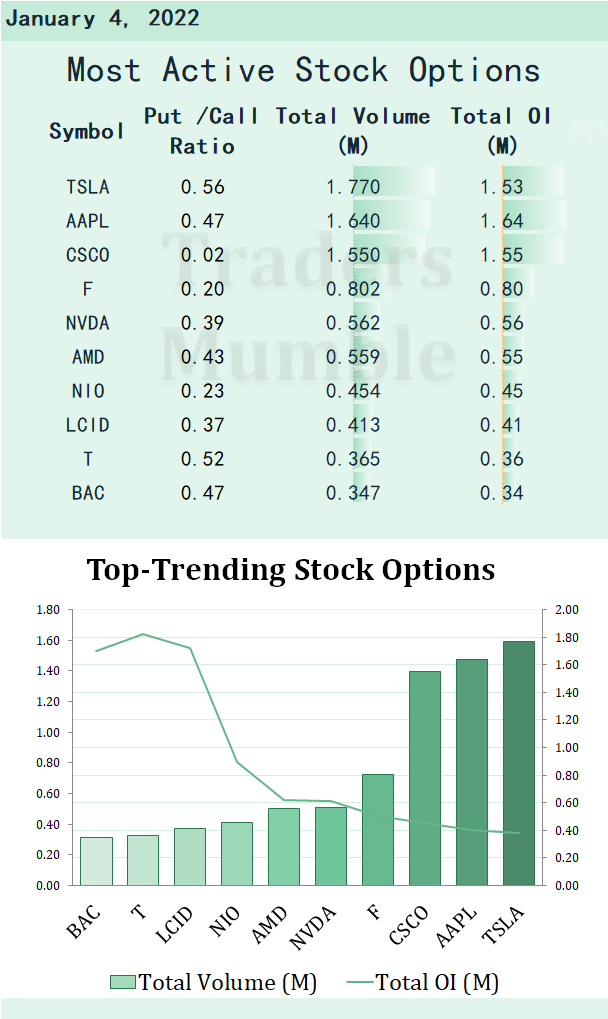 · The chart shows stocks with the
most option activities
of the previous trading day.
·
Put/Call ratio >0.7
means more the stock attract more bears than bulls.



Put/Call ratio<0.7
means the stock attract
more bulls than bears.



· Option volume indicates the shares of contracts traded for the day.
· Open interest indicates the total number of option contracts that are currently open – that means they are
not yet exercised or offset.



Quick option tutorial



Follow me to keep receiving the latest critical market movement and keep FOMO away.


Disclaimer: Moomoo Technologies Inc. is providing this content for information and educational use only.
Read more
20