Stocks & Markets Analysis
Views 3.2M
Contents 5421
2022 outlook: Nasdaq 19000? These investors are bullish on tech stocks
In 2021, high inflation, the spread of mutant viruses, and the expected disturbance of rate cuts and hikes, the Nasdaq and US stock leader FAAMG once pulled back, and has since oscillated upwards in a performance-driven environment, but concerns remain incessant; the Chinese Internet moved higher after an influx of funds at the beginning of the year, and overall performance was relatively weak during the year, as the market looks to rebound.
Technology, an investment theme that has received much attention, is it still worth looking forward to in 2022?
Don't worry about Fed, virus and policy in 2022?
Wedbush Securities' analyst Dan Ives and his team say that

While many are throwing in the white towel on this multi-year historic tech rally heading into 2022, we view this near-term sell off as just a painful digestion period (along with Omicron fears) with the Street now factoring in a tighter Fed and constrained valuation framework for tech stocks,' Ives and his team said, noting they remain "firmly bullish on tech stocks for 2022.
Their 2022 year-end target for NASDAQ is 19K driven by the digital transformation among enterprises and consumers.
While valuation parameters will be more in focus on the Street, importantly the underlying growth prospects for the tech sector are 2x-3x normalized/historical patterns.
For Chinese tech, the Asia Pacific investment director at UBS Wealth Management said that
there are indeed relatively large opportunities for China's internet platforms as well as traditional IT next year.
For China's internet platforms, the toughest regulatory moment is probably behind us and many of the risk factors have been absorbed by the market, so the risk-reward ratios and valuations of the top internet platforms are seen as becoming very attractive.
Digitalisation brings new opportunities, focus on AI, cloud computing, semiconductors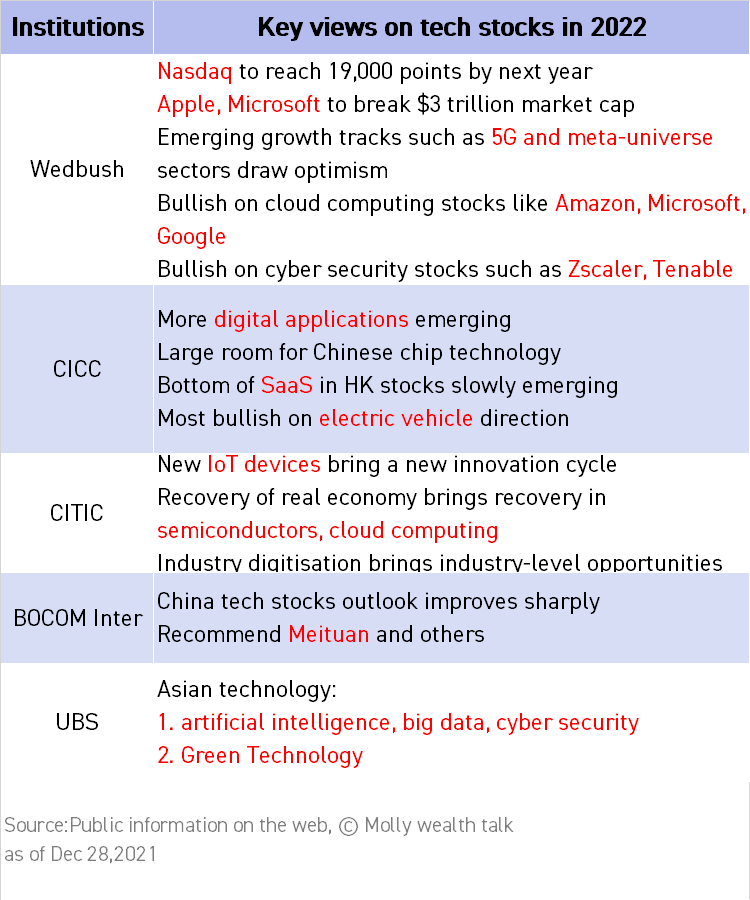 In short, the market remains predominantly optimistic about the performance of technology stocks next year, with keywords such as digital transformation, artificial intelligence, cyber security, cloud computing and semiconductors being mentioned many times, and both US and Hong Kong tech giants being bullish.
Investors looking to 2022 should keep technology in mind not just as a growth play, but as the engine for better profit margins across the whole market,
says David Lebovitz of JPMorgan Asset Management.
Disclaimer: Moomoo Technologies Inc. is providing this content for information and educational use only.
Read more
35