Making a difference is possible via a wide range of actions, including volunteering and contributing money and the investments you make. The practice of impact investing is one approach to using your investment capital to do good things in the world while also strengthening your investment portfolio.
Impact investing definition
The term "impact investing" refers to a type of investment that prioritizes creating social and environmental value in addition to financial returns. Impact investors often concentrate their attention on the environmental, social, and corporate governance (also known as ESG) impact of a particular firm or investment fund.
Everyone has their own set of priorities and values. Therefore, the places where you desire to have an impact may differ from those of others. Some investors may let their religious beliefs influence their investment decision-making, while others may be motivated to take action due to current events. But regardless of the principles, you may identify impact investments that are consistent with those principles.
What are the steps involved in impact investing?
Impact investing is successful on a big scale because it directs investors' money towards businesses that do good in the world and away from businesses that do not. For instance, an investor could decide to put their money into a firm specializing in alternative energy forms rather than one producing oil.
The reports generated by impact investment funds give information on the actual changes being brought about in the world due to the fund's investment decisions. However, making particular investments isn't the only method to have an impact, activism is another strategy that may be effective.
What metrics are used to evaluate the impact investments?
The ESG score is often used as a grading system for impact investments. This score determines how well a corporation or fund performs in environmental, social, and governance considerations. It is important to keep in mind, however, that corporations now employ various methods for calculating their ESG scores; as a result, there is no one authority on ESG scores.
Reading the impact report for investment may help you better understand that investment's impact in the real world. This report may include an overview of how much of an organization's carbon footprint has been decreased, as well as any modifications to its policies, such as the addition of longer parental leave.
Impact investing vs. socially responsible investing
There are a lot of different designations in the world of impact investment, but some of them signify more than others. The definitions of each one are provided below, along with an explanation of how impact portfolios may be constructed using them.
General terms for impact investing
There is a common tendency to use terminology like socially responsible investment and impact investing interchangeably with other concepts, such as ethical and sustainable investing. The majority of the time, they are referring to the same concept, which is the act of putting your money into investments that will have a constructive effect on the world.
Environmental, social and governance investing
Financial institutions often consider environmental, social, economic, or ESG aspects when making investment decisions. These are a set of principles that prioritize environmental protection, social justice, and responsible business practices.
A multitude of independent research businesses uses ESG ratings as a tool to assist in grading investments along a moral curve. If you want to create an impact portfolio with an emphasis on the environment, for instance, you can seek assets that have a high ESG score in the environmental area.
What is the key distinction between ESG investment and impact investing?
Increasing interest in environmentally, socially, and governance-focused (ESG) company practices has led many to link impact investment with these trends. Although they have a lot of similarities, both terms relate to two quite different kinds of activities.
The term "environmental, social, and governance practices" refers to businesses' actions that may impact the profits generated by such businesses. For example, a business that intentionally uses child labor or discriminates against its employees or customers may find itself at a disadvantage in the marketplace, especially when marketing to socially aware customers.
The technique of looking for investments that maximize a purpose other than profits is called impact investing. Impact investing is a relatively new kind of investing that has gained popularity in recent years. Among them can be investments in education, microfinance, or environmentally friendly forms of energy.
What does an impact-investing firm mean?
In addition to focusing on maximizing financial returns, the primary objective of an impact-investing firm, sometimes known as an investment fund, is to contribute to achieving particular humanitarian or ecologically responsible goals. While some impact funds look for investment opportunities in fields where they predict high returns, others place a lower priority on financial gain.
What is an impact-investing strategy?
One type of investment approach is impact investing, which involves putting money into businesses or whole sectors to achieve a positive social or environmental effect. For instance, some investors want to back important causes, such as sustainable agriculture, electric automobiles, microfinance, and renewable energy. Others want to help microfinance organizations and renewable energy.
Conclusion
Impact investing is a strategy that is becoming more popular as part of a larger movement toward more socially responsible business practices. These methods aim to mitigate some of the adverse effects that are caused by typical economic activity. Impact investing is a kind of investment that aims to provide social or environmental benefits while simultaneously producing financial returns. This is accomplished by providing financial assistance to businesses and sectors working toward important goals.
If you are interested in discovering a list of ESG related stocks, you can find them on moomoo trading app. Click the "Market" tab>> Find "Trending Topics" >> Click "ESG".
Download moomoo app today and find the list!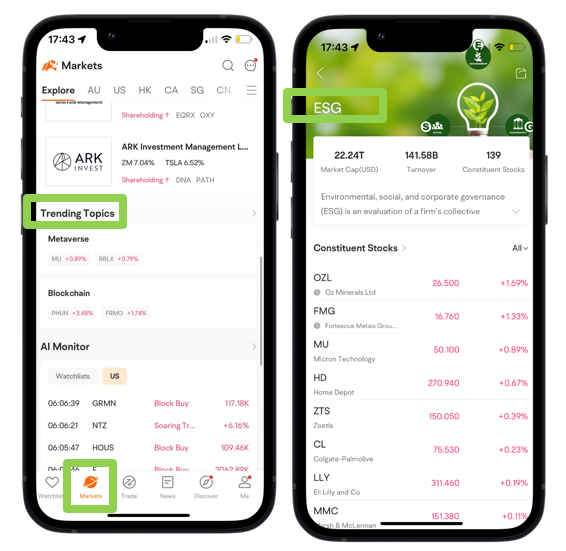 Images provided are not current and any securities are shown for illustrative purposes only.