With a margin account, the financial markets can offer a huge upside to traders. However, certain considerations have to be made when you step into the world of trading with leverage.
The first consideration will be creating your margin account.
What Is A Margin Account?
In simple terms, a margin account is a special type of brokerage account where the brokerage lends money to the account holder,who uses the cash or securities they have in the account as collateral for the loan. As a result, investors are able to buy more shares than they would with the initial capital they put in.
The amount of money you can borrow is calculated with a margin formula explained here.
Margin Account Requirements
Due to the risks involved in margin trading, some brokers review investor's applications for a margin account. This can involves looking at a trader's experience, income levels and taking investing tests to qualify for a margin account.
(However, this is not the case with moomoo. We'll explain how you can register for a margin with us in the rest of this article.)
Margin Accounts vs Cash Accounts
When creating a new account with your broker, you can either create a cash account or a margin account.
With a cash account, you'll only be able to purchase shares based on the total amount of cash in your account. This is not a bad thing depending on your risk profile.
With a margin account, you'll be able to access additional funds that your broker can lend to you. For some traders, this is a advantage in increasing their potential returns,but can have higher risk and trigger a margin call.
Advantages Of Margin
With a margin account, your buying power increases. For traders who have a strong conviction about the direction a stock will move, this buying power allows them to potentially generate larger gains if they make the right forecast on the price.
When used on volatile stocks with sharp price movements, using a margin account allows you to potentially profit from such moves quickly.
If an investor feels a certain stock will go up (or down) because of industry trends or a major event, margin can also help this investor to generate higher returns from their investment thesis as well.
Risks Of Margin
However, margin is a double edged sword that can harm investors. To effectively use your margin account, you'll require a certain amount of equity to open and maintain your trading position.
Should the equity in your account fall below what is required, you might experience a margin call where you have to deposit additional funds or your open positions are liquidated to meet the margin requirement.
We explain the three types of margin in this article on margin trading here.
While trading on margin, you will also need to pay interest on the funds you have borrowed. For moomoo, we charge a flat rate of 6.8% on the capital borrowed. moomoo supports margin capability on different markets including US stocks, Hongkong Stocks, China-A share, learn more about margin fee for different stock markets.
Setting Up Your Margin Account With moomoo
In conclusion, a margin account can be a great tool to help you achieve better returns with lower starting capital. However, investors and traders need to be aware of the risks associated with a margin account.
When you register for a moomoo account, you automatically create a margin account as long as the net assets of your account is more than $2,000 USD.
Should the value of assets in your account drop below $2,000 USD, margin services will not be available for your account.
This setting can be disabled by contacting our support team once your account is created. If you decide to change your investing or trading strategy, you can then contact our team to turn on your margin account once again.
At moomoo, our goal is to provide investors of all experience levels with an intuitive and powerful investing platform by using technology.
moomoo Margin Account Features
With a moomoo Margin account, here are some things you can do:
If you do not have sufficient funds to open a position, margin will be used.
If you think stock prices will be falling, you can short sell stocks.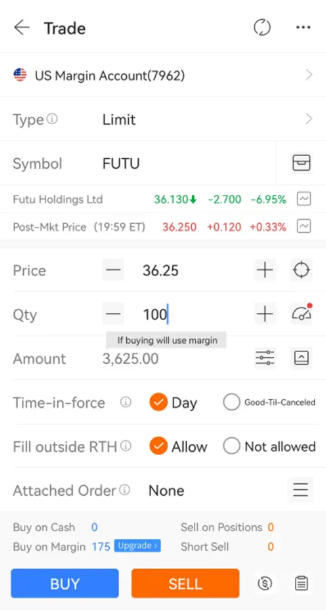 Images provided are not current and any securities are shown for illustrative purposes only.
Trade previews allow you to estimate the effects an open position will have on your account margin. This helps you better plan your trades and manage your risk.
The moomoo margin account identifies which stocks are marginable and shortable, along with the margin and loan rates.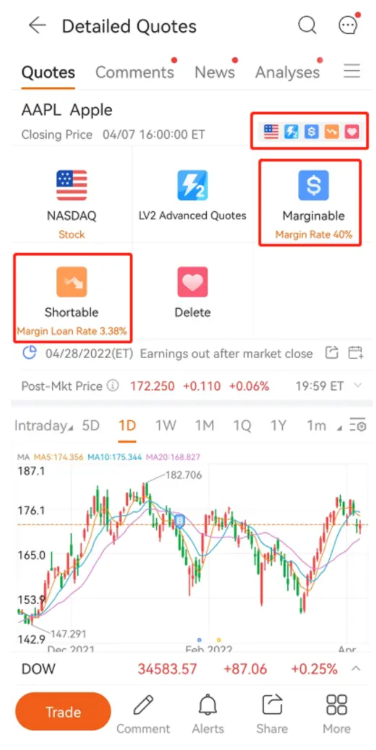 Images provided are not current and any securities are shown for illustrative purposes only.
On the risk account details page, we show your account risks, disposal suggestions and early warning information based on fluctuations of the individual stocks you hold.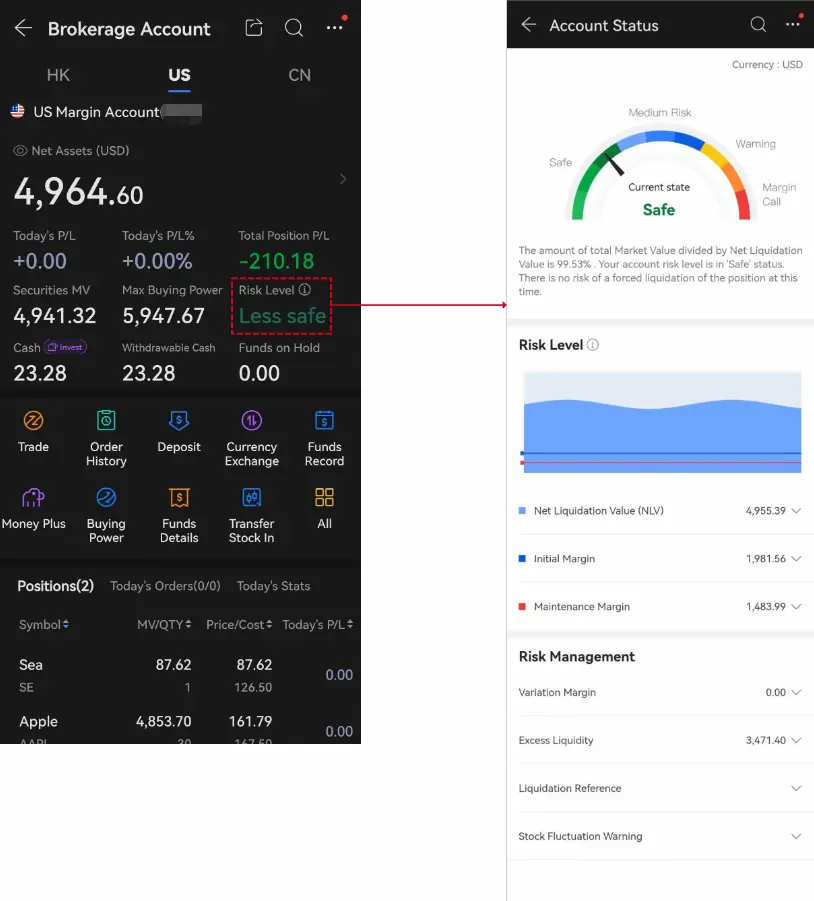 Images provided are not current and any securities are shown for illustrative purposes only.
Disclaimer
Margin trading entails greater risk, including, but not limited to, risk of loss and incurrence of margin interest debt, and is not suitable for all investors. Please assess your financial circumstances and risk tolerance before trading on margin.
When short selling there is no limit on how high a stock price could rise so the potential loss is unlimited. Other risks include dividend risk and margin risk, this strategy is not appropriate for all investors.
No content here in shall be considered an offer, solicitation or recommendation for the purchase or sale of securities, futures, funds or other investment products. It does not take into account your investment objectives, financial situation or particular needs.
All information and data, if any, are for reference only and past performance should not be viewed as an indicator of future results. It is not a guarantee for future results. Investments in stocks, options, ETFs, funds and other instruments are subject to risks, including possible loss of the amount invested.
The value of investments may fluctuate and as a result, clients may lose the value of their investment. Please consult your financial adviser as to the suitability of any investment.
This article has not been reviewed by the Monetary Authority of Singapore.