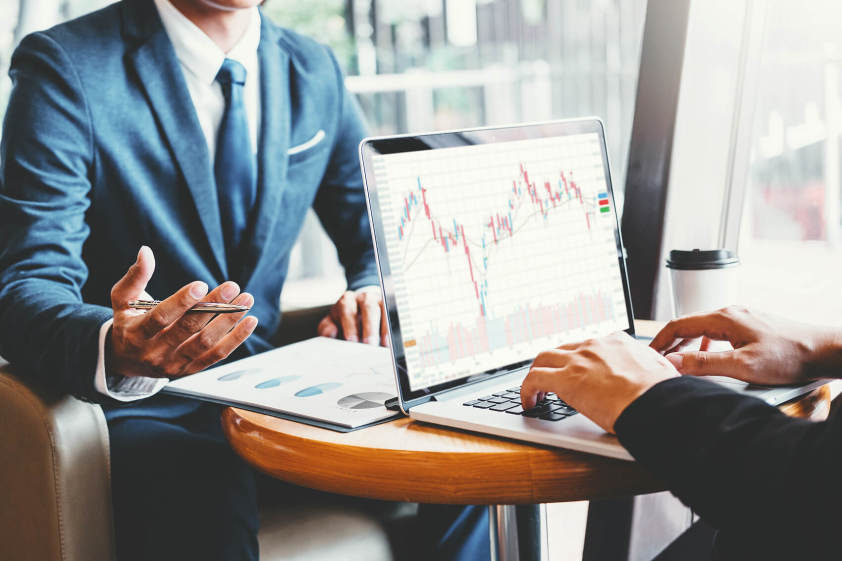 As you build your portfolio and grow your investments, you may discover that you want to change your brokerage at some point. If you are a stock trader or a buy-and-hold fund investor, it is not uncommon to transfer securities from one broker-dealer to another.

Transferring or switching brokerage accounts does not have to be hard. ACATS or in-kind transfer can not only help you make the change quickly, but it can also often help you save time and frustration.
Here is what you need to know about the ACATS process.
What is ACATS?
ACATS stands for Automated Customer Account Transfer Service. If you want to transfer your investments between brokers, this system can help you complete the process with fewer obstacles.
ACATS gives investors the freedom to work with a broker that fits well with their investment goals.
With the help of ACATS, you do not have to sell your investments, transfer the cash, and then rebuy stocks with a new broker. Instead, the National Securities Clearing Corporation (NSCC) facilitates the transfers between the brokerages.

Many brokers accept ACATS transfers or in-kind stock transfers for a wide array of common investment types, including stocks and bonds, ETFs, mutual funds, and options. However, not all brokers offer all investment types, so transfers that the new broker does not support will need to be sold first, and then transferred as cash.
What are the benefits of ACATS?
Investors find that an ACATS stock transfer provides many benefits for building their portfolios.
Tax Benefits
Cashing out investments to move to a new brokerage can have tax consequences for investors. Making a transfer through ACATS can help alleviate the tax consequences of selling investments since this is a transfer and not a sale.
Greater brokerage flexibility
Instead of being tied down with a single brokerage for decades, inventors have greater flexibility and can switch between the brokerages best suited for their goals.
Broad range
The ACATS system can also simplify moving investments between brokerage firms and some banks.
Simplified transfer process
The stock transfer process is quicker and more efficient than manually cashing out and transferring investments.
How does ACATS work?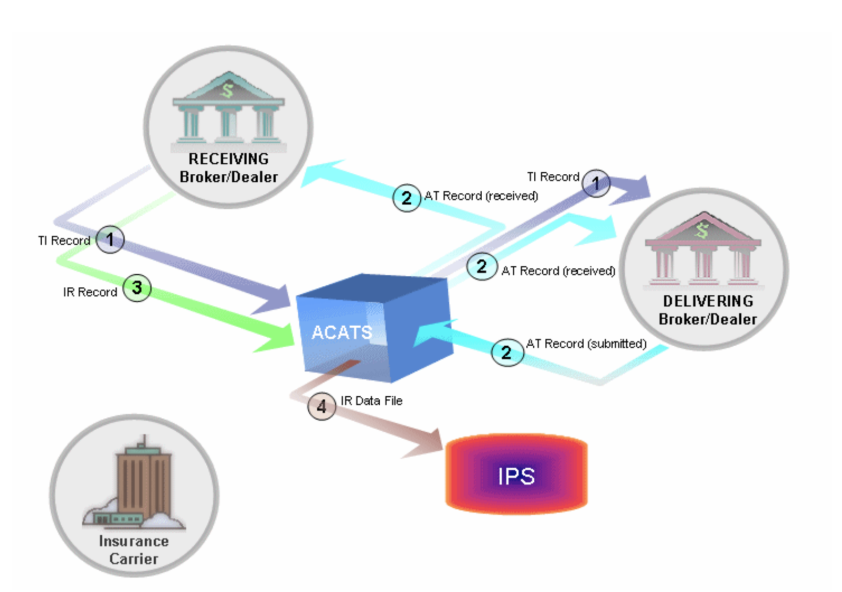 While using ACATS is generally straightforward, investors can lean heavily on their new brokerage to answer any questions they might have. Here are the main steps you should expect to see as you make this transition.

1. Bring your most recent account statement from your current broker. Your statement should contain valuable information such as the account type, account number, and current investments.

2. Before you can transfer your stocks, you will need to have a new account with your new brokerage. Make sure to keep the same type of account as you had with your old broker. In other words, if you have a taxable account already, open a new taxable account. To open your account, you will need to have your social security number, driver's license, and other personal data to use as identification.

3. You will then start the transfer with the Transfer Initiation Form (TIF). This form will officially request the transfer. The funds you request will run through the ACATS. Keep in mind that all the information on the form should match your old account. In other words, your personal information and data must be written and spelled the same way.

4. Once this form is filled out, your new brokerage will request the transfer from your old brokerage. You will need to wait five to seven business days for the transfer to take place. Be sure to speak with your new brokerage if you want to trade while waiting for the transfer.

5. Keep all records from the old brokerage even after the ACATS completes the transfer to your new brokerage. Maintaining all records ensures you maintain consistent documentation of your investments for tax purposes.

The process of transferring your assets using ACATS is relatively straightforward, and your new brokerage should help you with any questions or issues throughout the process.
What regulations impact ACATS?
While ACATS can simplify the transfer of investments, there are regulations that investors should know. These regulations help protect both you as an investor and the brokerage itself. There are two key rules to keep in mind.
Matching information
It is critical that your information for your account at the new broker matches the information on your account with the old broker. Information on the TIF, most especially, must match completely. Any change or error in the identification details, such as the social security number, or a mismatched name, can cause the application to get rejected. The strict standards help protect the investor from theft and fraud. If your old brokerage does reject your application, you will have the chance to edit it and submit it again.
Investment acceptance
As an investor, you need to realize that brokerages are not required to accept all transferred accounts. When your new brokerage initiates the transfer process, they can decide which ones they will accept. Your new broker may have certain policies of when particular investments can be made and they have the option to reject if you do not meet these requirements.
Before beginning the transfer, know what accounts are accepted and any requirements governing those investments with your new brokerage. Doing so can help to prevent unwelcome surprises.
ACATS transfer fees and what to expect
When you apply to transfer your investments, you will often receive a fee charged by your old broker. A transfer fee typically falls in the $50-$100 range. However, some brokers will reimburse you for this fee when you transfer investments to them. Others might offer a bonus for joining that covers the fee.
Many people decide to switch brokers because of lower or no commissions. If your new brokerage does not reimburse your transfer fee, chances are that the lower or lack of commission fees will allow you to make up the difference.
What is the ACATS transfer time?
Once you begin transferring your accounts, it can take five to seven business days to complete. Ask your new broker for timeline information as they may have a better idea of the ACATS transfer timeline based on your specific account. They might also have a way for you to track the process.

Times may arise when this process gets delayed. For example, if the institution transferring your investments to the new brokerage is not a brokerage specifically, the process may take longer. Certain accounts, such as those with a custodian or bank, may also take longer to transfer.
ACATS and moomoo
When it comes to trading like a pro, moomoo is the trading platform designed for your needs. And with ACATS, it's even easier to transfer your investments and consolidate your portfolio on our advanced trading platform. In fact, we make it even easier with transfer fee reimbursement and fast and secure transactions so you can manage your account with confidence.

Sign up for moomoo to learn more about moving your accounts with ACATS and start taking your trading strategies to the next level.

Disclosures:
Investment products and services are offered through Moomoo Financial Inc., Member FINRA/SIPC. To use some features of the moomoo app, you must have an approved brokerage account with Moomoo Financial Inc.
This information is provided for informational and educational use only and is not investment advice, a recommendation or endorsement of any particular investment or investment strategy. It is provided without respect to individual investor financial sophistication, financial situation, investing time horizon, or risk tolerance.
All investing involves risk, including the potential loss of principal, and there is no guarantee that the use of any tools or data provided on the moomoo app or any investment strategy or approach discussed herein will result in investment success. Any images provided or securities referenced herein are strictly for illustrative purposes.