1. Access to beneficiary details of moomoo SG
● Log in to the moomoo app and tap Trade > Deposit > Bank Transfer. After selecting the currency, you can view the details of moomoo SG's beneficiary bank accounts.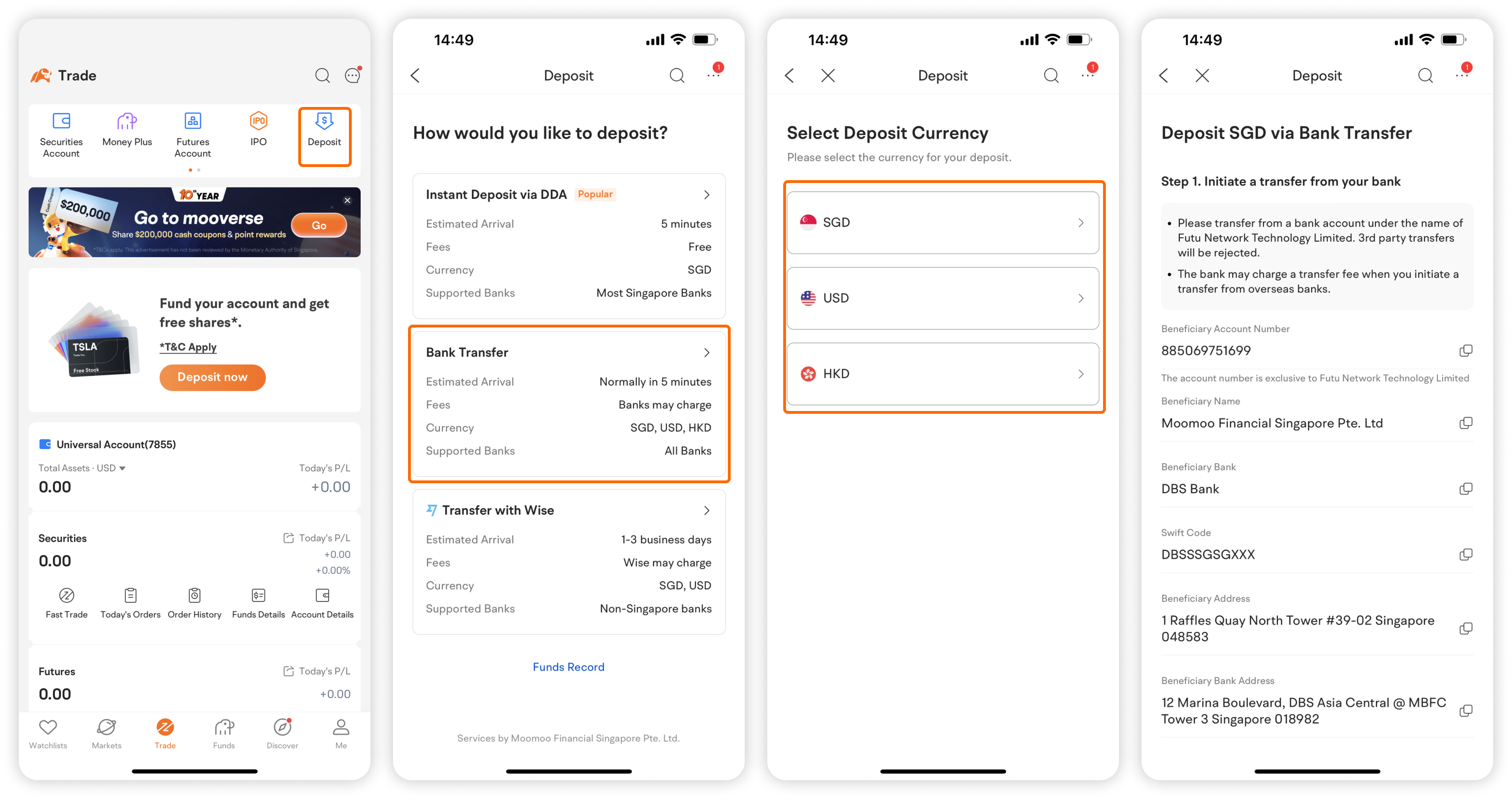 ● If you have linked a DDA bank account, you will access the DDA page after tapping Trade > Deposit > Bank Transfer. You can find the entry to bank transfer by tapping Other Deposit Method at the bottom of the page.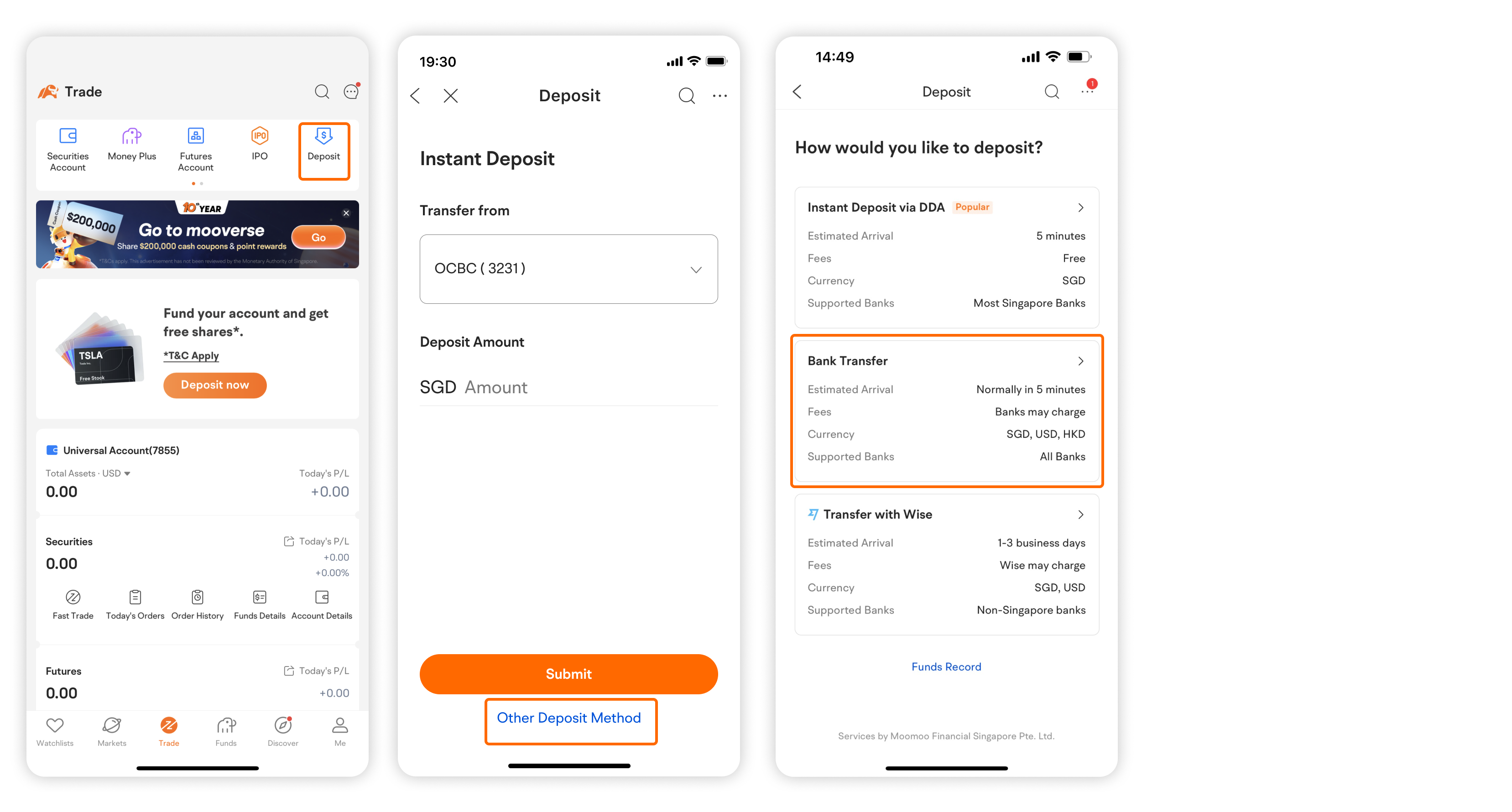 2. Transfer to moomoo SG

2.1 Supported transfer types
Moomoo SG supports funds transferred from your own bank account, including joint bank accounts in your own name.
2.2 Unsupported transfer types

Moomoo SG does not accept transfers in cash, by cheque, or from a third-party bank account. Such transfers will be returned, and you may bear all additional costs incurred as a result of such returns.
2.3 Notes

● Moomoo SG designates a unqiue beneficiary account number for each client. Please transfer funds to your exclusive beneficiary account. Otherwise your deposit may be delayed or reversed.
● When making a USD/HKD transfer, please specify the currency you want to deposit. Otherwise some banks may automatically convert the currency of your transfer into SGD.
● When making a USD/HKD transfer via DBS/POSB Bank, please select "Overseas Transfer" or "DBS Remit" to initiate the transfer.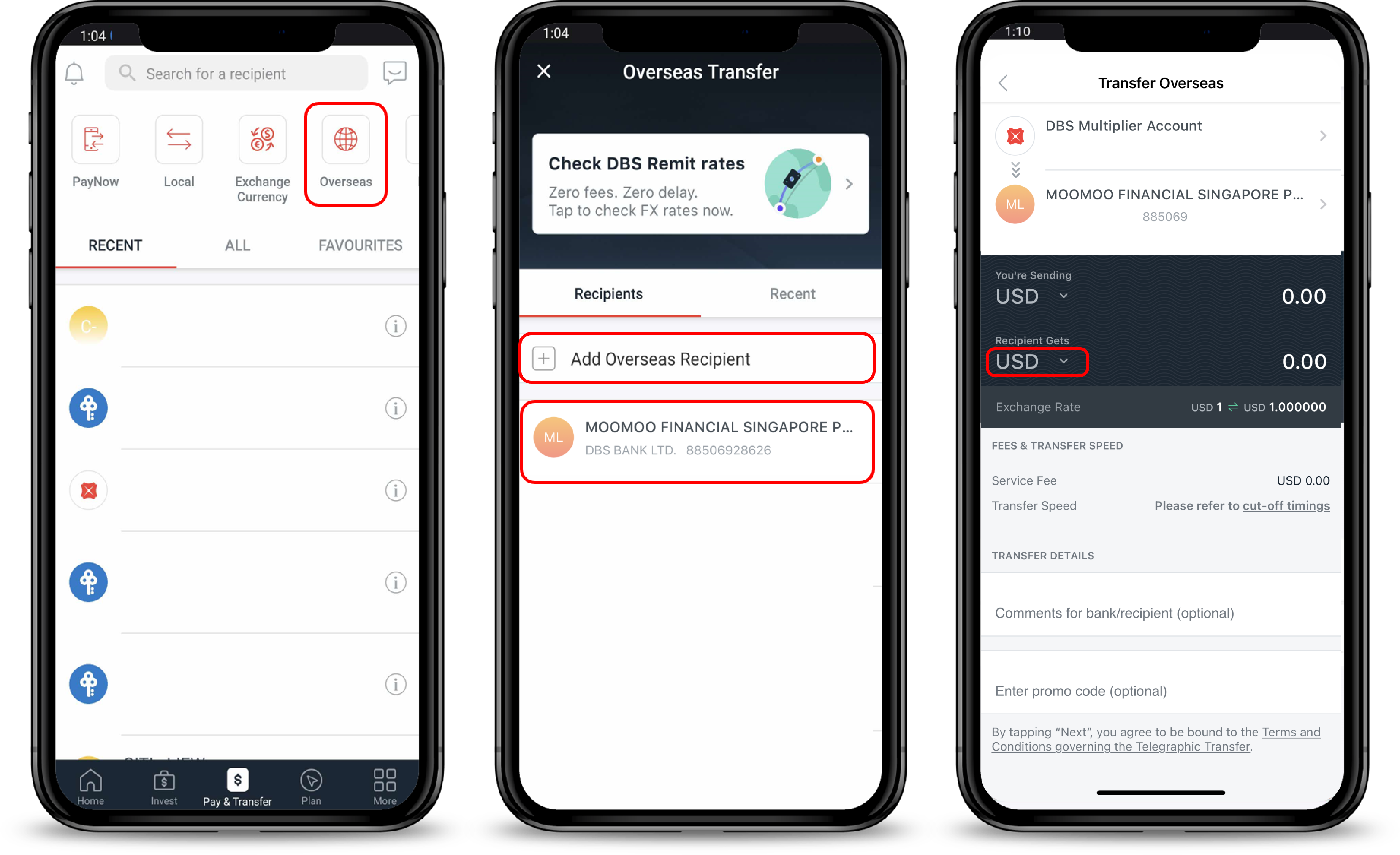 3. Estimated arrival time and fees

Item

Description

Estimated Arrival Time

● Domestic Transfer in SGD: normally within 5 mins during working hours

● Domestic Transfer in HKD/USD: 1-3 business days

● International Transfer: 1-3 business days

Fee

Free of charge by moomoo SG. Possible service charges by banks.

Supported Currency

SGD/USD/HKD
4. FAQs

1)How to Deposit via Bank Transfer Using a Joint Account
2)What Should I Do After Initiating a Transfer from a Third-Party Bank Account
If you have any other questions, please contact our customer service via moomoo > Me > Customer Service