Is Bankrupt Stock Speculation a Danger Signal for the Stock Market?
$Tupperware Brands
(
TUP.US
)
$
and
$Yellow
(
YELL.US
)
$
have recently experienced dramatic surges in their stock prices.
Despite Tupperware's warnings of nearing bankruptcy, retail investors have flocked to the stock over the last three weeks, driving its share price up by
more than 500%
since hitting a low of $0.61 on July 19. Similarly, shares of Yellow, a trucking company that had announced plans to cease operations and file for bankruptcy, saw
an astounding increase of over 700%
from a low of $0.432 on July 24.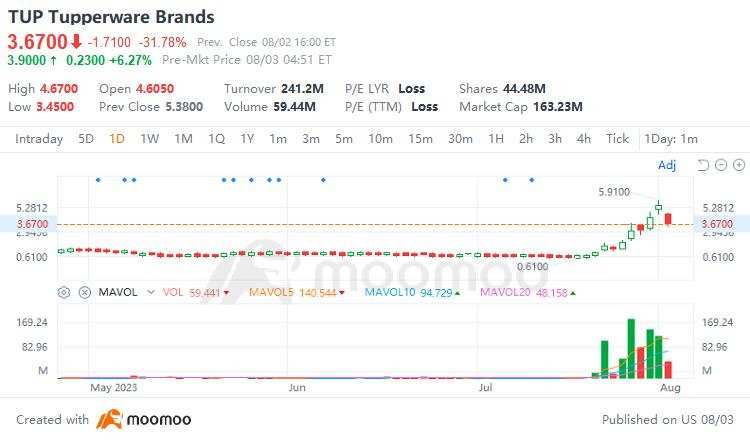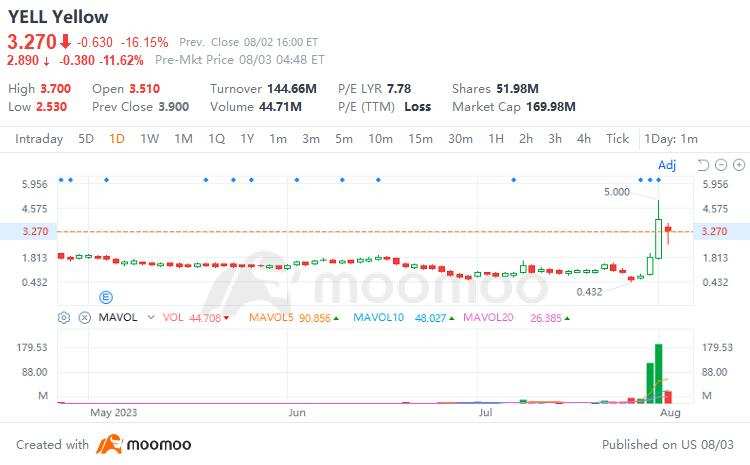 Why invest in bankrupt stocks?
In addition to bankrupt stocks, the surge in meme stocks is also notable. The
$ROUNDHILL MEME ETF
(
MEME.US
)
$
, designed to track stocks popular among retail traders, reached a new one-year high on July 31 and gained over 60% year-to-date.
How the market perceives the reasons behind the retail investors' preference for these stocks varies.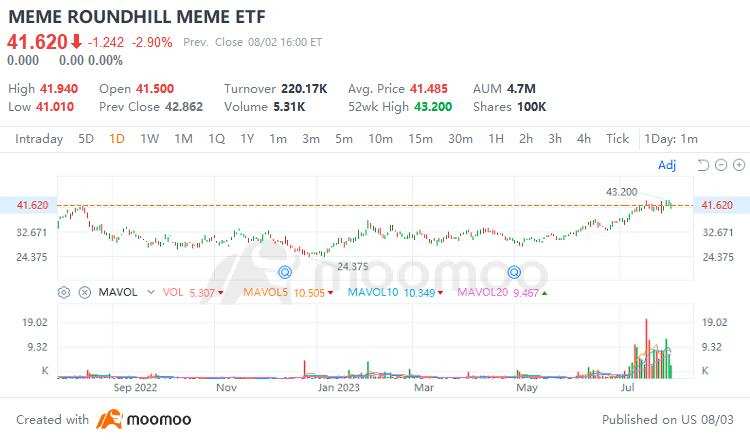 1.
One argument is that
bankrupt and distressed names may seem cheaper
,
especially compared to technology stocks that have experienced substantial rallies.
Thomas Hayes, the managing member at Great Hill Capital, said, "There's widespread panic-buying and catch-up trade from those who risk going into the year-end flat while the S&P is up 18%."
2. An overcrowded short position in a stock is another possible reason investors are attracted to bankrupt stocks.
It is also possible for a bankrupt stock's price to increase due to
a "short squeeze", or from short sellers' profit-taking
.
"The last reason I believe is the large percentage of short interest in these companies," said JJ Kinahan, chief executive at IG North America.
3.
In Yellow's case, retail investors
seem to have confidence in the value of the company's liquidated
assets,
even though the order of liquidation for creditors comes before that of shareholders in bankruptcy proceedings. According to the report of The Wall Street Journal, people familiar with the situation said
the investors believe that the company may have greater value in the event of liquidation than as a going concern
due in part to the significant real estate assets it owns, particularly its longtime terminals in prime areas with ample parking.
Ihor Dusaniwsky from financial data provider S3 Partners: "The huge volume of shares traded this week indicates the rally is driven by new buyers snapping up shares rather than traders simply covering short positions. "

What's the signal?
Some analysts smell danger in bankruptcy stock speculation and meme stock surge.
Dennis Dick, market structure analyst at Triple D Trading: "What we have seen historically is that when short squeezes are happening in some of these zombie-like companies that are burning cash or in really beaten down names, that's usually more indicative of a sign of the end of the bull market as opposed to the beginning."
Source: Moomoo, The Wall Street Journal, Yahoo finance
Disclaimer: Moomoo Technologies Inc. is providing this content for information and educational use only.
Read more
1
2
1
18