Digital IT Services Preview | Not Out of the Woods Yet On Negative Estimate Revision Risk
The Digital IT Services group is expected to see a downside risk to its estimates, given weak demand for project-based services and possible delays in bookings ramp. Although snap-back potential to pre-pandemic growth rates is seen at some point next year, there is still caution in the group until stability in estimates is observed. Revision risk is possible, and negative revision trends have been seen since the beginning of this year.
Results from large-cap peers suggest that demand for short-term project-based work remains weak. Street estimates on these companies have reset lower compared to their respective expectations three months ago. The TMT vertical is expected to show continued weakness, and signs of incremental slowdown in the financial services are also seen. North America is expected to be weak while exposure to Europe and APAC could prove more defensive.
Industry-wide pricing pressure could weigh on margins despite easing supply across the board. Hiring could remain muted, and headcount could be down sequentially across the board in 2Q. Recent appreciation in offshore currencies could weigh on margins for certain companies.
For next year, we expect a return to pre-COVID level or "normal" growth trends, which should drive revenue growth acceleration across the board. A low exit rate at companies such as EPAM/GDYN could limit overall revenue growth rates. As such, we estimate 11% CY24 revenue growth for EPAM/GDYN while GLOB leads the pack at 23% growth.
GLOB faces a tough bar for 2H and trades at 15x CY24E EBITDA, although the company's marketing and investments should enable it to meet high expectations. Reiteration of organic revenue growth guidance is expected, and the premium growth will be rewarded in short- or long-term valuation. EPAM trades at 13x CY24 EBITDA, and although estimates are low enough, above-average risks are seen at PRFT, TWKS, and CINT.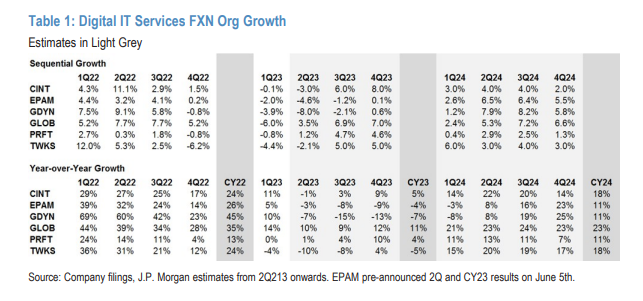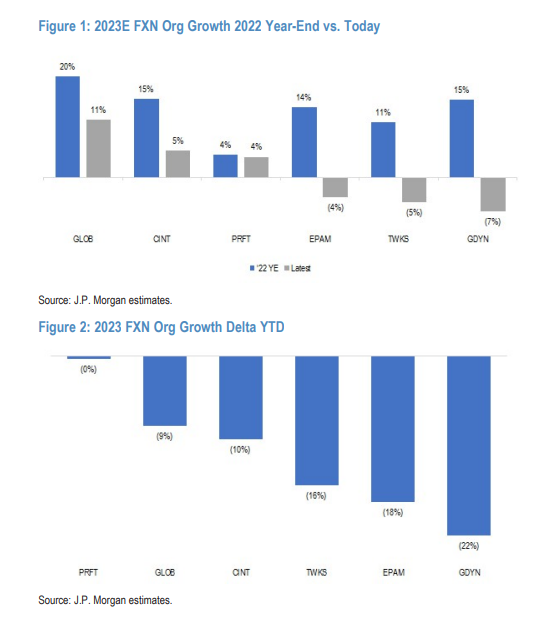 Disclaimer: Community is offered by Moomoo Technologies Inc. and is for educational purposes only.
Read more