NVIDIA surges 20% overnight on Wednesday, leading to a remarkable rally in 'AI' stocks!
Stay up to speed with similar trends and trade overnight breaking news with moomoo's '24/5 trading'.
NVIDIA Q1 earnings significantly exceeded expectations
On 24 May,
$NVIDIA
(
NVDA.US
)
$
, the AI computing power leader and chip giant, reported a remarkable Q1 earnings after hours.
Driven by the support of its AI chip-related businesses in the past quarter, NVIDIA's total revenue in Q1 significantly outperformed expectations, while revenue guidance for Q2 also surpassed market expectations.
NVIDIA's Q1 revenue achieved $7.192 billion, surpassing the market's expectation of $6.52 billion by a sizeable margin. The net profit for Q1 amounted to $2.713 billion.
The highlight was NVIDIA's data center business
, which experienced a surge in demand for GPU chips utilized in AI training due to the intensified competition among industry giants. As a result, the data center business revenue soared to $4.28 billion, surpassing the expected $3.9 billion and establishing a new record.
NVIDIA's revenue projection for the next quarter is even more astonishing. CEO Jensen Huang expressed his anticipation of a "surge in demand" for the company's data center products. As a result, despite the market's earlier expectation of Q2 revenue reaching $7.18 billion, NVIDIA provided a confident guidance of $11 billion,
surpassing expectations by over 50%
.


Source:NVIDIA's Q1 revenue
Source:NVIDIA's Q1 revenue
After-hours stock prices soar! 'AI' stocks follow suit
An hour after the impressive Q1 earnings report was released, NVIDIA's after-hours stock price surged by
over 30%
, adding $220 billion to its market value. This amount is equivalent to the market cap of AMD as of yesterday, and almost twice that of Intel, and three times of Micron's market cap.
NVIDIA's competitors by market cap:
Wall Street research firms cheered Nvidia's latest quarterly report, which included a stronger-than-expected outlook, by raising their estimates on the chipmaker.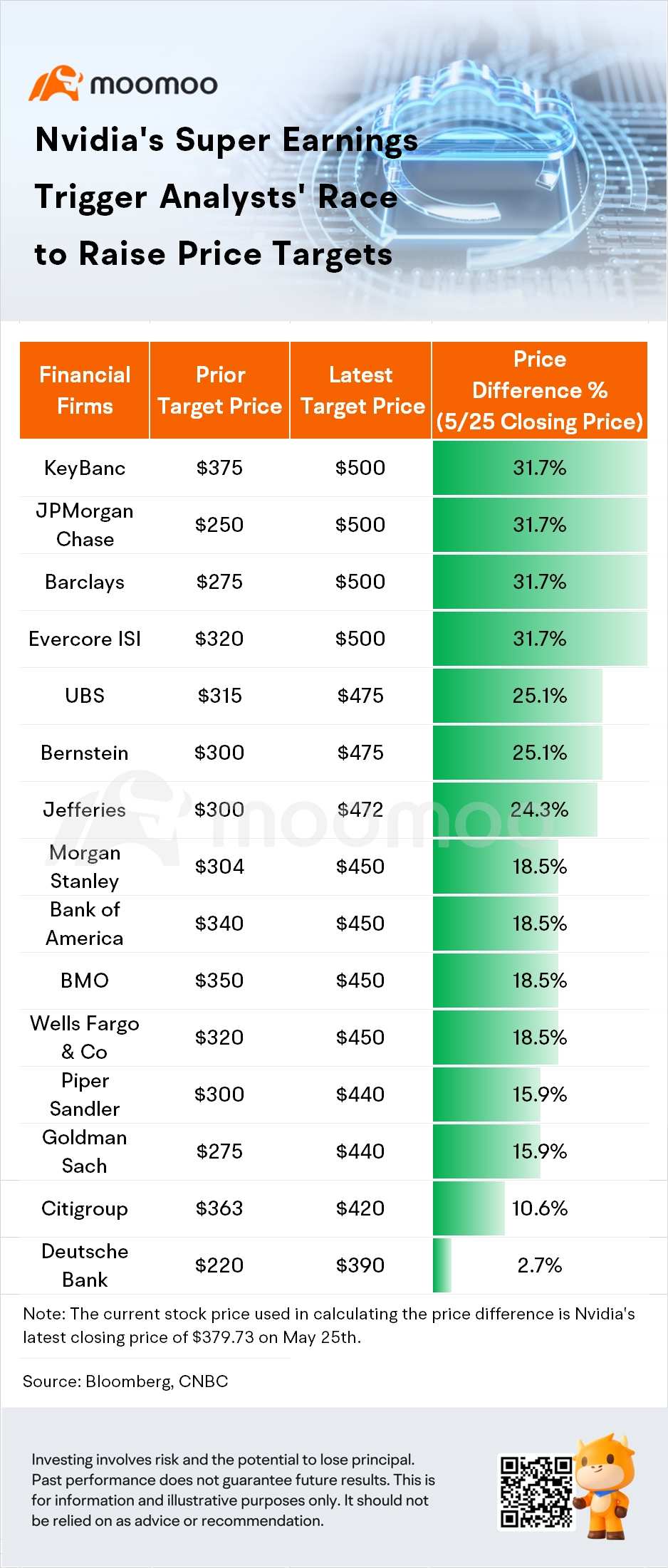 Following NVIDIA's strong Q1 report, AI-related stocks rallied in the after-hours of trading, resulting in an increase of nearly $300 billion across the AI sector by market value.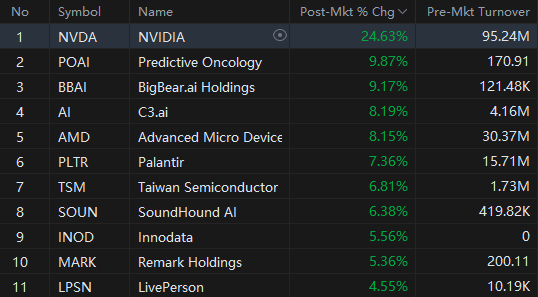 source:moomoo
The market waits for no one and breaking news or earnings reports like this often occur outside of regular trading hours. As a Singaporean investor trading in the US market, the usual limitations of late-night trading hours and relying on GTC orders for speculative trades can be a real hassle.
With moomoo's latest feature - 24/5 round-the-clock US trading, you can now buy and sell US stocks throughout the day in Singapore, including during the US overnight session. Experience less downtime in the market with overnight trading and act on trading opportunities similar to this one with moomoo.
Check out moomoo's 24/5 trading and overnight session now >>>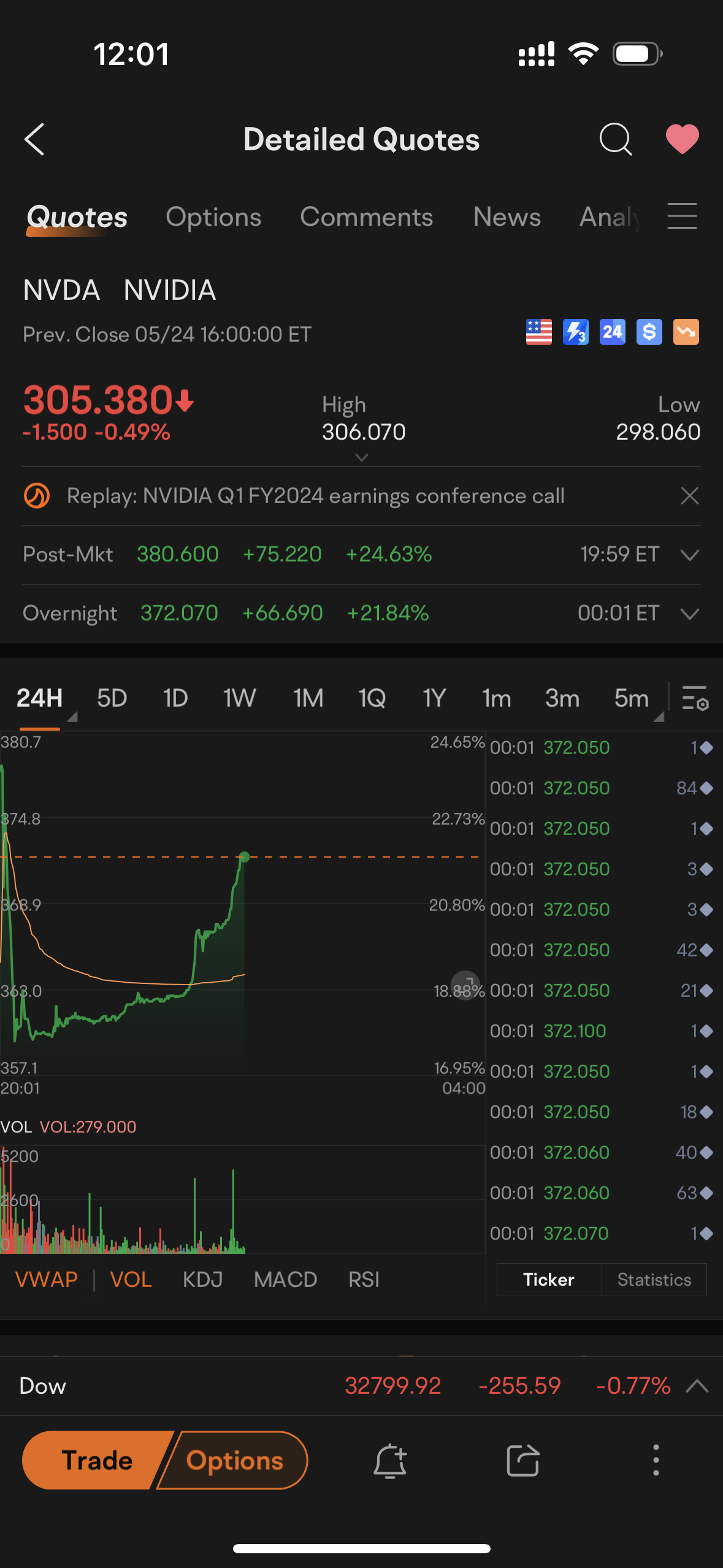 Source:moomoo
Disclaimer: Moomoo Technologies Inc. is providing this content for information and educational use only.
Read more
1
3
2
64