UiPath - Your AI Pick For The Next 5 Years?
$UiPath
(
PATH.US
)
$
s a software company that specializes in Robotic Process Automation (RPA). In simple terms,
RPA is a technology that uses software robots to automate repetitive tasks that humans usually perform on computers. UiPath provides tools and platforms to create, manage, and run these software robots.
It released its Q4 and FY 22 results.
1. Promising Q4'22 results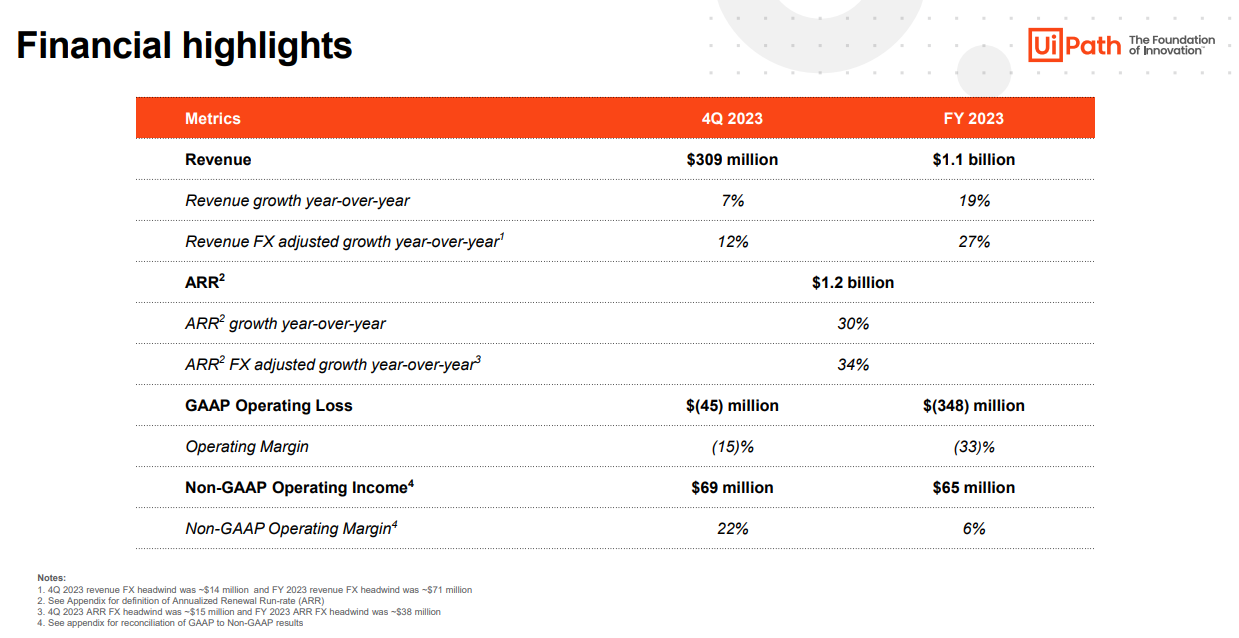 UiPath F4Q & FY 2023 Earnings Supplemental Slides
Even though YoY revenue growth was just 7%, ARR growth YoY achieved 30%.
The operating margin for Q4'22 improved to -15%, while the non-GAAP operating margin is at 22%.
2. Customer momentum is picking up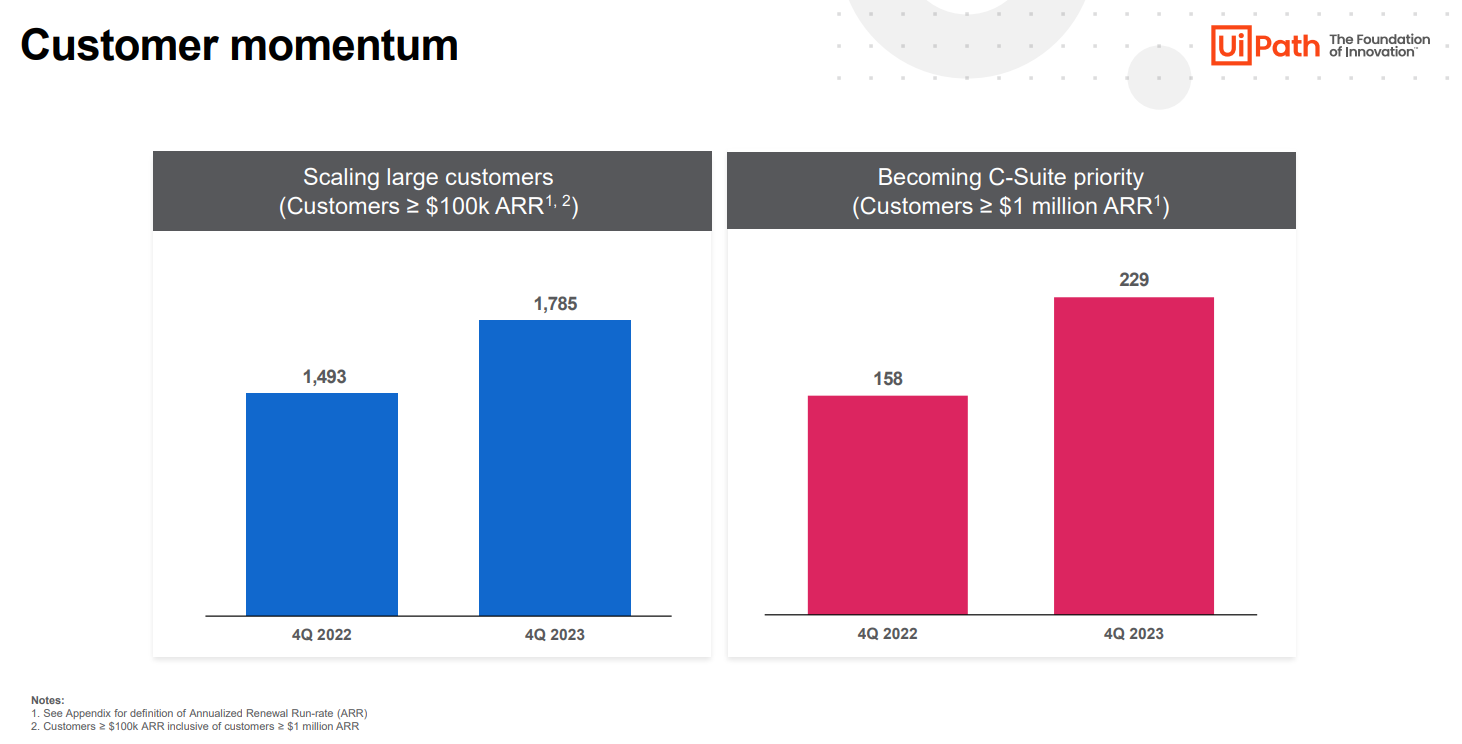 UiPath F4Q & FY 2023 Earnings Supplemental Slides
For software companies, it is imperative to understand how sticky their software is.
And to gauge that, the more customers pay UiPath, the more we can gauge the stickiness of UiPath's offerings.
Large customers who generate > USD 100k in ARR increased from 1,493 to 1,785.
While C-suite priority customers also jumped from 158 to 229.
3. Guidance shows flattish growth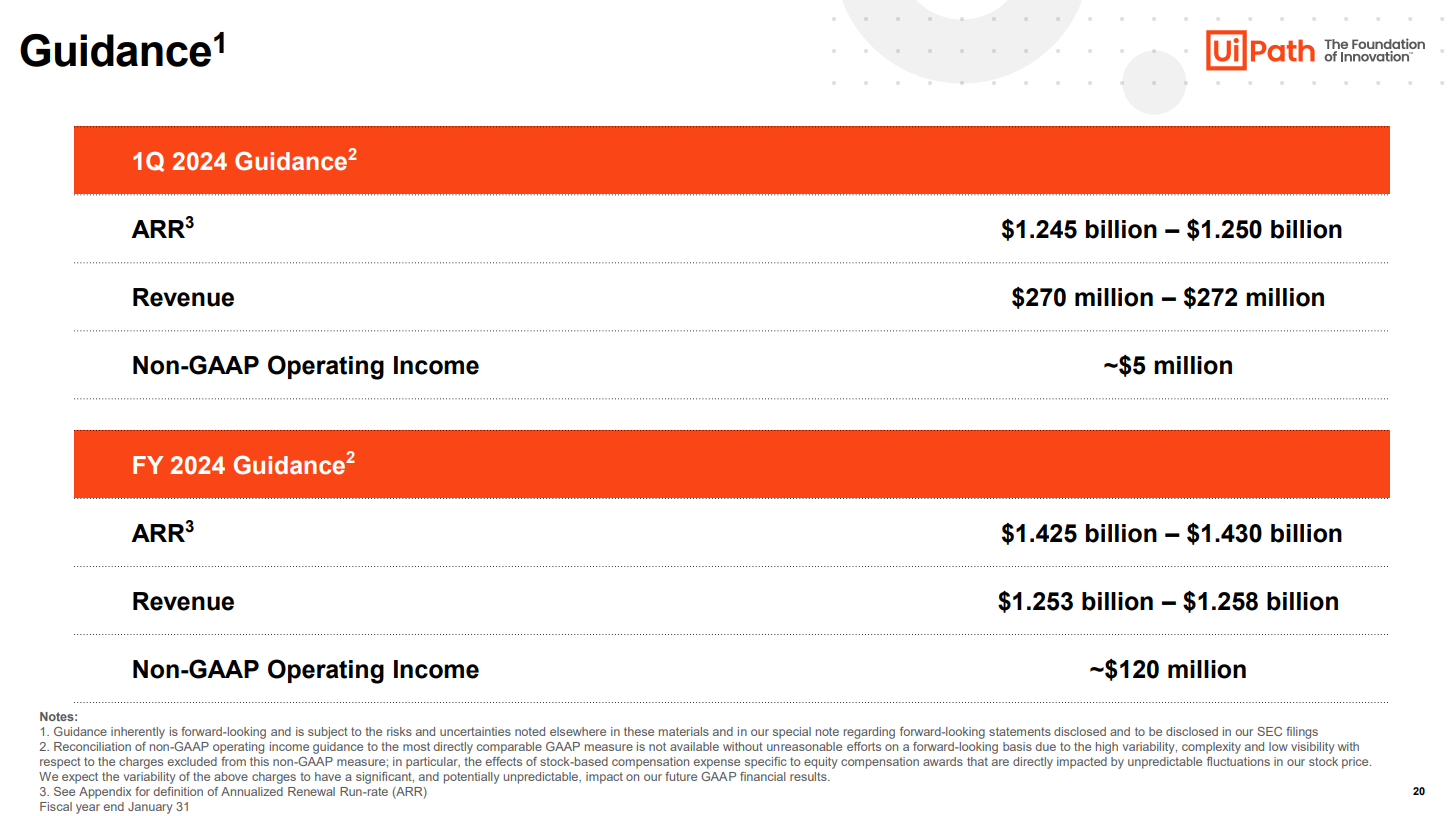 UiPath F4Q & FY 2023 Earnings Supplemental Slides
Guidance for UiPath is lackluster in my opinion.
ARR for Q1'24 will be between USD 1.245 billion - USD 1.25 billion. That is just marginally higher than the Q4'22 achievement.
However, non-GAAP operating income for FY 2024 guidance is at USD 120 million, which is a 185% growth versus FY 2023.
Profitability growth outweighs top-line growth.
DISCLAIMER
The information available in this article/report/analysis is for sharing and education purposes only. This is neither a recommendation to purchase or sell any of the shares, securities, or other instruments mentioned; nor can it be treated as professional advice to buy, sell or take a position in any shares, securities, or other instruments. If you need specific investment advice, please consult the relevant professional investment advice and/or for study or research only.
No warranty is made with respect to the accuracy, adequacy, reliability, suitability, applicability, or completeness of the information contained. The author disclaims any reward or responsibility for any gains or losses arising from the direct and indirect use & application of any contents of the article/report/written material
Disclaimer: Community is offered by Moomoo Technologies Inc. and is for educational purposes only.
Read more