Disney Q1 earnings top estimates: Are you satisfied?
Views 63K
Contents 9
Will Bob Iger save Disney this time? Investors are liking it so far!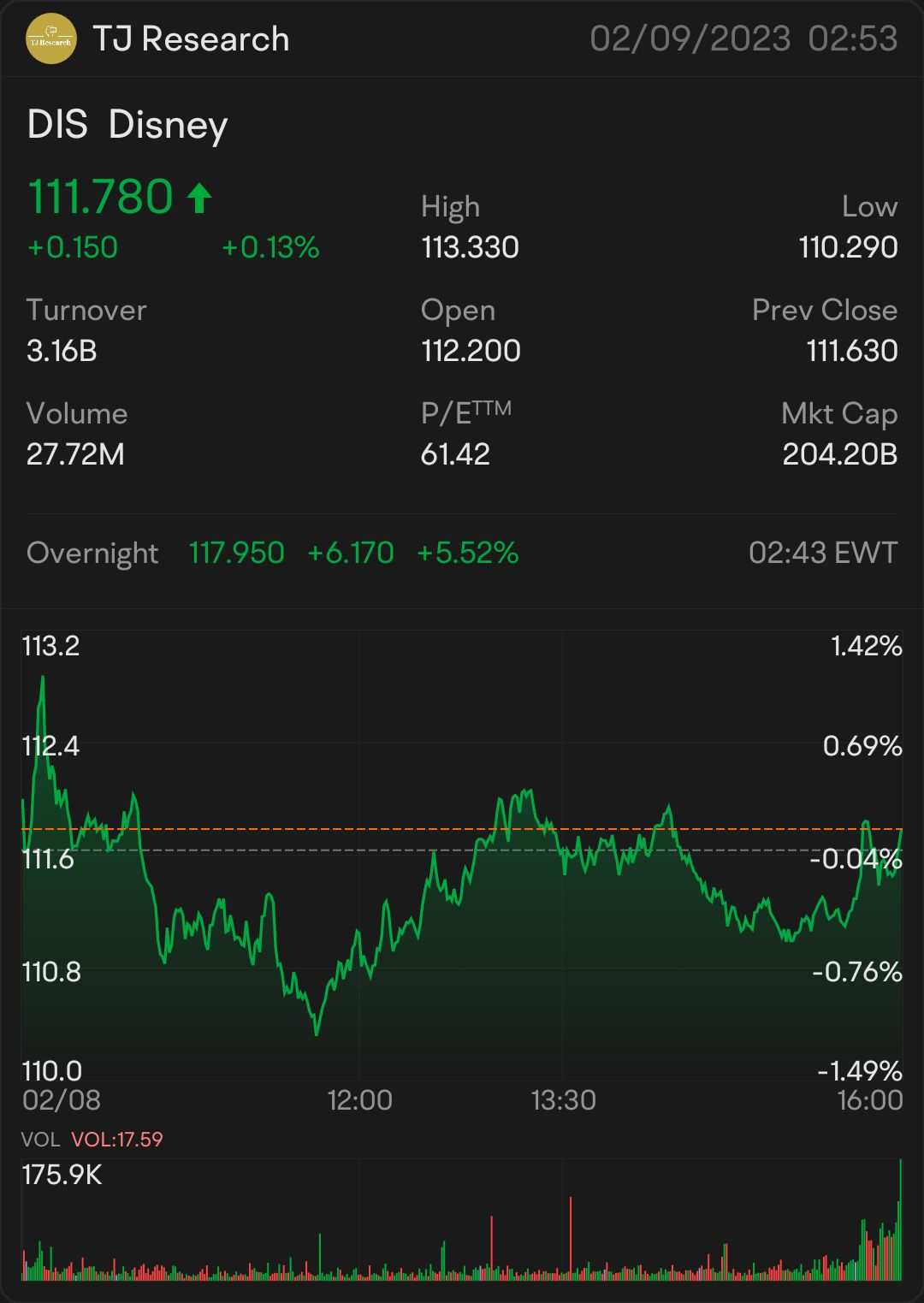 Disney
$Disney
(
DIS.US
)
$
, one of the worst performers in Dow Jones
$Dow Jones Industrial Average
(
.DJI.US
)
$
, which was the best performing index in U.S. in 2022, just released its Q1 2023 earnings. As someone who has followed the company for a few years, I would say this earnings call was probably one of the most direct and concise ones. Bob Iger laid out a plan to turn Disney around and it's a huge one. Let's dive in!
First, let's talk about why market liked this report. Disney beat both topline and bottomline mainly due to its huge cost cutting in DTC, the money burning streaming business. In the meantime, its subs for Disney+ saw a first QoQ decline! Wall street used to pay lots of attention to the subs growth, hence the company was being misguided to the wrong path. Now with all the macro headwinds and gloomy economy ahead, markets have put all the focus on profitability. Under Bob's leadership, the company immediately narrowed its DTC losses by $400m in one quarter, which is huge and welcomed by the markets.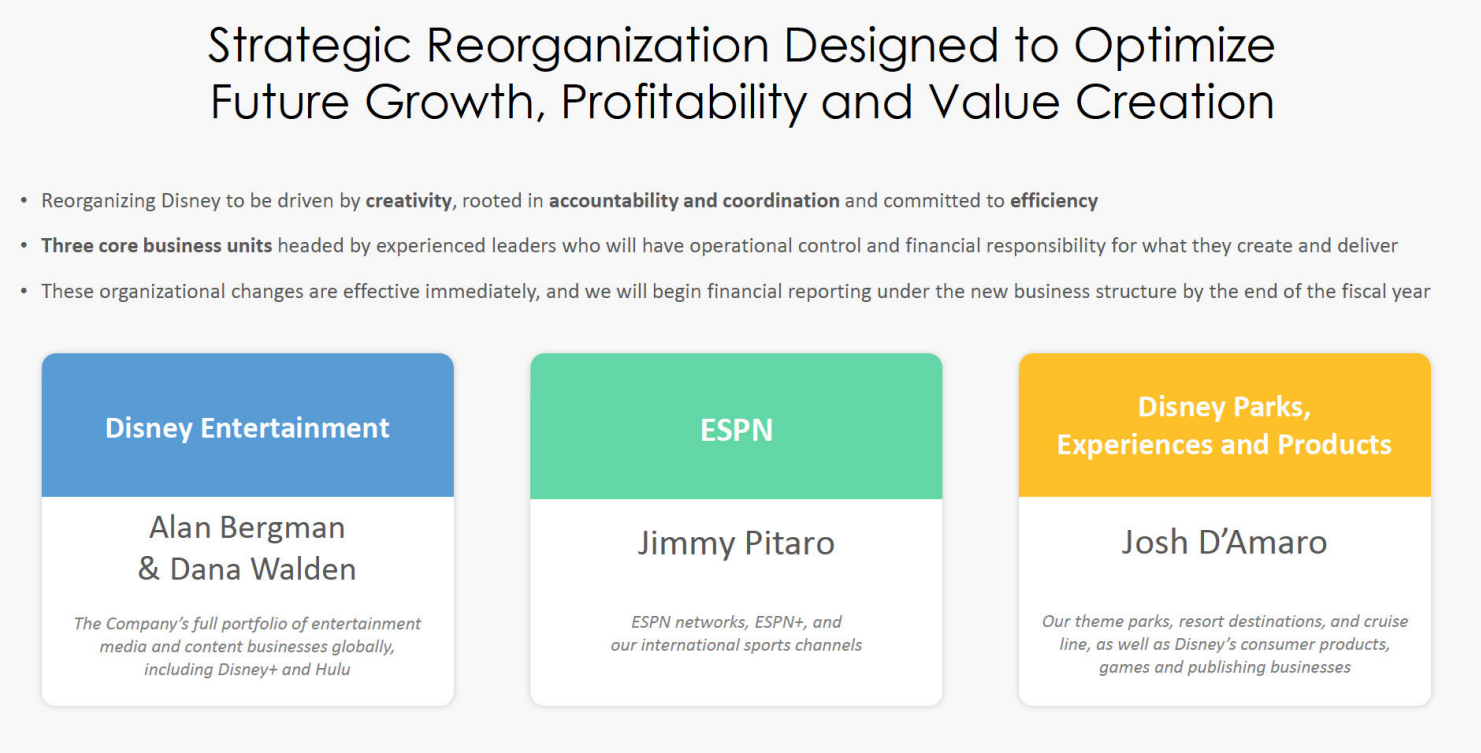 Source: DIS Q12023 Earning
Next, let's look at Iger's big plan. Step one: Reorganization.
ESPN is being carved out of Disney Entertainment which makes sense from content perspective. Each team now has its own leader who's accountable for content creation, content distribution, marketing, and most importantly, profitability. The new structure would allow each team to grow profitably at its own path. One clear message is linear and DTC are going to be treated as one. This would prevent DTC to overspent while ensuring smooth transition from linear to DTC over the long term.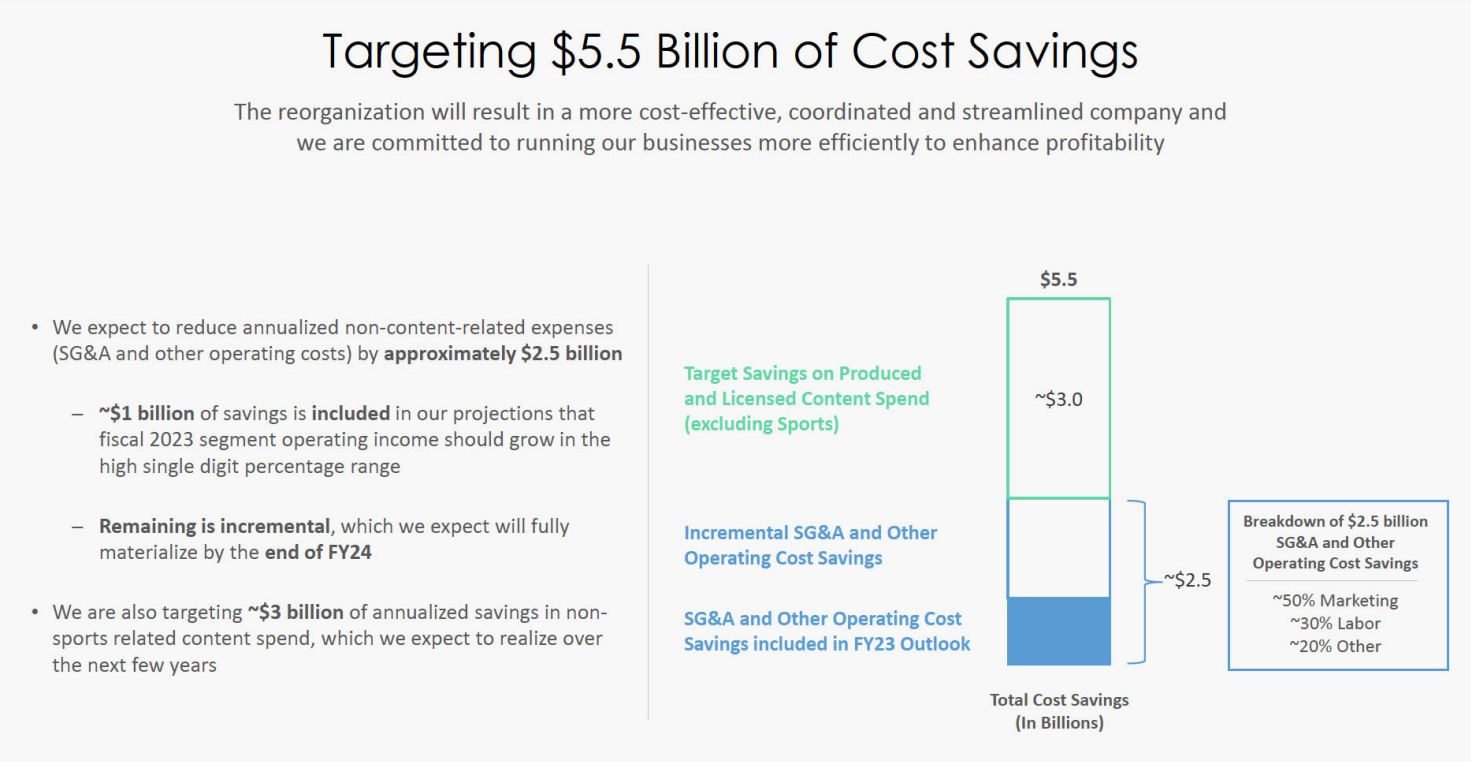 Source: DIS Q12023 Earning
Step 2: $5.5B of cost savings and bring back dividend by 2023
Cost saving would come from both content and operating. Not surprisingly, Disney is cutting 7000 headcounts as part of the saving from SG&A. Why does investor embrace this news? To the number into perspective, WallStreet is expecting $15.4B in operating profit for 2024, $5.5B of saving would mean a 36% increase in operating profit, which is humongous. On top of that, management is still confident that DTC will be profitable by the end of 2024 as well.
To summarize, Bob Iger clearly laid out a plan to revive Disney. Disney is always known for its IP and content. Blindly growing its DTC strategy has come to an end and investors like the path Disney is heading. What to look for going forward? Whether revenue slows meaningfully along with lower spending and cost cutting. Loss in DTC should shrink, on average, by $110M a quarter to reach profitability by 2024.
Disclosure: The author has a position in Disney stock at the time of this writing and this is not financial advice.
Disclaimer: Community is offered by Moomoo Technologies Inc. and is for educational purposes only.
Read more
4
16K Views