Elon Musk's History with OpenAI: He Founded It, and Has Since Criticized It
The futuristic AI chatbot
ChatGPT
was released to the public recently by
OpenAI
(the company behind generative AI tool Dall-E). Its
impressive new chatbot causes a stir, inspiring enthusiasm and concern.
The company that created the AI chatbot has a history with some of Silicon Valley's biggest names, including
Elon Musk
.
Musk, Altman, and other prominent Silicon Valley characters, including Peter Thiel and LinkedIn cofounder Reid Hoffman, pledged $1 billion to the project in 2015.
The group aimed to create a nonprofit focused on developing artificial intelligence "in the way that is most likely to benefit humanity as a whole," according to a statement on OpenAI's website from December 11, 2015.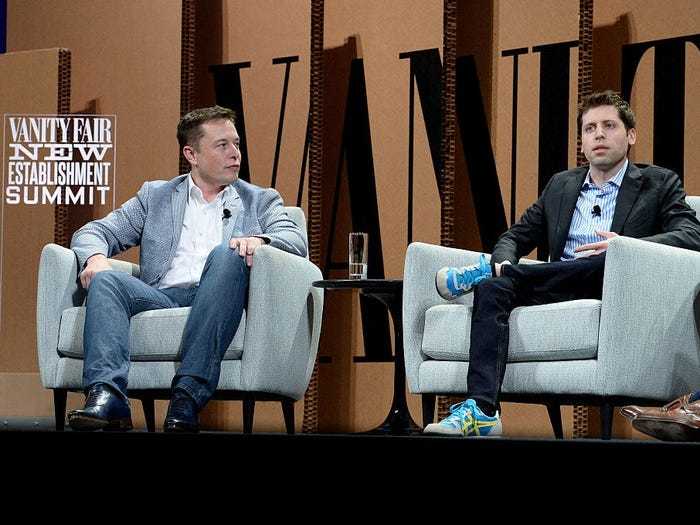 Michael Kovac/Getty Images for Vanity Fair
Musk resigned from OpenAI's board of directors in 2018, citing possible conflicts of interest due to
$Tesla
(
TSLA.US
)
$
's own AI work.
Musk said he quit the company because he
"didn't agree with some of what [the] OpenAI team wanted to do."
In this year, OpenAI changed from a nonprofit to a "capped profit" corporation, a hybrid of a for-profit and nonprofit. Also, it
received a $1 billion investment
from
$Microsoft
(
MSFT.US
)
$
.
By 2020, Musk tweeted, "I have no control & only very limited insight into OpenAI," adding his confidence in its safety was
"not high."
This month Musk called ChatGPT
"scary good"
and warned,
"We are not far from dangerously strong AI."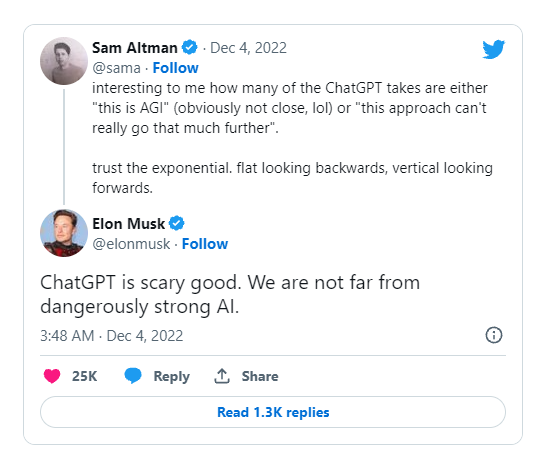 Source: Twitter
He also said he paused OpenAI's access to Twitter's database for training its software.
"Need to understand more about governance structure & revenue plans going forward. OpenAI was started as open-source & non-profit.
Neither are still true.
"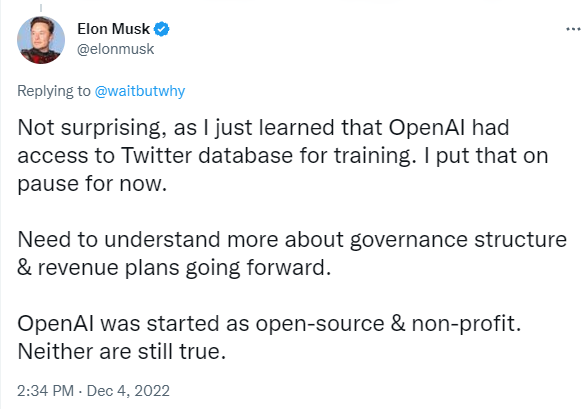 Source: Twitter
Mooers, any thoughts about the potential dangers of advanced AI? You can try to let ChatGPT itself talk more about Musk's history with OpenAI.

Sources: Twitter, Insider, MIT Technology Review, Business Insider
Disclaimer: Community is offered by Moomoo Technologies Inc. and is for educational purposes only.
Read more
7