FTX Update: Genesis Bankruptcy Warning Weighs on Crypto Markets; the Company Denies 'Imminent' Plans to File for Bankruptcy
Crypto brokerage Genesis warned of the risk of bankruptcy amid contagion from the rapid demise of Sam Bankman-Fried's FTX empire.



On Nov. 16, Genesis announced
it had temporarily suspended withdrawals citing "unprecedented market turmoil" after FTX's collapse.
The company previously revealed on Nov. 10 it had around $175 million worth of funds stuck in an FTX trading account.
A spokesperson for Genesis told Cointelegraph that
there were no plans to file for bankruptcy "imminently" and that it continued to have "constructive" discussions with creditors.
We have no plans to file bankruptcy imminently. Our goal is to resolve the current situation consensually without the need for any bankruptcy filing. Genesis continues to have constructive conversations with creditors."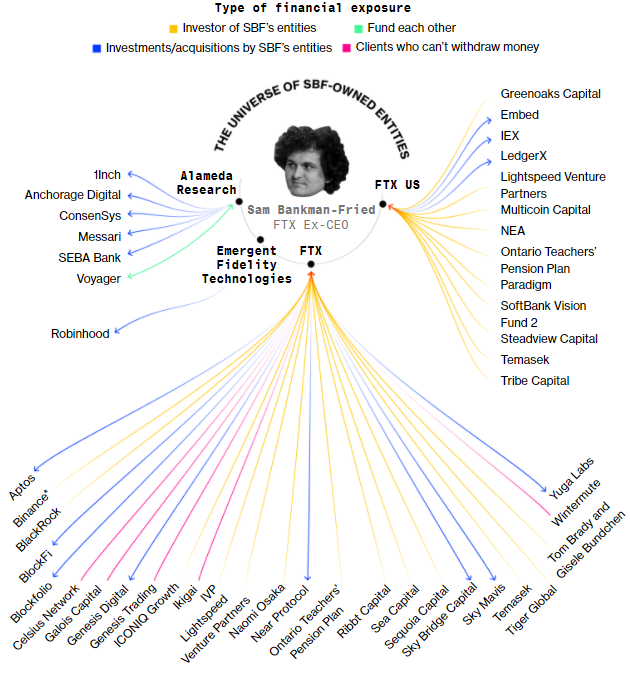 Sam Bankman-Fried's Web of Influence; Source: Bloomberg
The fall of Bankman-Fried's businesses, including trading desk Alameda Research, is contributing to reduced liquidity in crypto markets.
Institutional investors have responded to the negative sentiment caused by FTX's collapse,
with record institutional inflows into crypto-focused short-investment products.



According to CoinShares' chief strategy officer James Butterfill,
75%
of the total inflows by institutional crypto investors for the week ending Nov. 18 were placed in short investment products — essentially a bet that crypto prices will decline.
Meanwhile, the ripple effect of investor distrust for centralized exchanges is taking hold in the traditional finance market with
$Coinbase
(
COIN.US
)
$
posting an all-time low share price on Nov. 21.
Coinbase's stock price
is down almost 88%
since it went public on Apr. 16, 2021.



Source: Bloomberg, Cointelegraph
Disclaimer: Community is offered by Moomoo Technologies Inc. and is for educational purposes only.
Read more
1
1
13