Wall Street Today | Fed's Bostic Favors Slower Pace of Rate Hikes Ending Near 5%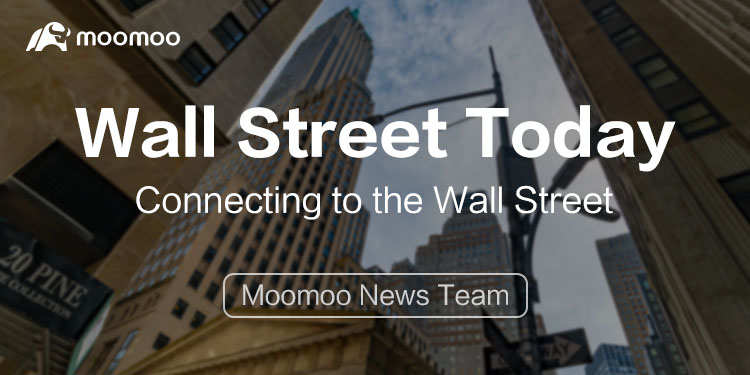 Fed's Bostic Favors Slower Pace of Rate Hikes Ending Near 5%
"If the economy proceeds as I expect, I believe that 75 to 100 basis points of additional tightening will be warranted," Federal Reserve Bank of Atlanta President Raphael Bostic said in prepared remarks for a speech in Fort Lauderdale, Florida, on Saturday. "It's clear that more is needed, and I believe this level of the policy rate will be sufficient to rein in inflation over a reasonable time horizon."
Bostic's plan would shift away from 75 basis-point hikes and continue to raise rates to as much as 4.75%-5% over the next several meetings, which he described as a "moderately restrictive landing rate."
Inflation Starts to Drag on Consumers Powering US Economy
From
$Whirlpool
(
WHR.US
)
$
to
$Procter & Gamble
(
PG.US
)
$
, companies are noting that shoppers are feeling the pinch, and in some cases buying less, a trend economists dub demand destruction. That may be a worrisome signal that consumer spending -- the powerhouse of the US economy -- is losing steam.
"It's hard to really increase your consumption if your real income is heading lower," said Sarah House, senior economist at
$Wells Fargo & Co
(
WFC.US
)
$
Households are instead having to rely on savings to help keep "consumption where it is."
Black Friday Can Offer Investors Clues About How Much Gas Consumers Have Left in the Tank
After a host of large American retailers, including
$Walmart
(
WMT.US
)
$
and
$Target
(
TGT.US
)
$
warned their shareholders about the waning strength of the American consumer and most major investment banks warned about a looming recession in 2023, investors are justified in wondering: how much strength does the American consumer have left?
>>Read more
Airlines Push for Lone Pilot Flights to Cut Costs Despite Safety Fears
Over 40 countries including Germany, the UK and New Zealand have asked the United Nations body that sets aviation standards to help make single-pilot flights a safe reality. The European Union Aviation Safety Agency has also been working with planemakers to determine how solo flights would operate and preparing rules to oversee them. EASA said such services could start in 2027.
The plan doesn't sit well with pilots. It's a hard sell for passengers, too. "The people going down this route aren't the people who fly jets every day,"Tony Lucas, an Airbus SE A330 captain for Qantas Airways Ltd. and president of the Australian & International Pilots Association said"When things go awry, they go awry fairly quickly."
Tech Layoffs Are Not a Bellwether for Broader Cuts in Other Industries, Morgan Stanley Analysts Say
Despite large-scale tech layoffs, the broader labor pool is not in true danger yet, given that staffing levels remained below pre-pandemic levels for some time, a Morgan Stanley research note said. Even with a growth slowdown, the number of tech layoffs is minute compared with the larger employment pool, the research report stated.
Elon Musk Restores Donald Trump's Twitter Account After Online Poll
Elon Musk reinstated Donald Trump's account on
$Twitter (Delisted)
(
TWTR.US
)
$
on Saturday, reversing a ban that has kept the former president off the social media site since a pro-Trump mob attacked the U.S. Capitol on Jan. 6, 2021, as Congress was poised to certify Joe Biden's election victory.
>>Read more
Rivian Employees Say Rapid Production Led to Injuries, Safety Oversights in Illinois Plant
The complaints allege the company ignored known hazards and deprioritized safety resources, leaving some workers to share respirators needed during the manufacturing process. They also detail a range of injuries, including a crushed hand, a broken foot, a sliced ear and broken ribs. One Rivian employee said management fished damaged electrical cables out of the garbage and told employees to use them.
$Rivian Automotive
(
RIVN.US
)
$
JPMorgan Taps Walmart Exec Pegus for New Health Venture
$Walmart
(
WMT.US
)
$
health-care executive Cheryl Pegus will join
$JPMorgan
(
JPM.US
)
$
's Morgan Health venture as a managing director, with aims to improve employer-sponsored health care.
The move creates a vacancy at the nation's largest retailer, as rivals like
$Amazon
(
AMZN.US
)
$
and
$CVS Health
(
CVS.US
)
$
broaden their reach into the $4 trillion US health-care industry. It's also a high-profile hire for Morgan Health, which the bank launched last year after shutting its joint venture with Amazon and Berkshire Hathaway Inc, known as Haven.
Source: Bloomberg, Dow Jones, CNBC
Moomoo is an app offered by Moomoo Technologies Inc. that provides information about investments. Moomoo Technologies is not an investment adviser or a broker-dealer and it provides neither investment or financial advice nor securities trading services. All contents such as comments and links posted or shared by users of the community are opinions of the respective authors only and do not reflect the opinions, views, or positions of Moomoo Technologies, its affiliates, or any employees of Moomoo Technologies or its affiliates. You are advised to consult a qualified financial or tax advisor for your personal financial planning and tax situations. Moomoo makes no representation or warranty as to its adequacy, completeness, accuracy or timeliness for any particular purpose of the above content.
11