Take the ETF quiz and win up to 1,888* points!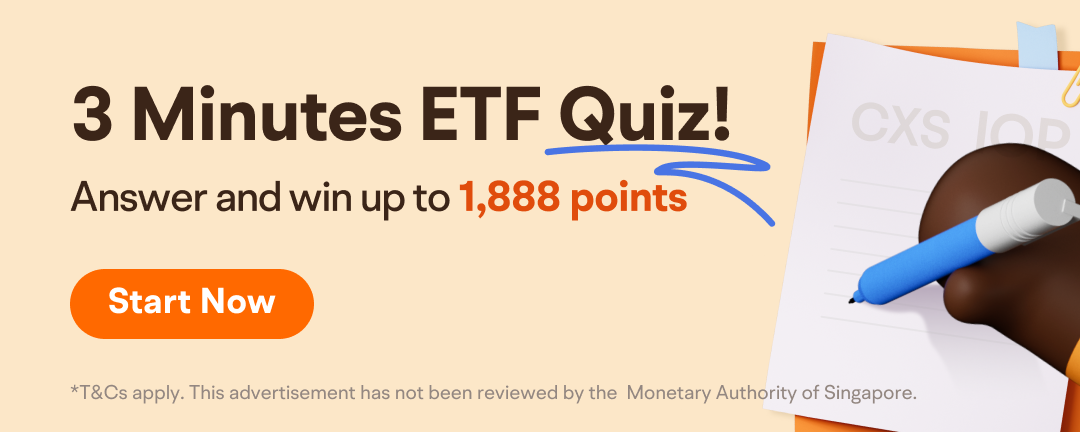 When to start investing? The standard answer you heard is probably NOW!
This is true to some extent, but if we dig a bit deeper, a better interpretation might be:
the best time to start learning about investing is NOW, but the best time to invest is when an asset's market value is below intrinsic value.
Amid such a sharp pullback from last December, some investors have cashed in on their money, waiting for the"right" moment to enter trades again. For others, investing in the Chinese market has also become an alternative.
Do you also want to share the benefits brought by emerging Chinese companies? Consider investing in an ETF that focuses on China's ChiNext market.

Take quizzes and get prizes! And learn more...
Take a quiz to test your knowledge: up to
1,888* points
are waiting for you!
Step 1: Learn the basics about ChiNext ETF
Step 2: Take a quiz & leave your answers in the comments
Step 3: Wait for the announcement of lucky winners
Users who participate in this event and have all answers correct will be awarded.
The first winner: 1,888 points
The 2nd-5th winner: 1,000 points
The 6th-10th winner: 200 points
Every qualified participant: 20 points
Note: Please comment during the event. Each person has only one chance to win. Winners and correct answers will be announced on November 1st.
Event Time: Oct. 28, 2022, 12:00 to Oct. 30, 2022, 24:00 SGT
1. Your friend said that he is trading ETF on moomoo. You think he's investing in stocks, but actually, he's buying ETFs. What is an ETF? (Single)
C)An exchange-traded fund.
2. Your friend explained some advantages on why he chooses to invest in ETFs. Which of the following ETF features he may NOT mention? (Single)
C)Attractive returns without risk.
D)Flexibility and transparency.
3. A newly-released ETF--
$UOBAM PINGAN CHINEXT S
(
CXS.SG
)
$
has attracted your friend's attention. You want to figure out what this ETF is. Which of the following statement about it is correct? (Single)
A) The fund is available for subscription until November 7th at 10 AM SGT.
B) The fund invests in an index tracking fast-growing Chinese companies.
C) The fund will be listed on Singapore Exchange on November 14th SGT.
4. Suppose your friend wants to subscribe to the ETF mentioned above. But you'll tell him the fund is NOT suitable for him if he ...? (Single)
A) wants to have some exposure to Chinese stocks.
B) is interested in ETFs.
C) has limited or insufficient cash in the account.
D) cannot afford any losses from an ETF.
5. If your friend subscribes to the ETF mentioned above on moomoo, he will enjoy ...(Multiple)
C) 0 interest on margin trading.

You can find the answers to the above questions in this article:

If you still have questions about the subscription,

Last but not least, claim up to

S$690*

bonus now.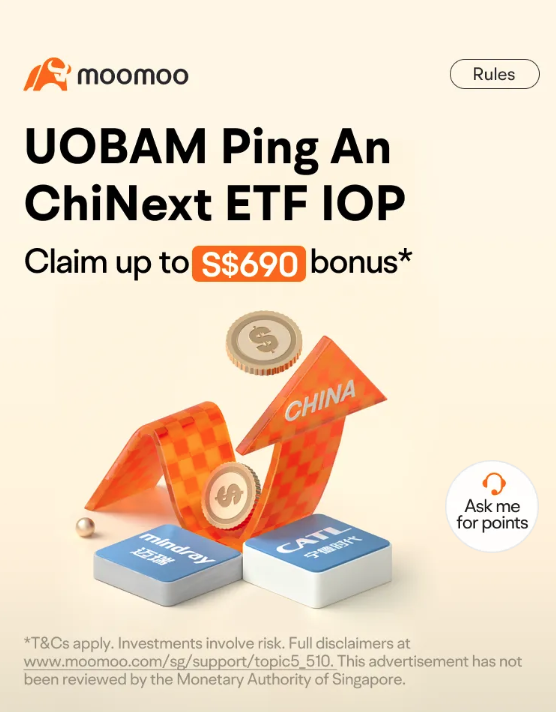 * T&Cs apply.



Ready to take the challenge? Drop your answer in the comments below.
Moomoo is an app offered by Moomoo Technologies Inc. that provides information about investments. Moomoo Technologies is not an investment adviser or a broker-dealer and it provides neither investment or financial advice nor securities trading services. All contents such as comments and links posted or shared by users of the community are opinions of the respective authors only and do not reflect the opinions, views, or positions of Moomoo Technologies, its affiliates, or any employees of Moomoo Technologies or its affiliates. You are advised to consult a qualified financial or tax advisor for your personal financial planning and tax situations. Moomoo makes no representation or warranty as to its adequacy, completeness, accuracy or timeliness for any particular purpose of the above content.
120
1214 Comments

 · 
82K Views