Stocks splitting: Tesla again
Views 548K
Contents 446
Tesla Fell To Wall Street's No. 2 Short Target, How Long Can Musk's Rubber Cheques Support 100x PE?
If you like this article, please give us a like and subscribe to 'wise shark' to get the latest information from the research report.

For a long time,
$Tesla
(
TSLA.US
)
$
has been at the top of the shorting list in the United States, while its stock price has been hitting new highs, and Wall Street titans have been frustrated with Musk, a tech geek. However, Apple's open short interest on September 13 was $18.4 billion, while Tesla's short interest was the second highest at $17.4 billion. Since April 2020, Tesla has been the top short target in the U.S. stock market for 864 consecutive days, until it was overtaken by Apple. Wall Street's continued bearish view on Tesla is also reasonable. From the 1000x PE in 2020 to the 100x PE today, there have been several halving + plunging times in the middle, and the big shorts have already made a lot of money from Tesla. And Musk in the new energy vehicles promised market share or technology realization, are still not realized, then the market value of 100PE should be supported from what logic?
The leading position of new energy car can be maintained for a long time + full stack product line/intelligentializing/expanded production/robot field brings huge upside space + the compound growth rate of net profit forecast in the next three years is over 80%→→ the current valuation still deserve 'buy' rating.
Relevant Supporting Opinion:
1) Tesla ushered in the era of new energy vehicles and led the development of the industry.
Looking back at the four periods of Tesla: 1.2003-2012, the Roadster broke through the top market of electric cars. 2.2012-2016: Model S/X was distributed in the high-end market, and the phased market target was achieved. 3. From 2016 to 2019, Model 3/Y occupied the mass market and achieved the goal of "using income to make affordable electric vehicles". 4.2020 so far. At the end of 2019, the Shanghai factory started the Tesla production capacity storm, which increased from 150,000 cars/year to 750,000 cars/year. It is estimated that 2022H2 can reach 1 million cars/year. Under the influence of scale effect brought by production capacity release, substitution of domestic supply chain and improvement of energy network infrastructure, Tesla achieved positive profits and rapid growth, leading the development of new energy vehicles worldwide.
2) New products and intelligence become key growth points in the future:
1. Tesla adopts the strategy of mainstream price with large single explosive products in the market segment, and its current product lines for sale have covered mainstream market segments such as mid-size cars, SUVs and luxury cars. The next generation entry-level sedan may be launched, which will fill the market gap in pickup trucks, medium and heavy trucks, compact cars and other fields of the company in the future, and build a full-stack product line of new energy vehicles. 2. With the promotion of subscription mode and the iterative upgrade of FSD software, the activation rate of FSD may continue to improve, and intelligence is expected to become an important growth point for the company in the future. 3. Tesla may release a working robot prototype on AI Day at the end of September 2022. Tesla robot is expected to become a new growth pole for Tesla in the future.
Earnings forecast and Valuation:
Southwest Securities:
2022-2024 Net profit: $117.3/202.4/33.26 billion. Based on the sum of segment valuations, the 2023 target market capitalization is $1.2 trillion, with a target price of $383.06, PE 77.25X.

CITIC Securities Opinion:
As a global leader in the field of electric vehicles, Tesla is consistently optimistic about its leading advantages in battery, BMS, Autopilot algorithm and intelligent driving data accumulation. In the future, with the increase in penetration of high-margin businesses such as FSD and vehicle insurance services, the company's profitability is also expected to further improve. Forecast: 2022-2024 non-GAAP net profit of 121.3/201.5/27.95 billion dollars, corresponding to the current price of PE is 75/45/32 times, continue to be optimistic about the short-term and mid-long-term investment value of Tesla.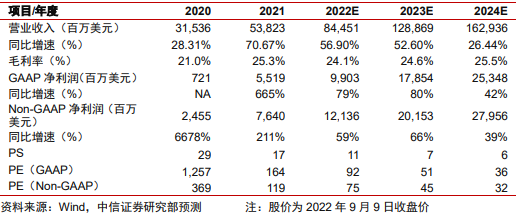 Both Securities are bullish on the growth potential of Tesla. Even in the current state of 100 times PE, they firmly believe that the future growth rate and profitability can support the PE of more than 70 times. However, we still need to be cautious about the current stock price, because the market share and intelligence of Tesla's new energy vehicles have not been fully released. The risks associated with the growth process and the assumptions in the earnings forecast can not be fully met.
Tesla's trillion-dollar market cap is visible, but when to break through and at what valuation level is still worth thinking about.
Wall Street analysts also have split views on Tesla, which are generally positive, however. According to 37 analysts covering the stock, there are 13 strong buy ratings, 8 buy ratings, 5 sell ratings and 2 strong sell ratings.
Like Musk himself, Tesla's valuation is always controversial, but everyone believes in his profitability. Would you buy Tesla at a 100X PE?
Disclaimer: Community is offered by Moomoo Technologies Inc. and is for educational purposes only.
Read more
5
3