US efforts to boost biotech industry lead to China selloff
The latest US effort to reduce reliance on China is striking hard at the Asian nation's biotech stocks, as investors price in more indications of decoupling between the world's two biggest economies.
Following US President Joe Biden's executive order to bolster domestic bio-manufacturing and cut reliance on foreign companies, bellwether Chinese stocks such as
$WUXI BIO
(
02269.HK
)
$
Wuxi Biologics Cayman Inc. and
$Wuxi Apptec
(
02359.HK
)
$
WuXi AppTec Co. tumbled at least 16% Tuesday in Hong Kong.
Coming on the heels of US export curbs of advanced chips to China, the latest Biden order underlines stiffening strategic competition between the two nations and adds to the selling pressure on Chinese stocks. With the Asian nation also manufacturing a host of industrial and high-tech products, there are questions over what other sectors may be affected next.
"I think market hasn't fully priced in such a risk of Sino-US conflicts. That's why healthcare firms are plunging today," said Paul Pong, managing director at Pegasus Fund Managers Ltd. "Competition between China and the US in areas including aerospace, AI manufacturing remains fierce and it wouldn't surprising to see sanctions by US."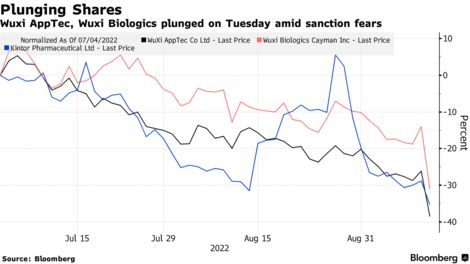 Moomoo is an app offered by Moomoo Technologies Inc. that provides information about investments. Moomoo Technologies is not an investment adviser or a broker-dealer and it provides neither investment or financial advice nor securities trading services. All contents such as comments and links posted or shared by users of the community are opinions of the respective authors only and do not reflect the opinions, views, or positions of Moomoo Technologies, its affiliates, or any employees of Moomoo Technologies or its affiliates. You are advised to consult a qualified financial or tax advisor for your personal financial planning and tax situations. Moomoo makes no representation or warranty as to its adequacy, completeness, accuracy or timeliness for any particular purpose of the above content.
5