Stocks & Markets Analysis
Views 3.2M
Contents 5388
One Chart: World's top gold ETF sees holdings surge
According to Bloomberg, gold just got
a very bullish sign
from investors who are returning to the precious metal in a big way.
Changes in ETF holdings are monitored as a gauge of investor interest in longer-term bets on gold.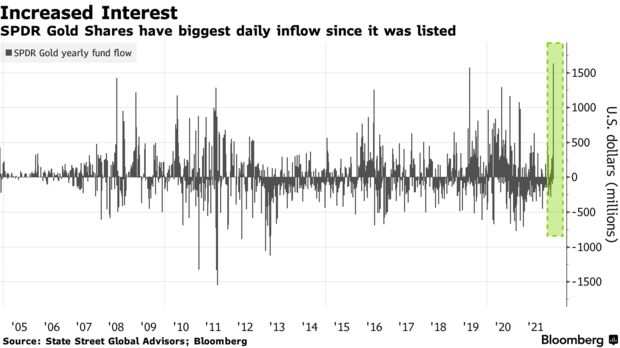 Source: State Street Global; Bloomberg
$SPDR Gold ETF
(
GLD.US
)
$
, the largest bullion-backed exchange-traded fund, on Friday recorded its biggest net inflow in dollar terms
since listing in 2004
-- worth $1.63 billion. In tonnage terms, Friday's net inflow was 27.6 tons.
Even as the
Fed
to tighten, which could dampen the appeal of non-interest bearing bullion, demand for the haven is getting support from the in equities,
U.S.-Russia over Ukraine
, and the plunge in
Bitcoin
.
Moomoo is an app offered by Moomoo Technologies Inc. that provides information about investments. Moomoo Technologies is not an investment adviser or a broker-dealer and it provides neither investment or financial advice nor securities trading services. All contents such as comments and links posted or shared by users of the community are opinions of the respective authors only and do not reflect the opinions, views, or positions of Moomoo Technologies, its affiliates, or any employees of Moomoo Technologies or its affiliates. You are advised to consult a qualified financial or tax advisor for your personal financial planning and tax situations. Moomoo makes no representation or warranty as to its adequacy, completeness, accuracy or timeliness for any particular purpose of the above content.
5