2021 in Review: My Investing Journey Forges Ahead
Views 979K
Contents 948
🥤2021 reflection : outcome and role of luck in investing
Dictionary.com defines luck as combination of circumstances, events, et cetera operating by chance to bring good or ill to a person. We often heard that players making millions and even more than 1000 % in return by punting few hot stocks. Think about the euphoria for those made gains from these meme stocks
$AMC Entertainment
(
AMC.US
)
$
$GameStop
(
GME.US
)
$
I do play some speculative stocks and IPOs as well but man, lucks may not be on your side forever. So, does skill matters? Yes, of course skill is important. One way we can judge from a process is a good one in investing is first to see if it is a plausible process and does it analytical sound. For example, buying into a good company while it is selling cheap will you a high probability of return. Make sense?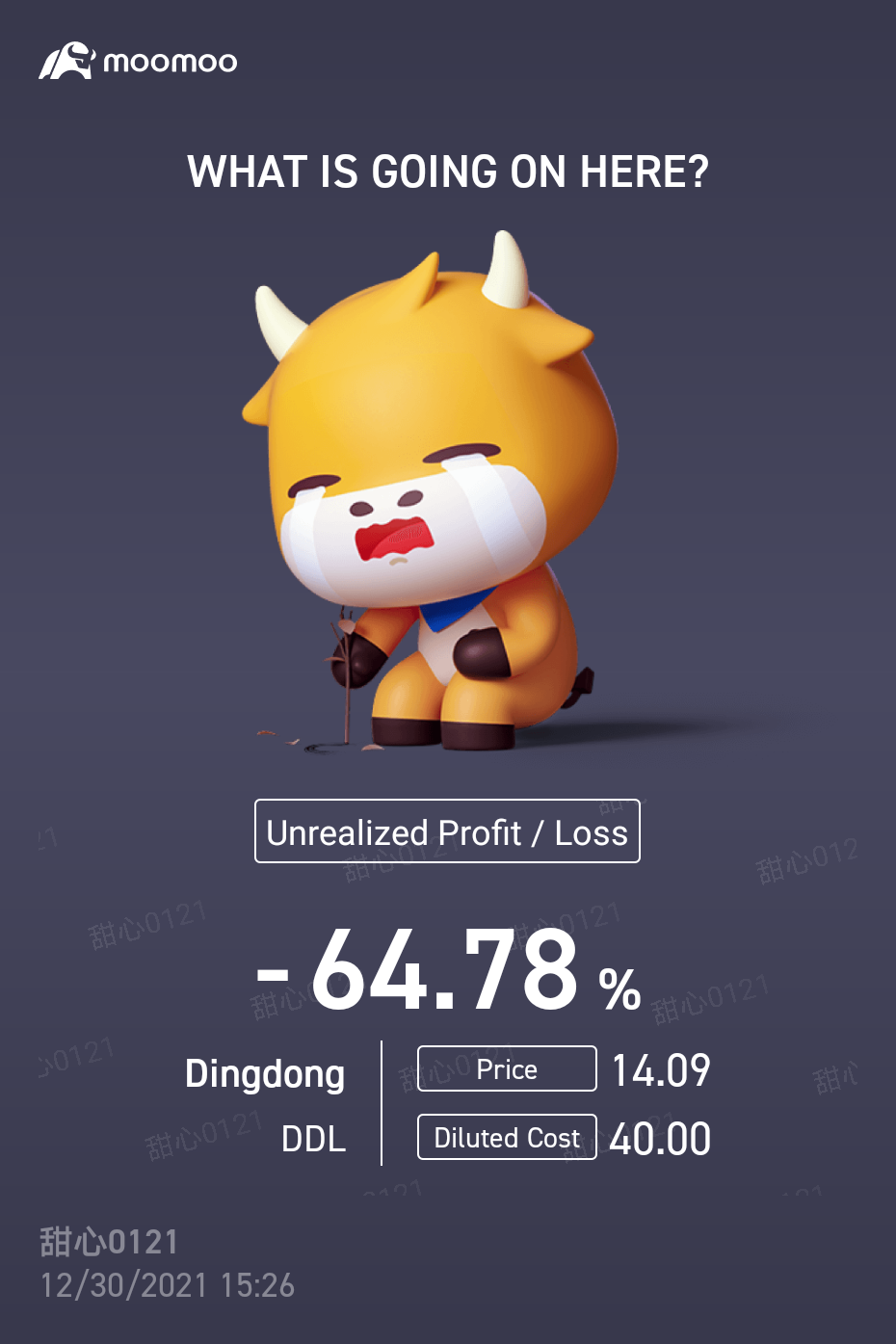 See above, I invested in
$Dingdong
(
DDL.US
)
$
but now I'm really ding-donged

. It is a Chinese on demand e-commerce that you can order groceries online and get delivered to your doorsteps. It is backed by tiger global and softbank. Its value proposition is clear: a wide selection of cheap and fresh products delivered quickly within 30 minutes. Well, it is growing at breathtaking pace but unprofitable over the least two years. From its prospectus, the CAGR is 31.8%. And yes, its major competitors are against
$Alibaba
(
BABA.US
)
$
$Meituan(ADR)
(
MPNGF.US
)
$
$PDD Holdings
(
PDD.US
)
$
. It is relatively young company and still has a massive runaway ahead.
In stock markets, most players are too obsessed with outcomes, just like the Olympics and the recent AFF Suzuki Cup. We do and have control over the process over which stocks to invest by doing homework diligently. And of course, we should focus on stuff we can control sia rather than on something like luck which we have no control? Well, by all means it is all destined.
Sure, I wish an end to Covid and return to what was once considered normalcy. Even an end to political divisiveness is a merit. Looking back, amidst pandemic, I wish my ex happy forever. Love is a choice even it's a hard one

With that, wishing everyone a Happy New Year! May you have a joyful, healthy and meaningful 2022

Disclaimer: Community is offered by Moomoo Technologies Inc. and is for educational purposes only.
Read more

5