If you would have bought $8 Shib in March 2020 it would have got you $5.7 million right now
Shiba recently gained many followers due to its giagantic returns. Everyone who was holding few dollars of shiba became a millionaire now. As, an investor bought $8000 worth of shiba in March 2020 is worth around $5.7 billion right now. But we know that these extreme gains will have to kill/destroy something to reach this gains. There are certain things we know and we dont know about the crypto currency trading. We know that it's an unregulated market, thus practically the real value of every coin is zero. So, why these people are millionaires or billionaires?
1. Since its publically traded and unregulated, it can be easily manipulated to a point where it reaches to an unimaginably value. Thus, even if the coin is traded at that larger value, it creates an illusion that the coin is worth that amount. But once a larger portion of its quantity hits the market, and all buyers are fulfilled, it hits the ground. For example the recent event of the SQUID game token, it's a genuine token which was created by squid game company creators. It was a good concept, their website also had online squid games. However, creators sold their coins on market because it reached a crazy high amount. Many news sources say that the creators backed out of the project. However, I believe they sold it before leaving.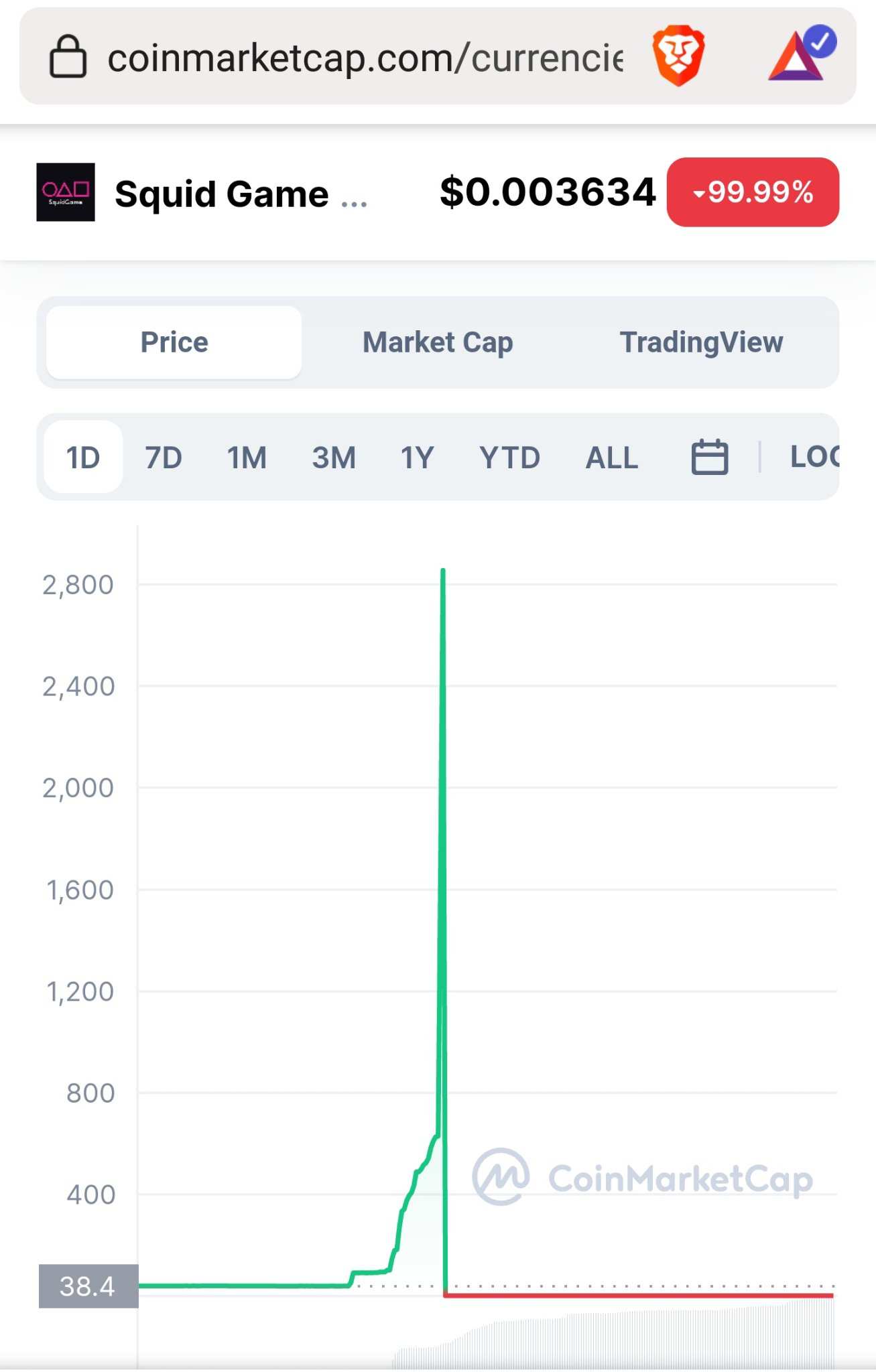 SQUID game token, source: coinmarketcap
If someone is holding 30-50% of an asset which was created on a borrowed blockchain network(Binance network) for free without any effort. why wouldn't they not sell it at $2800 per coin which they literally made for $0.
who would bear the loss you might think?
The people who are trading this coin on buyer side starting from $0.1 to upto $2799.99.
Shiba Inu is also creating a similar environment but more drastically. Since, they are calling people who are buying and holding the coin as "Shiba army". This creates a false interpretation of the market as whoever is holding shiba inu is or will become a millionaire. For example just when shiba reached around 0.00009 someone dumped billions of tokens nearing in millions of dollars only(compared to shiba marketcap)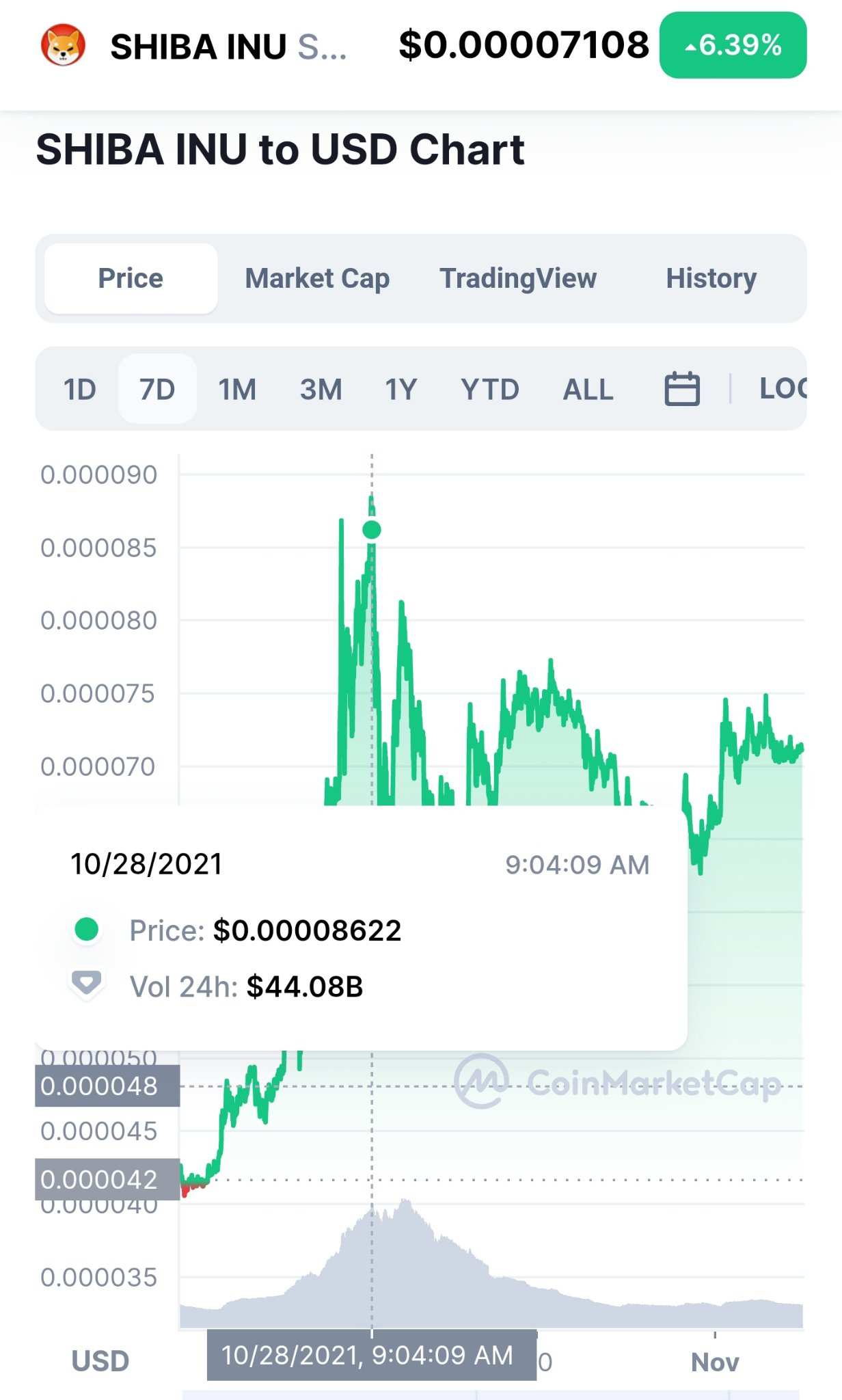 source: coinnarketcap
On 28th of October, you can see a sharp decline from the value of 0.000089 to 0.000058 those were the times, when fewest people sold their shib making millions. But due to the constant shib promotion and FOMO caused among people, SHIB was able to come back to 0.000071. This got shiba a market cap of around 40 billion usd overtaking the USDC and doge.
source: santiment
I expect that if someone who's holding billions of dollar worth of shiba comes and dump it on market because of fear or any possible reason. I believe the SHIB will also crash down like the SQUID token, bankrupting people who are on buy position at the market for SHIB, and the people who are holding it.
However, I do believe that SHIB will be able to cross 0.0001 mark because of the constant advertisements and efforts of shiba army. But I expect there will be some major disadvantages of holding coin for too long after that.


Please understand, trading is not like farming, where the money is purely generated. Trading is a secondary market, where money is only switching hands. The asset it switches hands on gets increased or decreased on values, that is not a universal price of the asset, since 10% of a stock or crypto will not be sold in a same price but 100% of the wheat could. A universal price is defined in a primary market, like commodity or factories(production, tech and ideas). Stocks thought are secondary but are derived from industries which are primary(producing something) or having technology and ideas. So, stocks can be a good alternative of growth in money, but not the crypto assets. I have already mentioned in my previous posts about the USDT coin, like how they ensure that its backed by USD but they dont even have thousand USD for tether savings backend.
Even the ethereum is crazily overpriced. As the suggested transaction price proves the point. For example a bitfinex transaction costed around $33 million to transfer just $100 thousand. This is the transaction hash as a proof.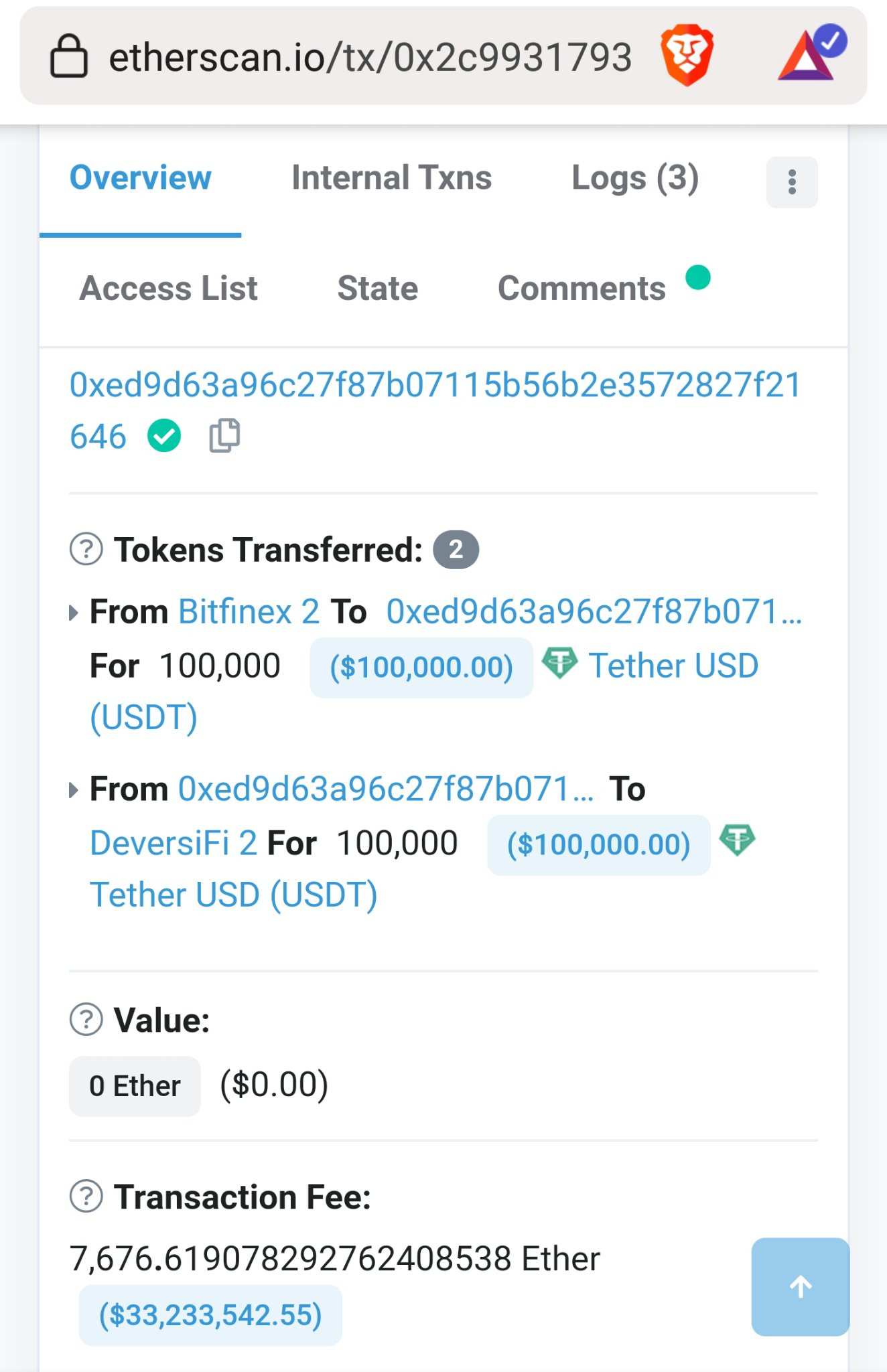 Thought, it is a shady play to invest in new crypto or some meme coin. But of you get like millions or even thousands in it, just cash it out before it's too late.


Happy Halloween and happy trading guys!
Disclaimer: Community is offered by Moomoo Technologies Inc. and is for educational purposes only.
Read more
3
3
24