You can deposit funds in your Moomoo Financial Inc. account via wire transfer.


1. Get Ready for a Transfer

1.1 Tap [Trade > Securities Account > Deposit] in the moomoo
1.2 Select "Deposit via WIRE" as your deposit method
1.3 Copy the receiving account details given on the moomoo and paste them in your bank app/website for transfer
*「International Transfer」 might also be referred to as "Wire Transfer", "TT Transfer", etc. at your bank end.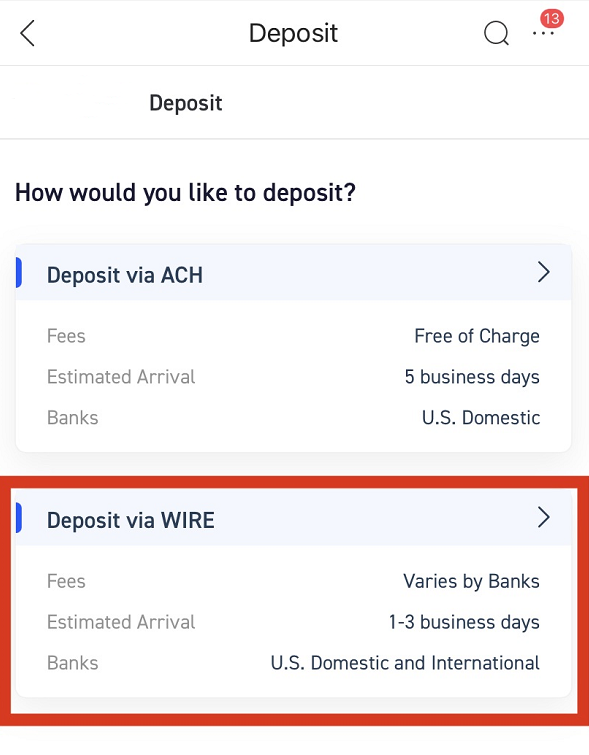 *NOTE*
● Only transfers from your personal bank account can be accepted. Please do not use a third-party bank account.
● Make sure to fill your name and moomoo ID in the reference field when initiating a transfer.
2. When Your Transfer Is Reversed
2.1 A transfer that does not meet Moomoo Financial Inc.'s requirements will be reversed.
2.2 It might take 5-10 business days to return your funds, depending on the processing time of your bank.
2.3 You will be charged a fee for the fund return.
3. Wire Transfer Fees

Wire transfer fees consist of the「remitting bank fee」, the 「intermediary bank fee」, and the 「beneficiary bank fee」. Transfer fees might vary, to a certain extent, according to the remitting banks. Please make sure to include the possible fees in your total transfer amount so that your investments won't be affected.
| | | | |
| --- | --- | --- | --- |
| | Estimated remitting and intermediary bank fees | Beneficiary bank fee | Estimated total international transfer fee |
| US Banks | Approximately $20-$40 | $10 | Approximately $30-$50 |
| Foreign Banks | Approximately $40-$70 | $10 | Approximately $50-$70 |
*The above estimates are for reference only. Please consult your bank about specific fees.
Moomoo is a professional trading app offered by Moomoo Technologies Inc. In the U.S., investment products and services on moomoo are offered by Moomoo Financial Inc., Member FINRA/SIPC.

Any illustrations, scenarios, or specific securities referenced herein are strictly for illustrative purposes. Past investment performance does not guarantee future results. Investing involves risk and the potential to lose principal.