| | |
| --- | --- |
| Direction of exchange | Exchangeable amount/day |
| USD | 200,000 USD/day |
| HKD | 1,500,000 HKD/day |
| CNH | 1,400,000 CNH/day |
If you exceed this limit, you can send an email to cs@us.moomoo.com using your registered email with Moomoo Financial Inc.to request for the conversion.
You can refer to the following template:
Moomoo ID: 123454321
Direction: USD->HKD
Exchange-out account number: 3212
Exchange-in account number: 2233
Exchange amount: 50,000 USD
Note:
1. Moomoo US charges a fee for converting currencies. The amount of the fee varies depending on the currency and may be up to 300 basis points.
2. The account number is the number in the red box below.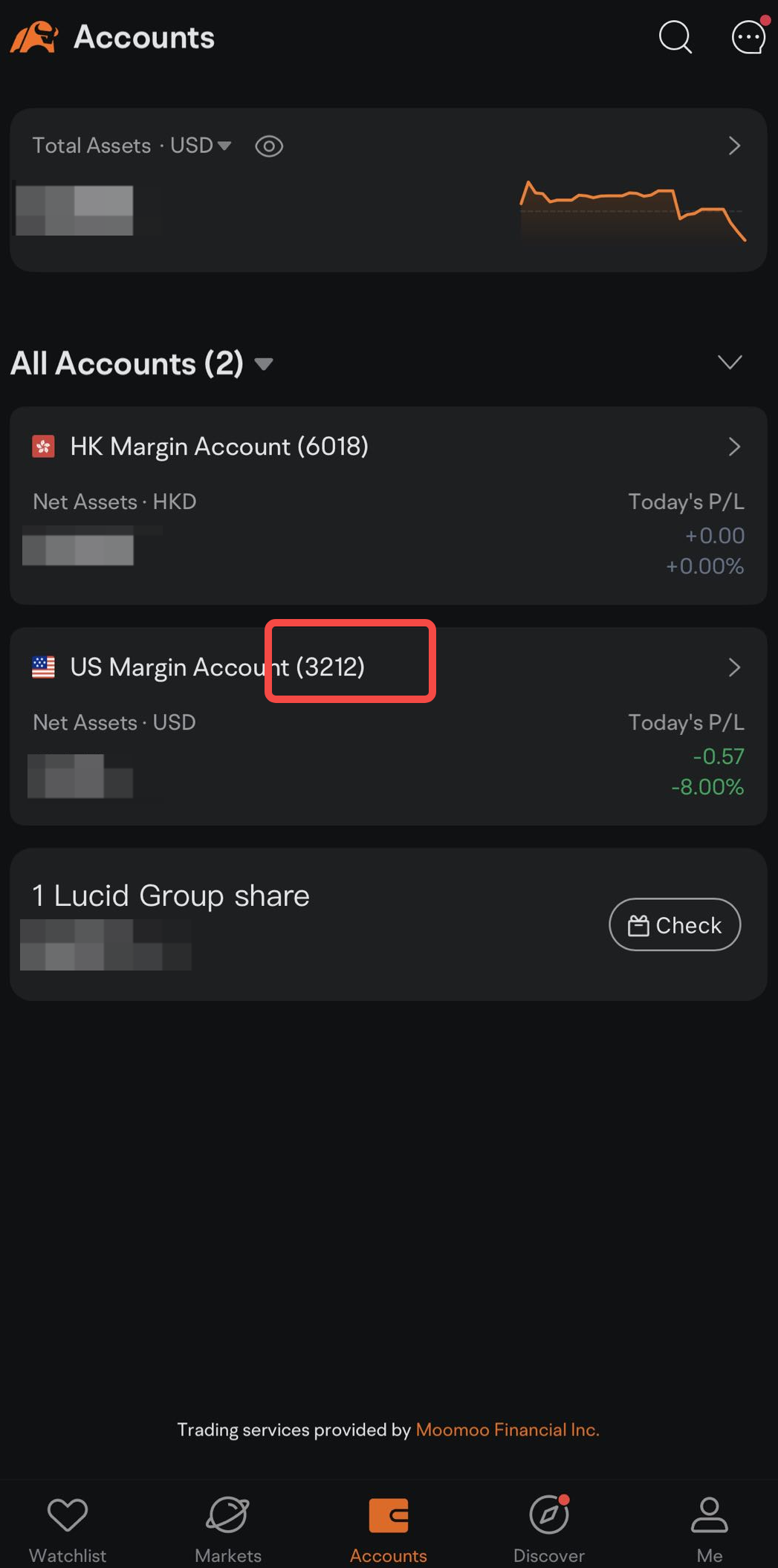 (Please note that the interface shown in the screenshot may differ from the one on your device if your app version is not up-to-date. Any securities appearing in the screenshot are for illustration only and do not constitute any investment advice.)
This presentation is for informational and educational use only and is not a recommendation or endorsement of any particular investment or investment strategy. Investment information provided in this content is general in nature, strictly for illustrative purposes, and may not be appropriate for all investors. It is provided without respect to individual investors' financial sophistication, financial situation, investment objectives, investing time horizon, or risk tolerance. You should consider the appropriateness of this information having regard to your relevant personal circumstances before making any investment decisions. Past investment performance does not indicate or guarantee future success. Returns will vary, and all investments carry risks, including loss of principal. Moomoo makes no representation or warranty as to its adequacy, completeness, accuracy or timeliness for any particular purpose of the above content.

Moomoo is a financial information and trading app offered by Moomoo Technologies Inc.

In the U.S., investment products and services available through the moomoo app are offered by Moomoo Financial Inc., a broker-dealer registered with the U.S. Securities and Exchange Commission (SEC) and a member of Financial Industry Regulatory Authority (FINRA)/Securities Investor Protection Corporation (SIPC).