Please follow the steps below to carry out a transfer in the app:
1. Submit a transfer-in request to Moomoo Financial Inc.

1.1 Log in to moomoo
In the moomoo app, tap Accounts > All Functions > Transfer Stock In > HK Stocks.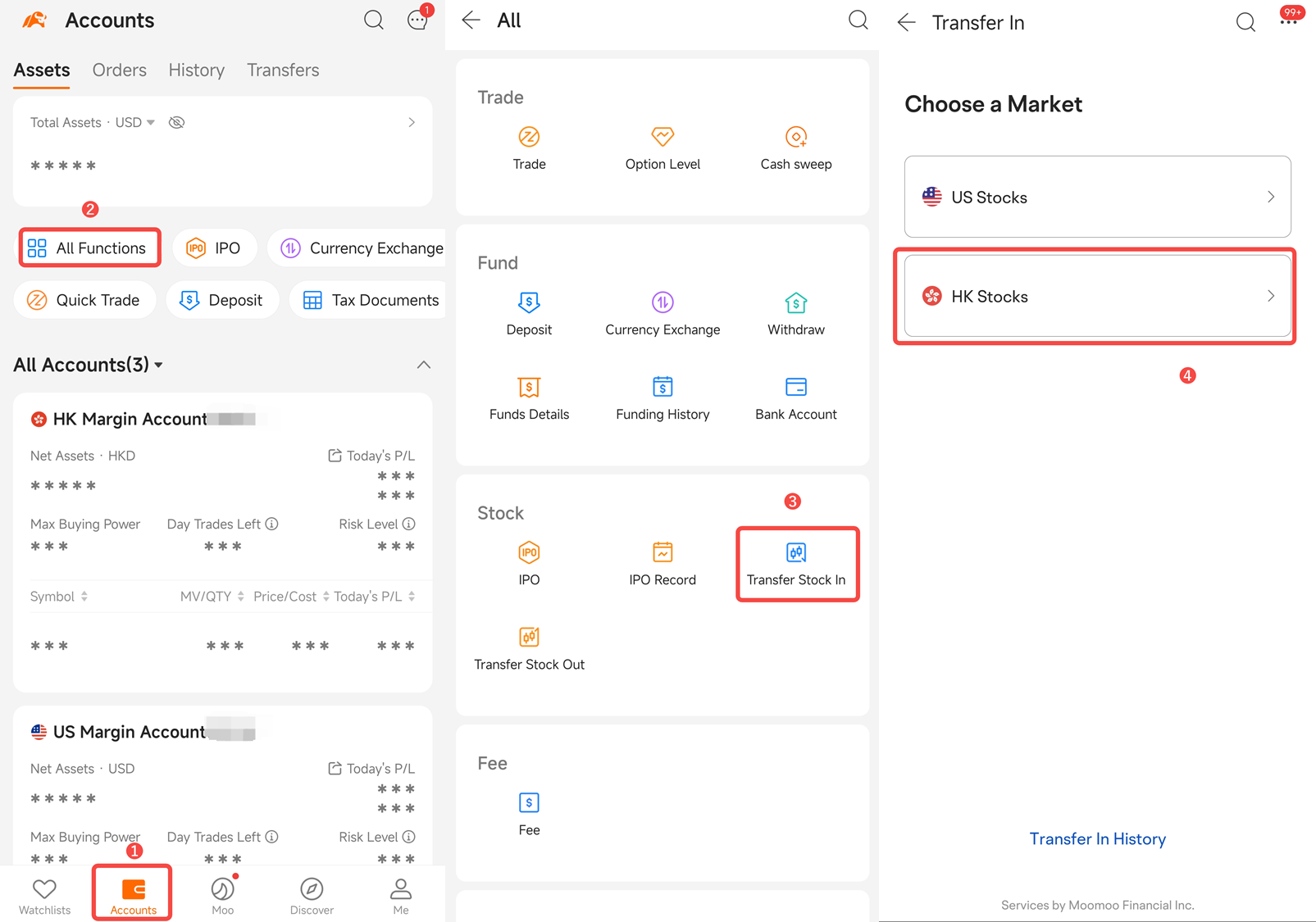 1.2 Enter transfer details
1.2.1 Enter the information on the outside brokerage firm and your account with it
a) Select the delivering firm:
Select the brokerage firm from whom you want to transfer your stocks. If you can't find it in the list, tap "View Others" and enter its name manually.
b) Enter the account number:
Enter the number of your account with the outside brokerage firm.
1.2.2 Tap Next to enter stock details. After confirming that they are correct, tap Next.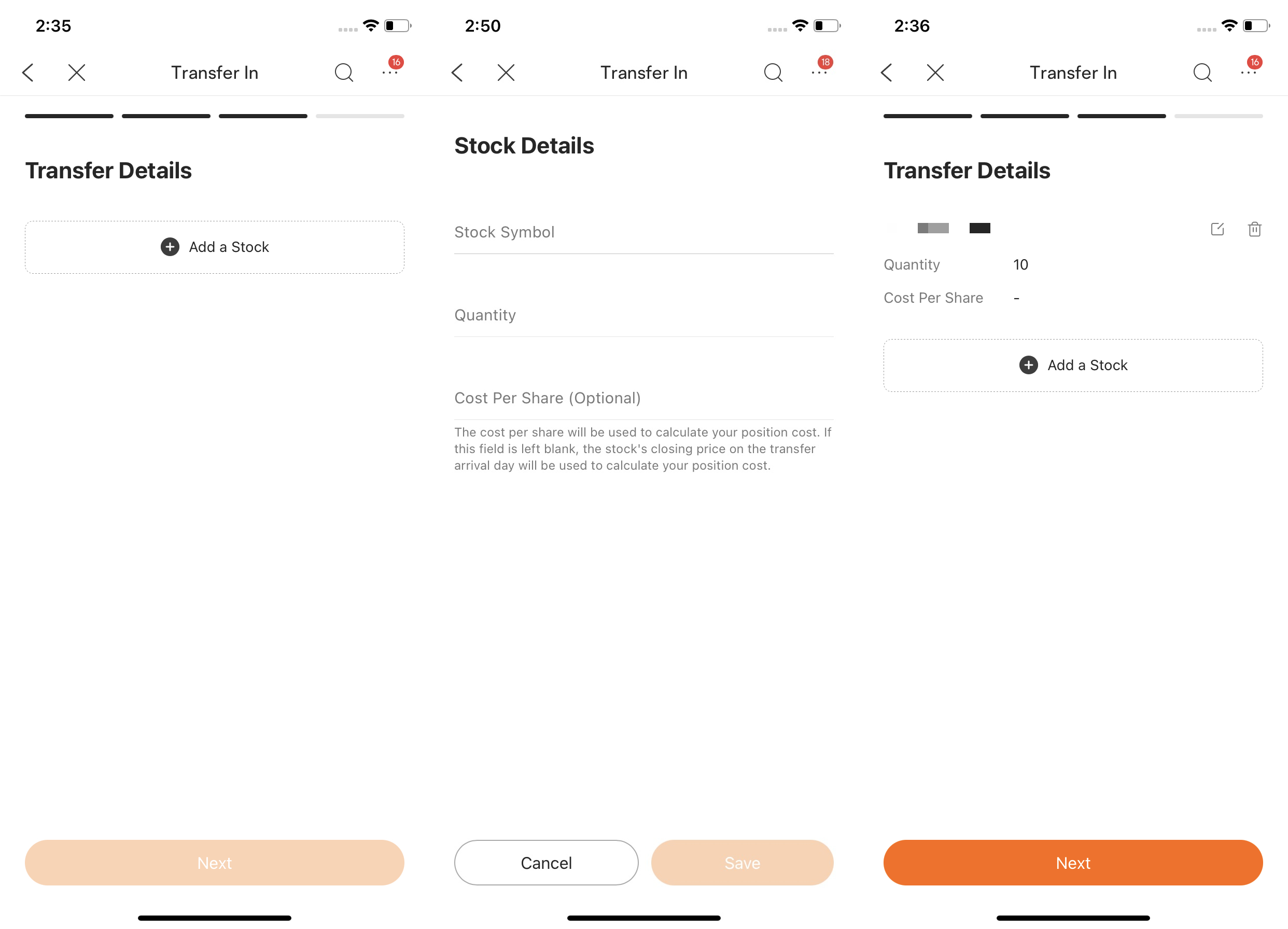 1.2.3 Review the details and submit the request
Review the details of the outside brokerage firm, stock symbol, and number of shares, and submit the request after confirming that they are correct. If you enter the wrong information or omit certain information, you can return and edit it.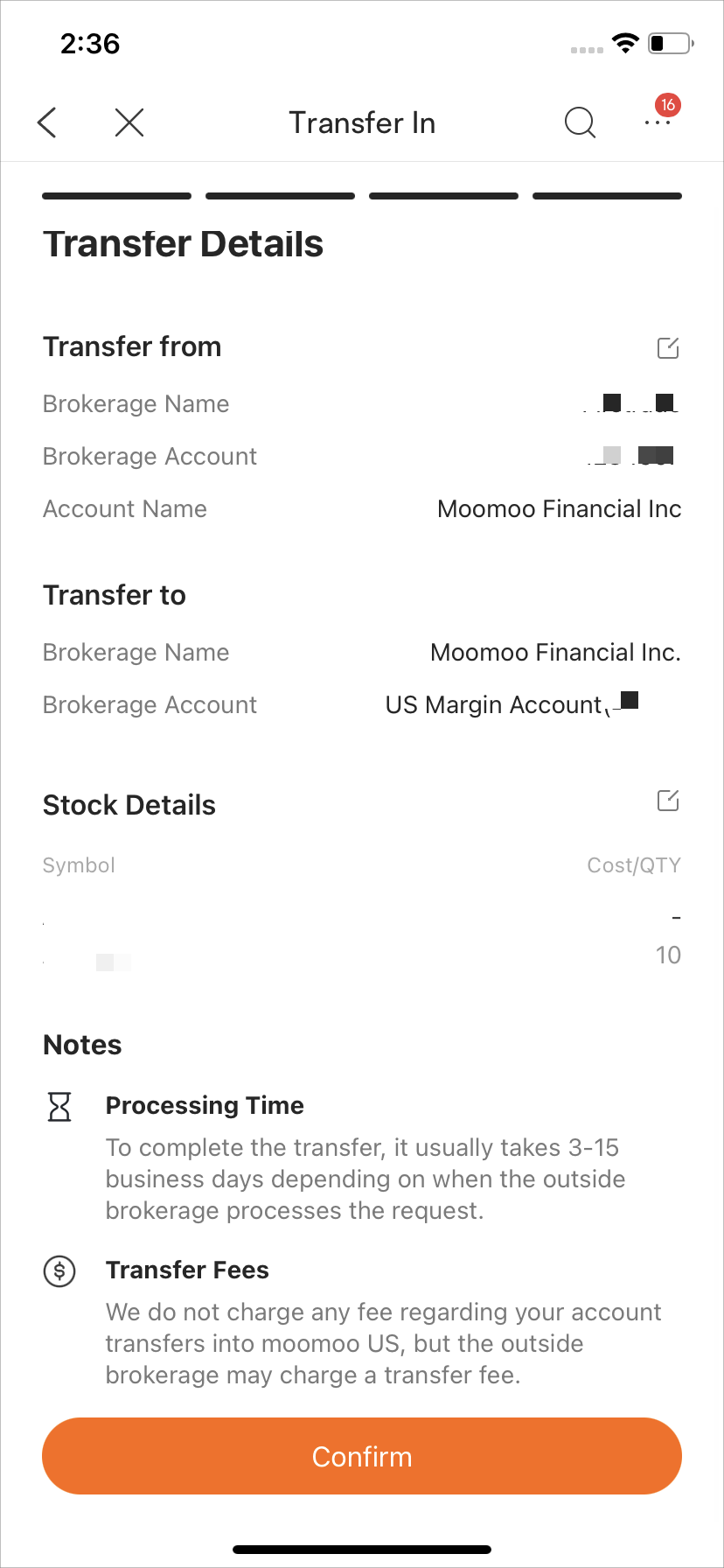 2. Submit a transfer-out request to the outside brokerage firm
Please contact the outside brokerage firm for their transfer-out requirements, and submit a transfer-out request according to the requirements.
For the details of Moomoo Financial Inc. required for HK stock transfer, please visit this link:
Moomoo Financial Inc. details for Inbound-Transfer of HK stocks

After completing the above procedures, please stay tuned. Staff at both brokerage firms will follow up on your transfer requests.
Notes:
● Stocks can only be transferred between accounts under the same name.
● Fees: Moomoo Financial Inc. does not charge any fees for transferring your stocks, but the outside brokerage firm may.
● Processing Time: Once the outside brokerage firm transfers your stocks out, it will take 1-2 business days for Moomoo Financial Inc. to add them to your account.
● The above details to be confirmed are for information only.

This presentation is for informational and educational use only and is not a recommendation or endorsement of any particular investment or investment strategy. Investment information provided in this content is general in nature, strictly for illustrative purposes, and may not be appropriate for all investors. It is provided without respect to individual investors' financial sophistication, financial situation, investment objectives, investing time horizon, or risk tolerance. You should consider the appropriateness of this information having regard to your relevant personal circumstances before making any investment decisions. Past investment performance does not indicate or guarantee future success. Returns will vary, and all investments carry risks, including loss of principal. Moomoo is a financial information and trading app offered by Moomoo Technologies Inc. In the U.S., investment products and services available through the moomoo app are offered by Moomoo Financial Inc., a broker-dealer registered with the U.S. Securities and Exchange Commission (SEC) and a member of Financial Industry Regulatory Authority (FINRA)/Securities Investor Protection Corporation (SIPC).