1. Instructions
To deposit funds in your Moomoo Financial Inc. account via wire transfer, please follow the steps below:
1.1 In the moomoo app, tap Accounts > choose deposit account >Transfers > Deposit > Deposit via WIRE. You can also initiate a deposit request by clicking on the link.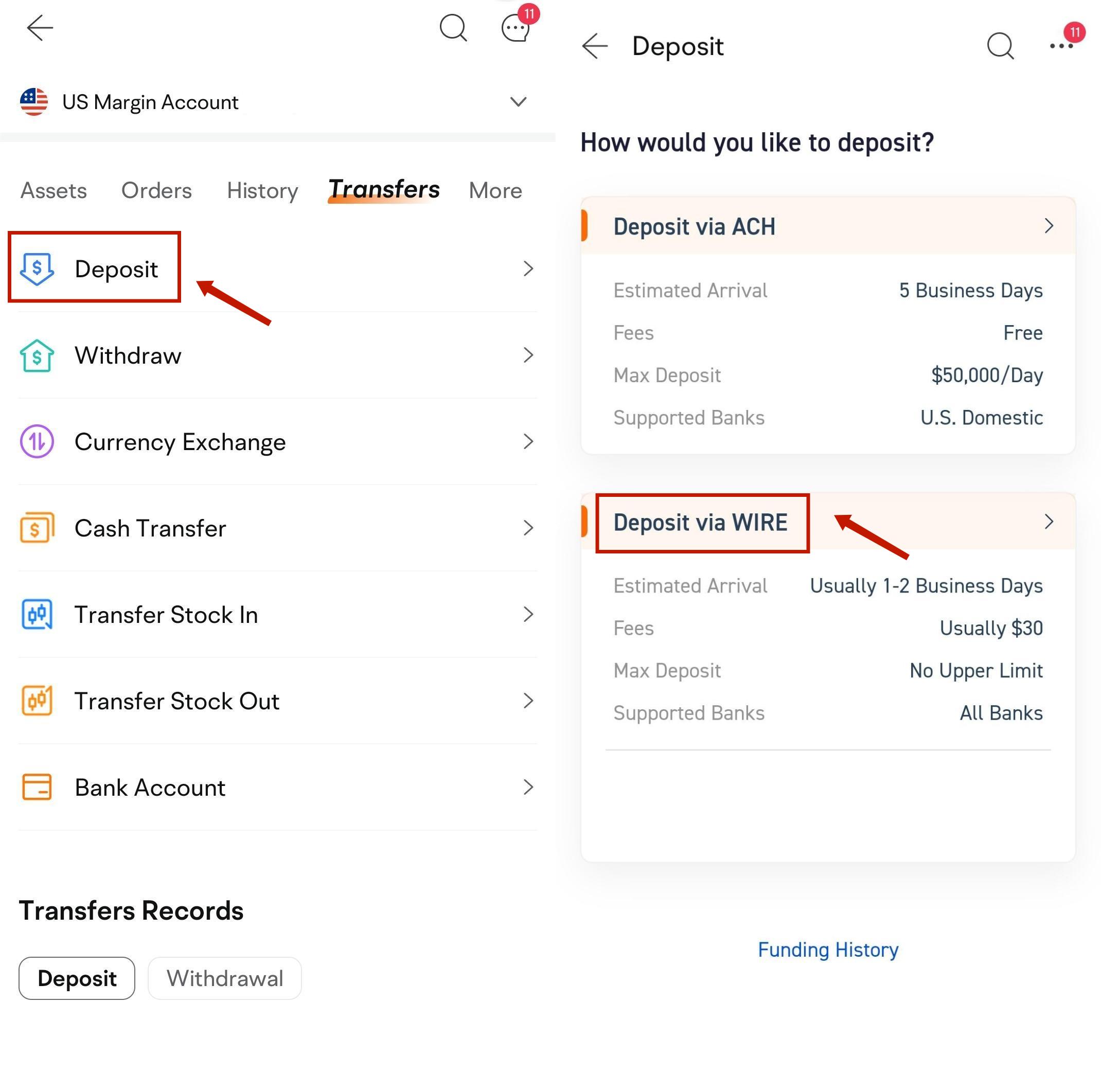 1.2 Copy the receiving account details given in the moomoo app and paste them into your bank app/website.

● A "wire transfer" might be referred to as an "international transfer", "TT transfer", etc. at your bank.
Note:

● You may transfer funds only from your own bank account. Please do not use a third-party bank account.
● Make sure to enter your name and moomoo ID in the reference field when initiating a transfer request. The name entered must match the name of your Moomoo Financial Inc. account.
● Moomoo Financial Inc. does not limit the amount you deposit. Please check with your bank about any limits.
2. Transfer Reversal
● A transfer that does not meet Moomoo Financial Inc.'s requirements will be reversed.
● It might take 5-10 business days to return your funds, depending on the processing time of your bank.
● You will be charged a fee for the fund return.
3. Wire Transfer Fees
The receiving institution does not charge any fees.
Note:
Wire transfer fees consist of the sending institution fee, the intermediary bank fee (for an international transfer), and the receiving institution fee. Since these fees vary by bank, please make sure to include wire transfer fees in your total transfer amount. For specific fees, please consult your bank.


4. Settlement Time
Domestic wire transfers usually take one to two business days to process.
International wire transfers usually take two or more business days to process.
This presentation is for informational and educational purposes only and is not a recommendation or endorsement of any particular investment or investment strategy. Investment information provided herein is general in nature, strictly for illustrative purposes, and may not be appropriate for all investors. It is provided without respect to individual investors' financial sophistication, financial situation, investment objectives, investment time horizon, or risk tolerance, and does not constitute investment advice. You should consider the appropriateness of this information having regard to your relevant personal circumstances before making any investment decisions. Past investment performance does not indicate or guarantee future success. All investments carry risks, including the potential for loss of principal. Moomoo makes no representation or warranty as to the adequacy, completeness, accuracy, or timeliness of the above content for any particular purpose.

Moomoo is a financial information and trading app offered by Moomoo Technologies Inc.

In the U.S., investment products and services available through the moomoo app are offered by Moomoo Financial Inc., a broker-dealer registered with the U.S. Securities and Exchange Commission (SEC) and a member of the Financial Industry Regulatory Authority (FINRA) and the Securities Investor Protection Corporation (SIPC).