Moomoo will assess your option level based on the personal and financial information you provide when applying for an options account and allow you to use the respectiveoption strategies:
Option Level

AvailableStrategies

0

None

1

Covered Call

2

Covered Call

Covered Put

Long Calls/Puts

Collar

Long Straddle/Strangle

3

Covered Call

Covered Put

Long Calls/Puts

Collar

Long Straddle/Strangle

Butterfly/Condor

Iron Butterfly/Condor

Vertical Spread

4

Covered Call

Covered Put

Long Calls/Puts

Collar

Long Straddle/Strangle

Butterfly/Condor

Iron Butterfly/Condor

Vertical Spread

Short Naked Options

Short Straddle/Strangle
How can I view my current option level and request to change my level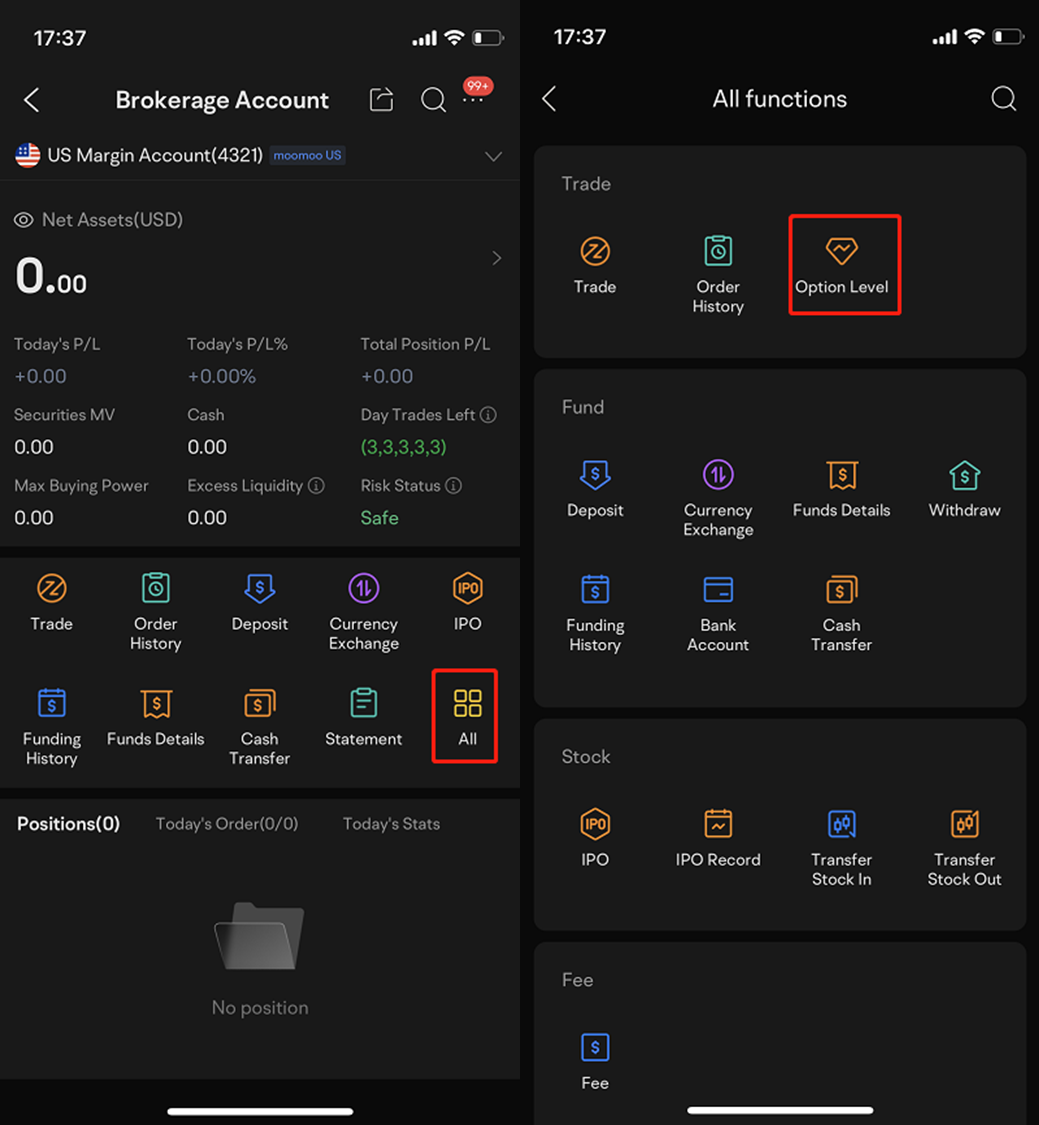 Note: The trading strategies allowable for each option level is subject to adjustment by Moomoo Financial Inc. from time to time according to Moomoo's risk management or regulator's requirement.
Disclosures:

Moomoo is a professional trading app offered by Moomoo Technologies Inc. In the U.S., investment products and services on Moomoo are offered by Moomoo Financial Inc., Member FINRA/SIPC.

Any illustrations, scenarios, or specific securities referenced herein are strictly for illustrative purposes. Past investment performance does not guarantee future results. Investing involves risk and the potential to lose principal.

Images provided are not current and any securities are shown for illustrative purposes only.

Options trading entails significant risk and is not appropriate for all investors. Certain complex options strategies carry additional risk. Before trading options, please read Characteristics and Risks of Standardized Options.