We may be able to remove the PDT flag if you certify that (1) you understand the definition of pattern day trading and (2) you will not engage in future pattern day trading.
To provide the certifications: Application → Click the "Day Trades Left" and jump to the day-trading page → Click the "Marked as a PDT" → Click the "apply for resetting your PDT status".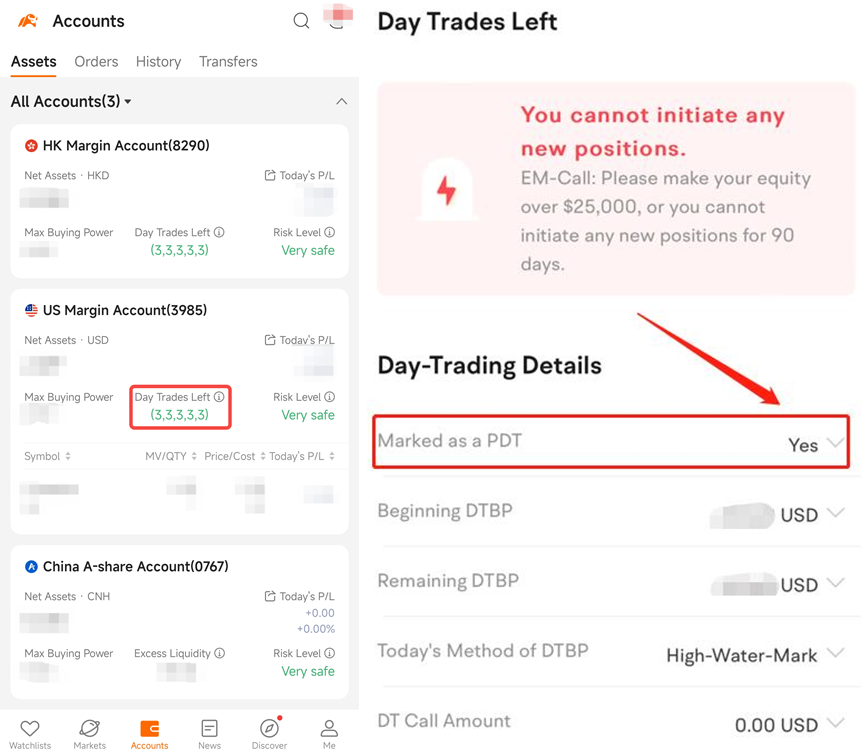 Once the PDT flag is removed, you will be allowed three day trades every five business days. If your account gets re-flagged as a PDT account we will not be able to remove the PDT flag absent extraordinary circumstances. Alternatively, you have the following two options
1. Deposit funds to bring the account's equity up to the SEC required minimum of $25,000 or
2. Wait the required 90 day period before any new positions can be initiated.
Note:
• The 90 day period means 90 calendar days starting from the trading day of your latest day trade. During the period, you are not allowed to open new positions if the account's equity cannot meet with the SEC required minimum of $25,000.
• If your request to rest your PDT status fails, please check here for details.
This presentation is for informational and educational use only and is not a recommendation or endorsement of any particular investment or investment strategy. Investment information provided in this content is general in nature, strictly for illustrative purposes, and may not be appropriate for all investors. It is provided without respect to individual investors' financial sophistication, financial situation, investment objectives, investing time horizon, or risk tolerance. You should consider the appropriateness of this information having regard to your relevant personal circumstances before making any investment decisions. Past investment performance does not indicate or guarantee future success. Returns will vary, and all investments carry risks, including loss of principal.

Moomoo is a financial information and trading app offered by Moomoo Technologies Inc.

In the U.S., investment products and services available through the moomoo app are offered by Moomoo Financial Inc.,a broker-dealer registered with the U.S. Securities and Exchange Commission (SEC) and a member of Financial Industry Regulatory Authority (FINRA)/Securities Investor Protection Corporation (SIPC).