You asked. We delivered.
Moomoo Financial Inc. recently upgraded conditional orders to advanced orders on the moomoo application. The expanded order types now available to you are similar to the order types available at some other brokerages. This, and other pages describing the various order types should help you understand the how advanced orders work on Moomoo Financial Inc..
The following are the difference between conditional orders and advanced orders. And Introduce how conditional orders are displayed in the new application.
The Difference between Conditional Orders and Advanced Orders

Place Order
For a conditional order, you needed to choose the conditional order on the trade page, then jump to the set conditions page on the App.
For advanced orders, you can place an order e.g., a market order, select the advanced order type on the trade page, then set and submit.
Order Execution Logic
Conditional orders are triggered when the condition is met, then generate a day market or limit order.
Advanced orders are triggered when the condition is met, then generate a new market or limit order with the same time in force.
The difference between the two is that while conditional orders remain active before expiration date and generate a day order if triggered, advanced orders remain active in the order TIF (day or GTC) and generate a day or GTC order based on order setting if triggered.
Order Display
For conditional orders, all the conditions that you set were shown on the conditions list page. If the condition was met, the basic order generated by the conditions was shown on the order list just like other market or limit orders.
For advanced orders, all the advanced orders are listed on the order list like other market or limit orders. If the order is triggered, the status and related fields of the advanced order will be updated.
How are Conditional Orders Displayed in The New Application?
Due to the removal of the Conditional Orders module in the new application, all the valid un-triggered conditional orders will be displayed as a new order type in Today's Orders. The execution logic of all conditional orders created in the old application remains the same, which is slightly different from the new order execution logic.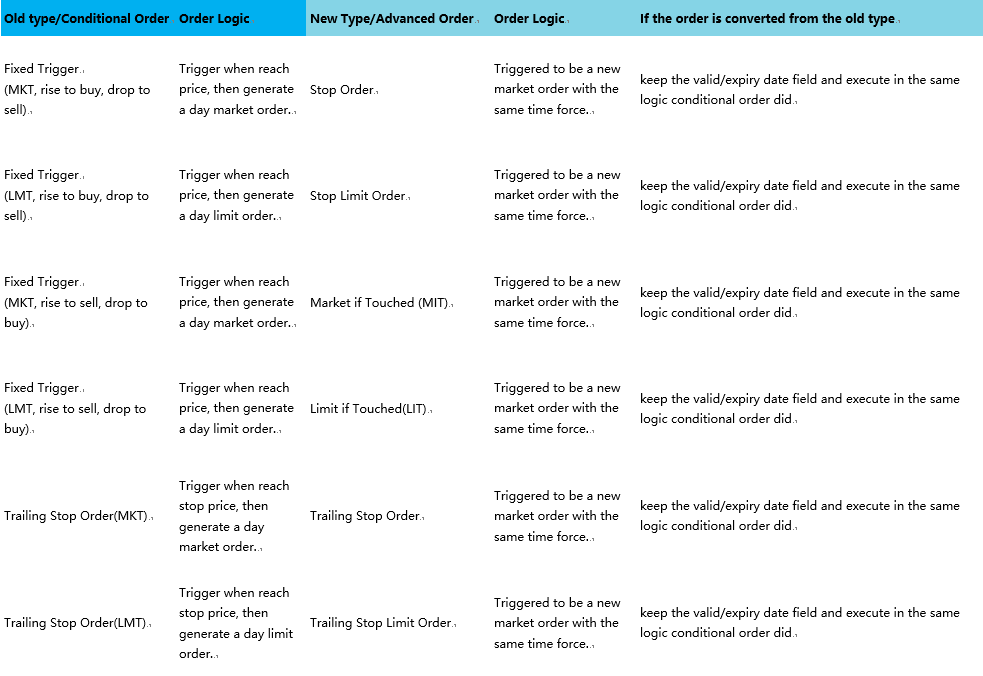 *Attention: In different versions of application, "fixed trigger" order may also be named "Stop Order" or "Limit if Touched" order.