1. Introduction
Futu OpenAPI provides wide varieties of market data and trading services for your programmed trading to meet the needs of every developer's programmed trading and help your Quant dreams.
2. Main Functions

2.1 Quotation Data Categories
Including stocks, indices, options and futures from HK, US and A-share market. Find the specific types of support in the table below.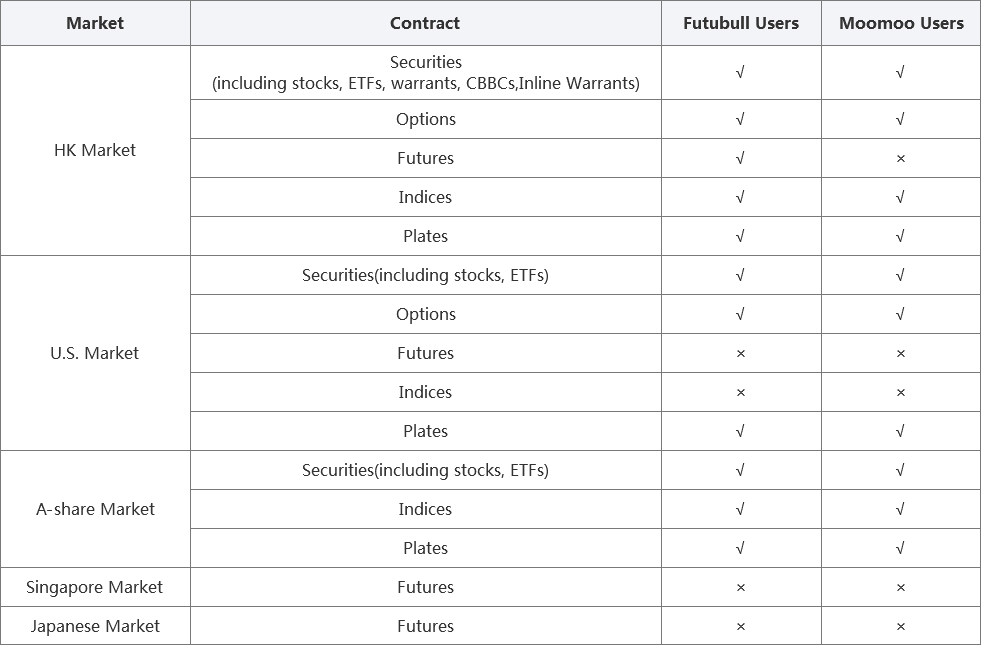 2.2 Method to Obtain Market Data

● Subscribe and receive pushed real-time quote, candlestick, tick-by-tick and order book.
● Request for the latest market snapshot, historical candlesticks etc.
2.3 Trading Functions

Including stocks, options and futures from HK, US, A-share, Singapore and Japanese markets. Find the specific types of support in the table below.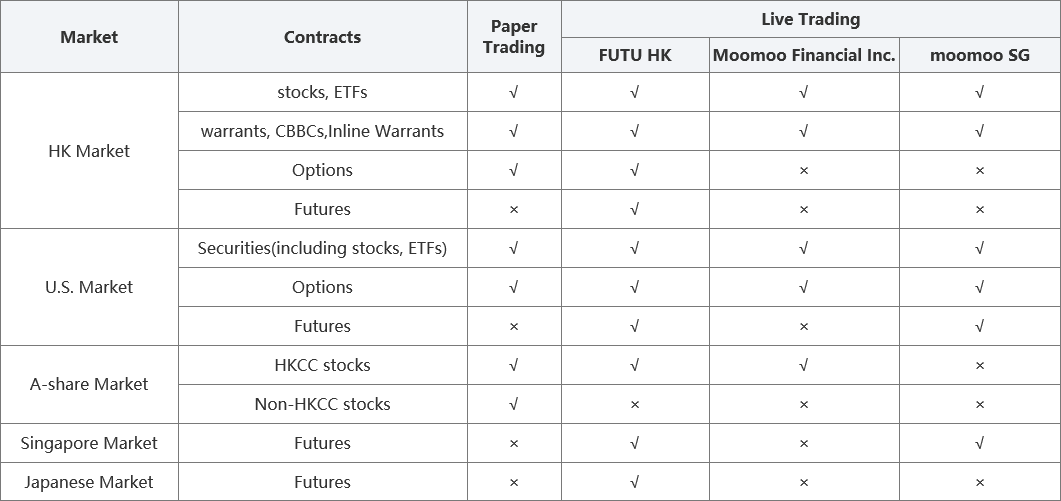 3. Features

3.1 Full platform and multi-language
● FutuOpenD supports Windows, MacOS, CentOS, Ubuntu
● Futu API supports Python, Java, C#, C++, JavaScript, etc.
3.2 Stable speed and free transaction

● Stable technical architecture, directly connected to the exchanges
● The fastest order is 0.0014s
● There is no additional charge for trading via Futu OpenAPI
3.3 Abundant investment varieties

● Support real-time quote, live trading, and paper trading in HK, US, and CN markets
3.4 Professional institutional services
● Customized market data and trading solutions
4. Technical Structure

Futu OpenAPI includes Futu API and FutuOpenD program. To use Futu API, the gateway program FutuOpenD should be started locally or in the cloud. This program exposes the interface in a custom TCP protocol, which has nothing to do with the programming language. Considering convenience, Moomoo Financial Inc. has packaged API SDKs for different programming languages for third parties to use.
More details, click API Doc