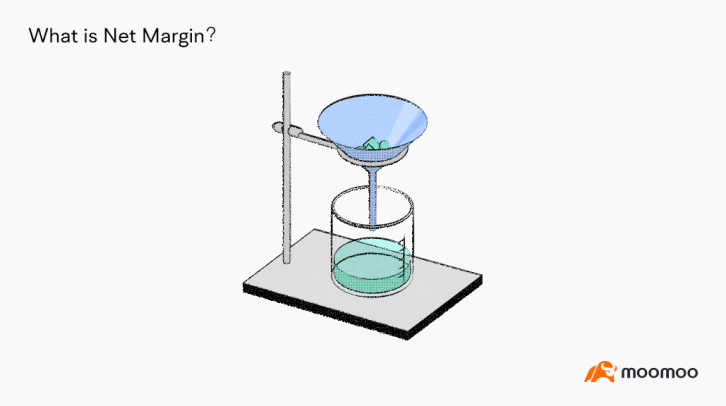 Key Takeaways
The net margin ratio shows the percentage of net sales a company retains after it pays all of its business's expenses

The net margin is equal to net income divided by net sales, expressed as a percentage

The net margin helps investors assess if a companyis generating enough profit from its sales and whether it has efficient operating costs and overhead costs
Understanding Net Margin
Expressed as a percentage, the net profit margin, or simply net margin, equals net income divided by net sales.

The net margin measures how much net income (also known as net profit) is generated as a percentage of net sales (also known as revenue).
The net margin helps investors assess if a company is generating enough profit from its sales and whether it has efficient operating costs and overhead costs.
Generally speaking, the higher the net margin, the better. Ideally, investors want margins to grow steadily, which means the net margin increases with time.
Still, net margin has limitations. For example, it couldbe affected by one-off items such as the sale of an asset, which would temporarily boost profits.
It also doesn't hone in on sales or revenue growth, nor does it provide insight as to whether management is managing its production costs.
For example, a company can have growing revenue, but if its costs and expenses, such as operating costs,increase faster than revenue, its net profit margin will shrink.
Example of Net Margin calculation
The chart below is the income statement from Apple's annual report for the fiscal year ended September 25, 2021.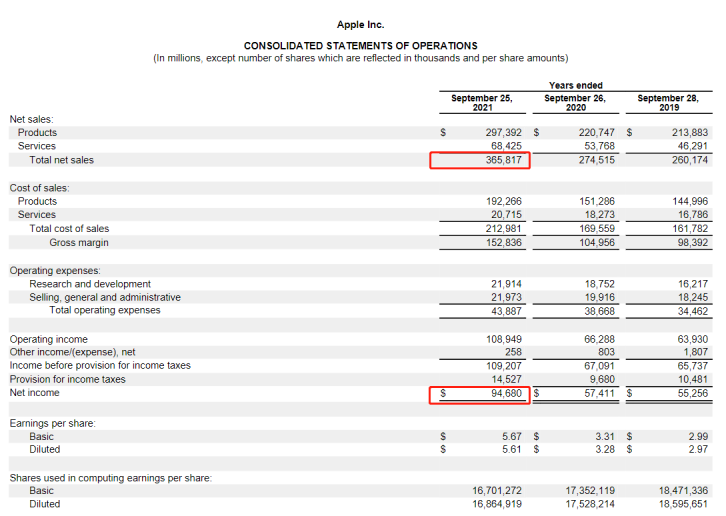 The annual report shows that:
Apple's net sales for the fiscal year 2021 was 365.817 billion.
Apple's net income for the fiscal year 2021 was94.68 billion.