REITs are real estate investment trusts, which are financial products that allow you to invest in a portfolio of properties without having to buy or manage them yourself. These properties can include malls, office buildings, data centers, and hotels. REITs generate income by leasing their properties to tenants, which creates a steady stream of dividends for shareholders. As REITs in Singapore are legally required to pay 90% of profits back to investors via dividends, they are investments one may consider for generating passive income.
REITs can be purchased through a broker, just like stocks, and they can also be traded on some stock exchanges. There are many different types of REITs, so it is important to research before investing.
Pros and Cons of Investing in REITs
REITs offer several advantages for investors. They can provide diversification away from stocks and bonds, and they can offer higher yields in terms of dividends when compared to other types of investments.
Historically, REITs have generally outperformed the market by not only providing high rates of returns through dividends but also through the appreciation of share prices. As such, most hedge funds have a significant portion of their portfolio invested in REITs, as REITs are regarded as relatively safe investments.
When the economy is doing well, REITs tend to perform well as property prices increase. This results in the assets held by REITs appreciating, which leads to the share prices of REITs moving upwards. Furthermore, as asset prices increase, REITs are also able to charge higher rents on their properties, which generates higher income for shareholders.
Like any investment, there are risks involved with investing in REITs. The value of your investment can go up or down, and you could lose money. In addition, REITs are subject to the same risks as other real estate investments, such as changes in the real estate market, interest rates, and tenant demand.
REITs are also regarded as a more grounded and stable type of asset, which means that it is expected to grow at a slow but steady pace as compared to speculative assets such as technology stocks. Hence, they are preferred by investors with lower-risk appetites and a longer investment time horizon.
Most Popular Sectors of REITs in Singapore
The most popular subsectors of REITs in Singapore can be classified under the following breakdown:[1]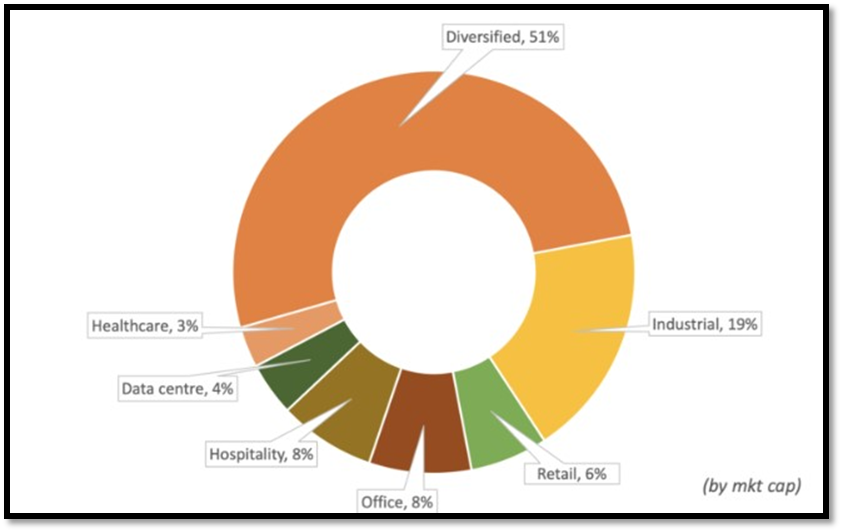 Retrieved from SGX Research Chartbook: REITS & Property Trusts (June 2022)
Images provided are not current and any securities are shown for illustrative purposes only.
Industrial REITs
Industrial REITs focus on managing properties such as warehouses that are rented out to businesses. These properties also include distribution centers which have been in high demand as e-commerce rose in popularity. As e-commerce is expected to continue to pick up in the coming decade, industrial REITs are also expected to grow alongside the sector in the following years.
The largest industrial REITs in Singapore are Mapletree Logistics Trust and Mapletree Industrial Trust, with market capitalizations of $7.92 billion and $6.22 billion (as of 20/11/22), respectively.[2][3] Each of them has generated dividend yields of about 5% for investors and has an extremely diversified portfolio of properties that are located around the world in countries such as Singapore, Australia, the USA, South Korea, and Japan.
Hospitality REITs
Hospitality REITs specialize in investing in hotels and generate income via leasing these hotels to operators. Over the past decade, household income growth globally has led to hospitality REITs performing extremely well. This sector was among the hardest hit during the pandemic, as income generated from travelers plummeted. Due to recessionary fears, hospitality REITs are not expected to perform well over the next year or two. Still, they may offer a potential opportunity for investors once the economy recovers.
CapitaLand Ascott Trust is the largest hospitality REIT in Singapore, with a market capitalization of $3.29 billion (as of 20/11/22).[4] Dividend yields are slightly higher at 5.44%, and they are well diversified, with properties in countries such as Singapore, Australia, China, Japan, Spain, Indonesia, Germany, and more.
Office REITs
As its name suggests, office REITs manage office spaces that are leased out to businesses. The pandemic has also affected them as workers worked from home instead of coming into offices. Office REITs generally perform well if the economy is booming and the demand for office spaces rises. However, with recessionary warnings being issued by governments for 2023, office REITs may be expected to deliver a weaker performance in the near term.[5]
Keppel REIT is the largest office REIT in Singapore, with a market capitalization of $3.37 billion (as of 20/11/22), with dividend yields of around 5%.[6] They own properties in Singapore, Australia, and South Korea. (Fun fact: They own significant stakes and manage Marina Bay Financial Centre, Ocean Financial Centre, and One Raffles Quay!)[7]
Retail REITs
Retail REITs manage malls and shopping centers, generating income from businesses that rent retail spaces within these properties. The performance of retail REITs depends heavily on the local economy's health, as retail is driven by consumer spending. Similar to many of the other REIT sectors, retail is not expected to perform well during a recession but can serve as an excellent investment once the economy starts to recover.
Frasers Centrepoint Trust and SPH REIT are the two largest retail REITs in Singapore, with market capitalizations of $3.46 billion and $2.54 billion, respectively.[8] They own properties in Singapore and Australia and offer dividends of around 5% to shareholders.
How to Invest in REITs in Singapore?
Moomoo can support you investing in REITs. After you download the moomoo app, you can simply navigate to the 'Markets' tab before clicking on the 'REITs' icon. This will bring you to the page, as seen in the screenshot below, where you will be able to look at a whole list of REITs that you can potentially invest in.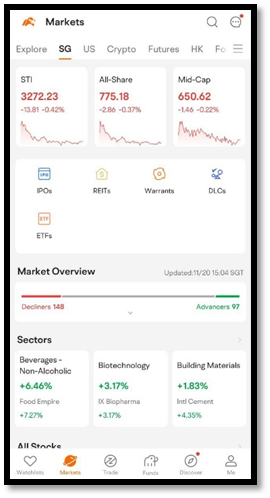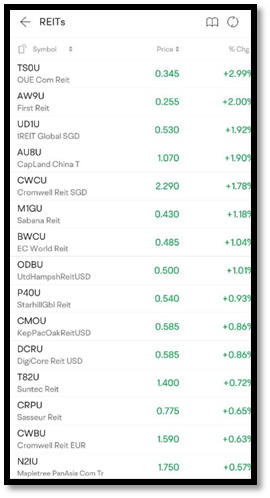 Images provided are not current and any securities are shown for illustrative purposes only.
You will then be able to click on any of the REITs shown to access more details, such as its historical price movements, net capital movements, comments, news, and financial overviews of the company, as seen below.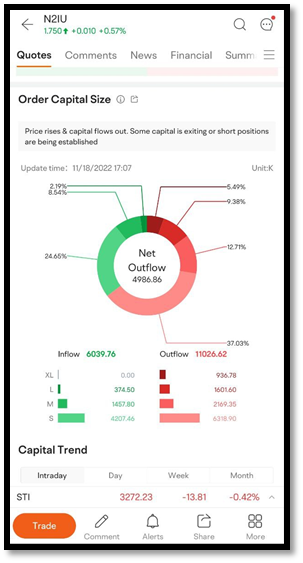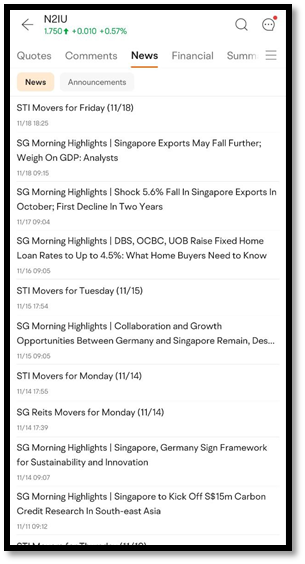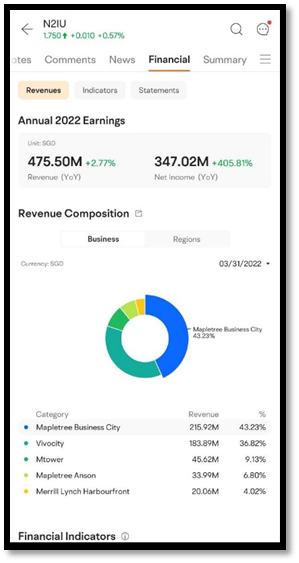 Images provided are not current and any securities are shown for illustrative purposes only.
All in all, REITs are a valuable type of investment that for a potential source source of passive income. Alternatively, REITs may be included for diversication of assets purposes, which may provide reasonable level of stability.
[1]https://www.reitas.sg/singapore-reits/overview-of-the-s-reit-industry/#sub-sector
[2]https://www.google.com/finance/quote/M44U:SGX?sa=X&ved=2ahUKEwiwrvXZkbz7AhUWSGwGHSbpCjMQ3ecFegQILRAg
[3]https://www.google.com/finance/quote/ME8U:SGX?sa=X&ved=2ahUKEwilyPPckbz7AhXjSGwGHZ_bDawQ3ecFegQILhAg
[4]https://www.google.com/finance/quote/HMN:SGX?sa=X&ved=2ahUKEwiimsyUk7z7AhUTDLcAHTgnAjEQ3ecFegQILxAg
[5]https://time.com/6222645/us-recession-forecast/#:~:text=The%20latest%20recession%20probability%20models,period%20in%20the%20previous%20update.
[6]https://www.google.com/finance/quote/K71U:SGX?sa=X&ved=2ahUKEwjaq5yJlbz7AhXo3jgGHQ3VDd0Q3ecFegQILxAg
[7]https://www.keppelreit.com/property-portfolio/#singapore
[8]https://www.google.com/search?rlz=1C1BNSD_enSG930SG930&sxsrf=ALiCzsZDBKmYhHPPLMyhQTsbu5gNHuLrdg:1668927648048&q=SGX:+J69U&stick=H4sIAAAAAAAAAONgecRozi3w8sc9YSm9SWtOXmPU4OIKzsgvd80rySypFJLiYoOyBKT4uHj00_UNDZPis9OTq-J5FrFyBrtHWCl4mVmGAgCPfUm5SAAAAA&sa=X&ved=2ahUKEwjCl_j8l7z7AhV1wjgGHZ5aCFoQsRV6BAhaEAM&biw=1920&bih=937&dpr=1