Key Takeaways
Bull and bear markets are common terms among investors.

A bull market indicates optimism and growth while a bear market reflects pessimism and decline.

The generally accepted rule of thumb about bull/bear market is +/- 20%.
Understanding bull and bear markets
What are the most common lingoes among investors? The bull market and the bear market must be on the list.
Bull markets and bear markets are usually used to describe market trends. There is no regulation on the extent of market changes, but the generally accepted rule of thumb for investors is +/- 20%. In other words, a bull market means that the upward market has risen by 20% from the bottom, while a bear market means that the downward market has fallen by 20% from the top.
There is no perfect strategy to survive through all bull and bear markets. But keep in mind that overall perception of the broader market is important for investors.
Bull market vs. Bear market
The stock market is a barometer of the economy. Bull markets are usually full of bullish voices, and stock prices continue to rise, accompanied by a strong economy. For instance, investors put hot money into the market, and companies often flood the IPO market and raise more funds.
A bear market usually occurs when the economy is on the brink of or in a recession. Bear markets are usually shrouded in pessimism. Investors tend to withdraw money from the market and wait out the bear market.
When investors are complacent and go in for speculation, a bull market can easily turn into a bubble, and then fall into a bear market.
Example
Take the $S&P 500 index(.SPX.US)$ as an example.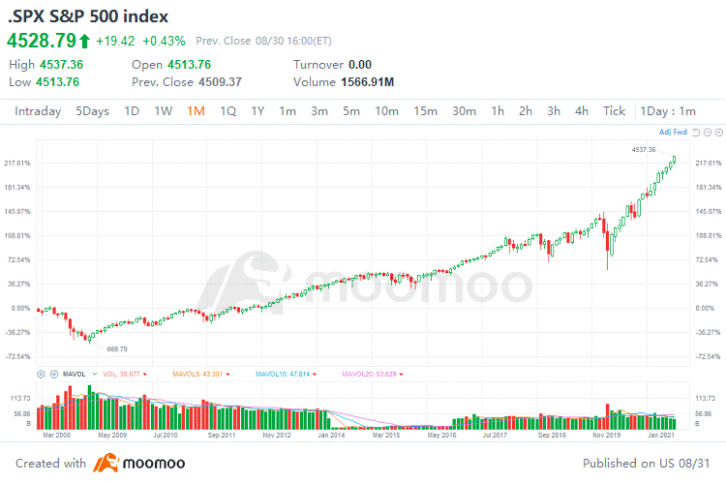 In February and March 2020, the market took a catastrophic hit by Covid-19 and economic recession. The circuit breaker was triggered four times for eight consecutive trading days. The SPX has plunged as much as 33% over that period.
With the help of global low interest-rate policies, government financial aid, and vaccine promotion, the market swiftly rebounded from the bottom and marched into new highs after shortly falling into a bear market.
In 2021, the SPX continued to hit new records. If we ignored the setbacks in 2020, we are still in the longest bull market in history since 2009, boosted by the information revolution, low interest rate, and robust corporate earnings, among others.