Individual traders come from all walks of life — from healthcare workers to marketing professionals. At moomoo, we're here to help you trade like a pro, no matter where you are in your investing journey. To help you gain insight into the life of an active trader and how you can learn from others' personal trading journeys, we have interviewed active traders to learn what makes them tick and how they find success.

This month, we sat down with Sean Simon, a dedicated part-time trader near Chicago who has a passion for learning about the most effective ways to trade.
Getting started
Despite his background being entirely mechanical engineering, Sean has always been interested in the stock market and trading. He first began getting involved in 2008 with an E*TRADE account, but will tell you himself that it was not the strongest of starts. He was undisciplined and wanted to make money fast, but didn't know what he was doing and was taking on risks he didn't understand. As a result, he didn't become serious about trading until about four years later. When he started to really focus on trading, he began to extensively research and learn more about strategy and how to improve.

Things went well for Sean with his trading until the pandemic. After taking a hit, he decided to step back, learn even more, and take time to really define himself and his goals as a trader. As he says, there is a lot of detail, nuance, and skill required for effective trading, and he wanted to really define what that meant for him and how best to employ it in his strategy.
Learning and research
In his aim to improve and really build on his understanding and foundational skills, Sean is constantly seeking learning opportunites. In 2021, he took the Master Trader Program offered by 2-time USIC champion Mark Minverini and 3-time USIC champion David Ryan. He gravitated toward their technical analysis strategy as he had decided to focus on that approach for his own trading.

With such a strong focus on learning, we made sure to ask Sean some of his top book recommendations. Here are just a few:
1. Mark Minervini
a. Trade Like a Stock Market Wizard
b. Think and Trade Like a Champion
2. Mark Douglas
a. Trading in the Zone
b. The Disciplined Trader
3. Jason Kelly — The Neatest Little Guide to Stock Market Investing
4. Anna Coulling — various books

Sean also found a number of content creators and educators who helped him build his knowledge base. Some of the top accounts and individuals he mentioned, are:
• Richard Moglen — he covers a lot of different trading styles and approaches and coordinates with a lot of proven traders who have been successful over a long period of time
• Brian Shannon — trades in a similar style to Sean with the AVWAP and a 3-day trading style.
• Peter Hahn — shows you how you can code if you want to learn how to do it and build your own screeners and indicators.

Overall, Sean emphasized that there are videos and books out there about all kinds of trading. It is easier to narrow your research once you know the type of trader you want to be.
His personal trading style
Sean himself is drawn to swing trading with a focus on price action volume trading. As he says, he doesn't want to wait for the long-term investments and day trading is too much work, especially with his day job. Instead, he likes to follow the Minervini approach with the volatility contraction pattern, similar to a bull flag.

He make sure to avoid the news when it comes to researching stocks. Instead, he relies heaviily on charting with technical analysis tools like the AVWAP and SMAs over multiple time frames. He runs the technical analysis himself with strategies based on the Master Trader Program. In fact, he's even programmed his own stock screener and puts in time on the weekends studying and picking out his stocks.

A major facet of Sean's approach is post-trade analysis. As a mechanical engineer in chemical plants and refineries, he does a process hazard analysis that asks a lot of "what if" questions to assess risk and determine the likelihood of outcomes. So, Sean applies that to his trading as well. He creates an expectancy chart for every trade he's done and looks at the past five trades, month, quarter, and year, looking at different variables. These factors include but are not limited to: the average time he held his winners and losers, his average loss percentage, if he would benefit from a pilot buy, what were his previous wins and losses, how his emotions or stubborness affected his previous trades, if he forced any trades or got nervous, and most especially how he's controlling the downside and financing the risk.

When it comes to the bear market, Sean says his overall strategy is to sit on his hands and wait. He understands that as a swing trader, his trading style will not always be in vogue or have the edge. As he waits for a time to strike, he'll watch how a stock performs. Sometimes he may even take a small position of 1-2%, managing his risk across multiple options and watching for possible breakouts. Then, he'll decide if he wants to scalp, swing, or hold for a bigger position. Though, with the current market situation, he says he is more of a scalper with a 3-day nail and bail approach. He might come up to the breakout and keep his risk at 5-8%, taking the trade if he can pull 10-16%, hold for at most three days, and then get out.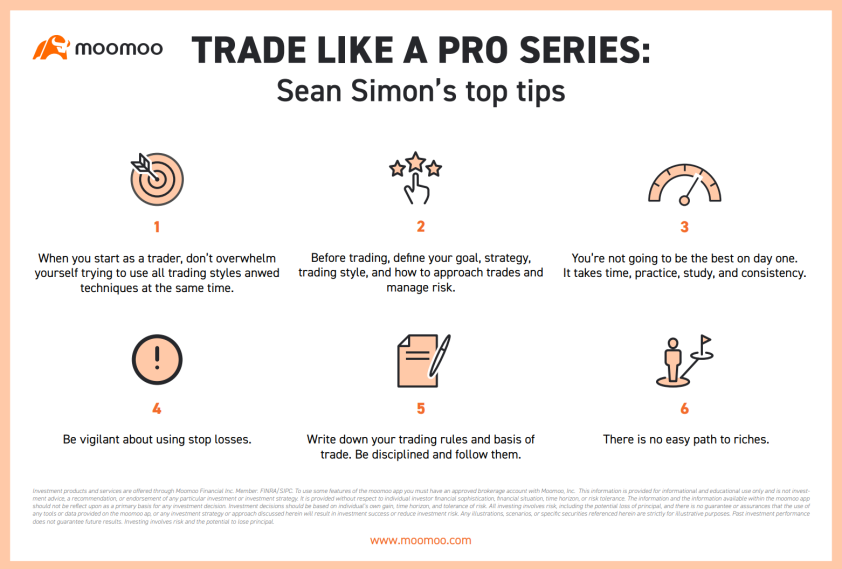 Top Tips
With a decade spent honing his own trading skills, we made sure to ask Sean for some of his top tips. Here's what he was able to share:
• When you start as a trader, you might not know what's out there. Make sure to take time to understand those first before getting started. Don't overwhelm yourself by trying to use all trading styles and techniques at the same time.
• It takes time, practice, study, and skill. You're not going to be the best come day one. As you continue to trade and learn, you can develop the skills and strength you need to be consistent.
• Define three things before you begin trading:
◦ What is your goal or what you hope to accomplish
◦ Define your trading strategy and the type of trader you want to be
◦ Determine how you want to approach your trades and how you are managing your risk
• Be vigilant about using stop losses.
• There is no easy path to riches. Sean quotes Jesse Lauriston Livermore in saying, "if you buy on someone's tip, you have to know how to sell on someone's tip." Don't just look for tips on what to buy, you need to know where it comes from and how to manage risks.
• Use two sets of charts when analyzing data and looking for opportunities.
• Write down your own trading rules and basis of trade. Once you have defined your rules, follow them. Be disciplined.

Overall, Sean is very focused on always having the right tools and foundation in order to build the strongest strategy and stick to it. He hopes to someday make trading his profession, so he's putting in the groundwork now to have a solid base of knowledge, experience, and focus when that day comes.

Investment products and services are offered through Moomoo Financial Inc. Member. FINRA/SIPC. To use some features of the moomoo app you must have an approved brokerage account with Moomoo Financial, Inc. This information is provided for informational and educational use only and is not investment advice, a recommendation, or endorsement of any particular investment or investment strategy. It is provided without respect to individual investor financial sophistication, financial situation, time horizon, or risk tolerance. The information and the information available within the moomoo app should not be reflect upon as a primary basis for any investment decision. Investment decisions should be based on individual's own gain, time horizon, and tolerance of risk. AIl investing involves risk, including the potential loss of principal, and there is no guarantee or assurances that the use of any tools or data provided on the moomoo ap, or any investment strategy or approach discussed herein will result in investment success or reduce investment risk. Any illustrations, scenarios, or specific securities referenced herein are strictly for illustrative purposes. Past investment performance does not guarantee future results. Investing involves risk and the potential to lose principal.